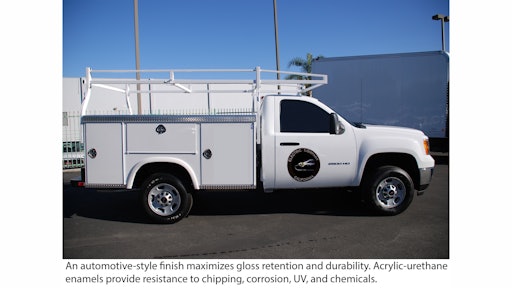 Ask contractors about the one thing that makes their work go easier, and they will most likely answer their tools. Nowhere else is this more important than when it comes to the work truck. So when it comes time to replace or step up to a new service body, quality pays for itself in terms of usability, durability and looks.
But how do you know which truck service body to order to meet and exceed your needs? On the face of it, competitive truck bodies look very similar.
To ensure that you get what you pay for at the dealership, you have to dig deeper into the details of design, construction, the quality of materials used and several other factors that differentiate service bodies. Knowing this information helps you get the most for your dollar at the original time of purchase, during the entire service life of the truck body and even when you go to sell it.
1. Security
Off all the considerations on a contractor's mind, security must rank as the most important. Here, details spell the difference between having thieves see your truck as an easy mark, or too much trouble to try to break into.
To start, outside handles should be made of sturdy material, such as hardened chrome. They should operate metal locking rods — plated with an anti-corrosive material like zinc — at each corner of the cabinet doors, as well as a center cam.
Added strength comes from welding steel brackets onto the interior of each door behind a "hinge block." The latter securely grips the wall of the compartment so that the door can't be pried out from the bottom. Check for steel rivets to hold all locking hardware in place.
A popular add-on for security is a master locking system. This is achieved by the use of long rods that extend inside the length of the body, one on either side. The rod is engaged by pulling or twisting a handle at the rear of the body, at which time a male and female stop are mated.
"Many doors on utility or service trucks lock at just one or three points," notes Dudley DeZonia, president of Royal Truck Body, which has been designing and building specialized truck bodies for contractors and tradesmen since 1971. "We prefer to use a five-point system of defense that incorporates all of the above and includes concealed access latches for added security."
"The locking features on the service bodies we use include individually locked boxes, as well as a bar that locks the whole side of the vehicle," says Anthony Pouliot, owner of AAP - All American Plumbing. His fleet of 10 trucks and vans provide complete plumbing services from its base in Mira Loma, CA. "Thieves would have to disable both of these locks to try to get inside. It would seriously discourage them."
2. Design
When it comes to the actual construction, the features that make a service body a success in the field begin on the drawing table or computer screen in an engineer's office. This is because of the complexity of today's engine and electrical systems.
Even something as simple as a brake light is now tied into the controller area network of the vehicle. In certain states, diesels must utilize complex urea systems that require an extra filler neck near the back of the truck. Even crash-worthiness specifications play a part.
"Service body manufacturers have to certify that their product meets all government regulations in order to satisfy the standards that OEMs like Ford, GMC and Dodge must adhere to," continues DeZonia "For that reason, look for a manufacturer that is a selected partner or preferred 'upfitter' of the 'big three.'"
One way of ensuring that a given service body meets these standards is to check to see if the manufacturer is a member of the Service Body Institute of the National Truck Equipment Association and has attained MVP status. Also, ask about whether or not the manufacturer supplies any major fleets.
In addition, any truck body manufacturer should be able to design-in features to make the job easier for any given craft.
"When you first look at truck bodies, they look all the same, but when I go deeper I notice different things, like the width and length of the bed that accommodates my needs for the use we design our truck for," says Frank J. Hernandez, owner of Precision Electric Co., an electrical contractor offering services since 1982 for electrical design, engineering, construction and maintenance from its Irwindale, CA base.
"What's also important to me is whether or not a manufacturer can do a design to my specifications," continues Hernandez. "For example, Royal makes me reinforced bumpers since my crew tows lots of heavy equipment with our trailers such as emergency generators, scissors lifts, forklifts and large reels of wire."
"The biggest feature for my plumbers is the enclosed housing for the sewer machine," explains Pouliot. "The last thing I want when my guys are pulling these heavy machines out and lifting them is to get injured and go on workers compensation. So Royal designed a self-enclosed compartment that has a power lift and winch to pull the snake in and out. This greatly reduces the chance of injury."
Truck design can even promote branding opportunities. "I appreciate clean lines and flat forms because it makes it easy to put an advertising wrap around the vehicle," Pouliot comments. "We cover the box entirely, and if a lot of cuts and angles have to be done for the wrap, it costs more. But the Royal design is very conducive to a wrap. We once got awarded truck of the month by a national magazine."
3. Quality of materials
Consider first the grade and type of metal used for the cabinets and racks. For example, A-60 "galvannealed" steel with a heavy zinc coating currently represents one of the best materials for keeping rust and corrosion at bay.
How that metal gets coated is equally important. An automotive-style high gloss finish maximizes gloss retention and durability. For example, acrylic-urethane enamels provide resistance to chipping, corrosion, UV and chemicals. Items subject to very heavy use, like ladder racks, bedliners and bumpers, should have their metal surfaces protected by sprayed-on powder coatings which provide much greater permanence and won't wash away through usage.
The use of composites for the fender flares is an important element, as composites will not rust. Automotive-style neoprene weather stripping around shelving and cabinet doors provides resistance to water, ozone, UV degradation, freezing and compression.
"I bought a service body at a GMC dealership where I first learned about some of the details of what constitutes good build quality," recalls Deane Tompkins, owner of Bullet Electrical of Torrance, CA. "Attention to details like keeping a wide space between the bumper and the body helps prevent falling tools from getting jammed down there."
4. Workmanship
The service body should be supported by several steel crossbeams. Tailgates should be double-paneled with heavy duty machined hinges. Hinge rods with oversized blocks provide maximum strength. Doors should also feature strong, double steel construction.
Seams between service body parts should be caulked inside and out. Modular wiring harnesses protected by a plastic loom or similar will help prevent water and physical damage from causing electrical shorts.
Attention to detail extends to how ladder racks are constructed. One-piece, mandrel-bent legs vs. rust-prone welds ensures that metal integrity is not compromised. Beyond visual inspection, details like internal spacers within the rack tubing strengthen the legs and prevent the tubing from collapsing as it is tightened during the manufacturing process.
Note that service body manufacturers that install the bodies on the truck frame at the plant or through company-owned branches can maintain better quality control over both installation and workmanship. Assurances such as multi-year/multi-mile warranties add credence to claims of quality workmanship.
"I replace my trucks every five years, but when I sell them to the next contractor I want them to know they are going to get at least five more years out of them," says Hernandez. "With things like thicker metal on the end panels supporting beefier ladder racks, I have no worries of the truck body lasting that long."
5. Convenience
Large capacity shelving should be adjustable at several levels. Gas shocks account for an easier way of opening and holding vertical doors and top compartments in an open position than metal struts.
Other convenient details include rope hooks to secure items to the ladder rack and tie-downs along interior walls of the truck bed to hold cargo in place. Small things like roll-out drawers and portable storage trays also help speed a job.
"It's really handy for any contractor to have dividers in the top bins on each side, as you can put all kinds of stuff up there," says Tompkins.
"The storage bins fit in perfectly so there is not a lot of swishing and sloshing around; everything remains in place," adds Pouliot. "It's obvious that these were built with the contractors' needs in mind."
A retractable utility bed cover greatly improves access to the truck bed. Extending access beyond that point are electric roll tops that telescope onto themselves for compact storage. Push-button operation helps prevent accidents since the worker does not need to climb into the bed to manually open or close the top.
Convenience should even extend to overhead racks with swing-away crossbars for easier loading and unloading of tall items, and tailgates that permit one-hand operation. These should have no chains or side brackets to get in the way.
"It seems like over the past ten years manufacturers have re-engineered the service bodies to where they are more user friendly," says Tompkins. "I've owned three different Royal models, and every new one I buy just gets better."