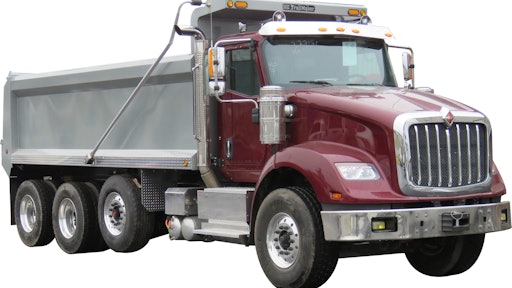 Ox Bodies, Inc., a Truck Bodies and Equipment International, Inc. (TBEI) company, helps operators maximize payload on every haul they make with the introduction of its TrailMaker dump body. The TrailMaker is constructed of carbon steel that offers the weight of aluminum, making it up to 35 percent lighter than standard Ox Bodies dump bodies.
Designed specifically for the transportation of sand, dirt, asphalt and small construction aggregates, the TrailMaker is available in 14- to 20-ft. body lengths and offers capacities ranging from 7.3 to 33 cu.- yds.
A key feature of the TrailMaker is a dump floor free of weld seams to ensure payloads — particularly asphalt — are completely discharged, eliminating the need for operators to shovel trapped material.
The TrailMaker is also available with a wide range of options that enhance productivity and efficiency:
Air high lift tailgate
Retractable mud flaps
Tailgate coal chute
Cab shields ranging from 12 to 42 in. 
Additional design and configuration options for the TrailMaker dump body include side-mounted hydraulic tanks with sight glass, steel or Tread Brite aluminum gravel guards, as well as recessed and rubber-grommeted LED lighting to meet Federal Motor Vehicle Safety Standard 108.
Request More Information
Fill out the form below to request more information about
Ox Bodies Introduces Lightweight TrailMaker Dump Body