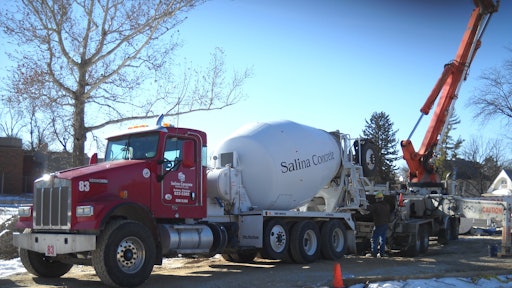 When Kent Webber was offered the job as manager of Subsidiary Operations for The Monarch Cement Company, it was as if he got a call up to the major leagues.
"I had been in this industry for a long time and had purchased cement from Monarch and knew its subsidiaries," Webber says. "The cement was always top quality and so was how they stood behind their product. The industry had great respect for the company's subsidiaries – everyone knew they were the guys to beat in the industry."
Humboldt, KS–based Monarch Cement sells cement to its 11 subsidiaries in Kansas, Missouri, and Arkansas. It produced over 600,000 cu. yds. of concrete in 2014 through 21 ready-mix plants, three plants make concrete masonry units and it has a transportation company in northwest Arkansas.
Combined, the subsidiaries run 245 mixer trucks, 40 tractors for flatbed hauling as well as hauling bulk cement, plus 17 dump trucks. They deliver concrete to residential as well as commercial accounts in Kansas and Missouri.
Monarch has a centralized approach to its fleet and has standardized on the Kenworth W900S for its mixer fleet. It also is putting into service ultra-lightweight Kenworth T680s and T880s for its tractor fleet.
"We have a spreadsheet on each vehicle within the subsidiary companies, complete with cost-per-mile and vehicle age/mileage," explains Webber. "When a truck is winding down, we either place it into service for 'reserve' duty, put it into a low-mileage operation or sell it outright to a broker."
The "Go-to" Mixer
According to Webber, new trucks are purchased through MHC Kenworth, which matches well with Monarch's subsidiary footprint. The W900S models are equipped with 10-yd. mixer bodies from McNeilus. Once the trucks or tractors are ready for service, they are sent to Monarch's subsidiaries.
"The quality of the trucks, and the support we receive from MHC and Kenworth is impressive," says Webber. "I can't tell you how important it is to have a dealer group that supports your operation. MHC bends over backwards to support us with any truck issue."
The set-forward front axle W900S has been the go-to mixer for Monarch for many years. "Our drivers love them," says Webber. "They're solid, well built and offer great value, and they can maximize our loads like no other truck. The set-forward axle gives us the weight distribution we need to comply with bridge laws. We have some W900S trucks that are 18 years old and they're still running strong. Our overall fleet age is 9 years."
The latest mixers in the fleet feature the PACCAR MX-13 engine rated at 430 hp and driven through Eaton UltraShift Plus transmissions. They also feature ABS braking with Bendix ESP (Electronic Stability Program), traction control and disc brakes for improved stopping power.
Monarch was one of the first fleets in the country to standardize on the PACCAR MX power plant. "MHC came to us when the PACCAR MX was first introduced and explained how the engine was different – lighter and pound-for-pound more powerful than any other engines on the market," says Webber. "But, one of the biggest selling points was the support of the engine by Kenworth and MHC.  We knew from experience how well they took care of our trucks; we knew they'd do the same with the engine. We haven't been disappointed and it's been a great business decision."
While Monarch was an early adopter of the engine technology, it's also moving into new truck technology. According to Webber, the T680 and T880 new platform trucks will be making their debut with three of Monarch's subsidiaries.  Beaver Lake Transport will run the two T680s, while Salina Concrete Products and Kansas Building Products will each run a T880. Both models are powered by the PACCAR MX-13 engine rated at 455 hp with 1,650 lbs.-ft. of torque.
Lighter Trucks for the Long Haul
The T680s, with 52-in. sleepers, were spec'd as ultra-lights, shaving more than 1,700 lbs. off the company's standard line haul tractor. "These tractors will run from Rogers, AR, to Humboldt, hauling cement or fly ash in pneumatic trailers, carrying more payload, which means more revenue," says Webber. "The distance means an overnight stay is required every other day to complete the trip. MHC showed us how we could save nearly a ton of weight by spec'ing the Meritor Fuelite drive axle with wide-base drive tires and an aluminum fifth wheel. They also calculated our route, speed and loads to maximize payload and improve fuel mileage by choosing the correct transmission and rear-axle ratio."
Two T880 day cabs will haul flatbed trailers with brick and blocks and are about 400 lbs. lighter than the T800s currently in service. "Both the T680 and T880 are beautiful machines," says Webber. "We know our drivers can't wait to get behind the wheel."
Companies in this article