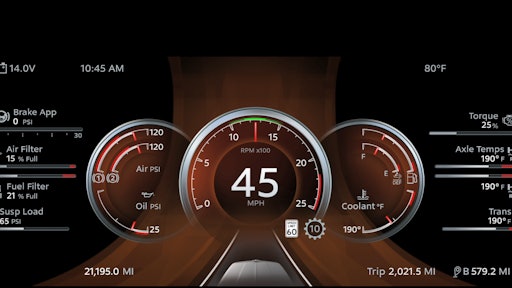 Peterbilt
Peterbilt Motors Company debuted a high-tech digital dash in the new Model 579 on-highway truck. During the introduction, the company noted that this 15-in., customizable digital display will eventually span the entire line of Peterbilt trucks. "This includes the vocational Model 567, traditional Model 389 and the rest of the Peterbilt Class 8 conventional trucks," says Jason Skoog, general manager, Peterbilt. "As far as the Model 567 and Model 389 are concerned, there will be a ramp up. In mid-July the trucks will be 100% with the digital dash in all of the conventional Class 8 models."
With all the technology being integrated onto modern trucks, the digital display simplifies the ability to communicate. "The digital display becomes the focal point for driver information, minimizing distractions while driving," says Skoog. It is going to give the giver every bit of information they are ever going to need. With the rapid pace technology is growing in vehicles, the digital display enables those technologies to be integrated much faster. Instead of creating a new gage cluster every time, the graphics in the display can now be changed to provide real time information to the driver.
Drivers decide what they want to see and how it is displayed. "Not every driver is the same and it gives the flexibility for the driver to decide what they want to see," says Scott Newhouse, chief engineer. "It is not just that one time what they want to see, they can change it throughout the day. They can have a different during the night as opposed to during the day. It gives them the flexibility to meet their wants and needs and that's a major benefit."
The digital display features a fully customizable user interface (UI), delivering an almost endless combination of digital gauges on the main screen at any one time. Operators control the digital UI through one of three different Drive View Zones:
Minimized View eliminates everything but the speedometer and tachometer for minimal driver distraction.
Basic View represents traditional information found on analog dashes with air and oil pressure, fuel and DEF level and water temperature all prominently displayed along with a speedometer and tachometer.
Enhanced View builds upon the previous views displaying the maximum number of gauges from a list of over 30 information sources.
Operators can fine-tune the information shown to suit their individual needs through controls found on the all-new steering wheel.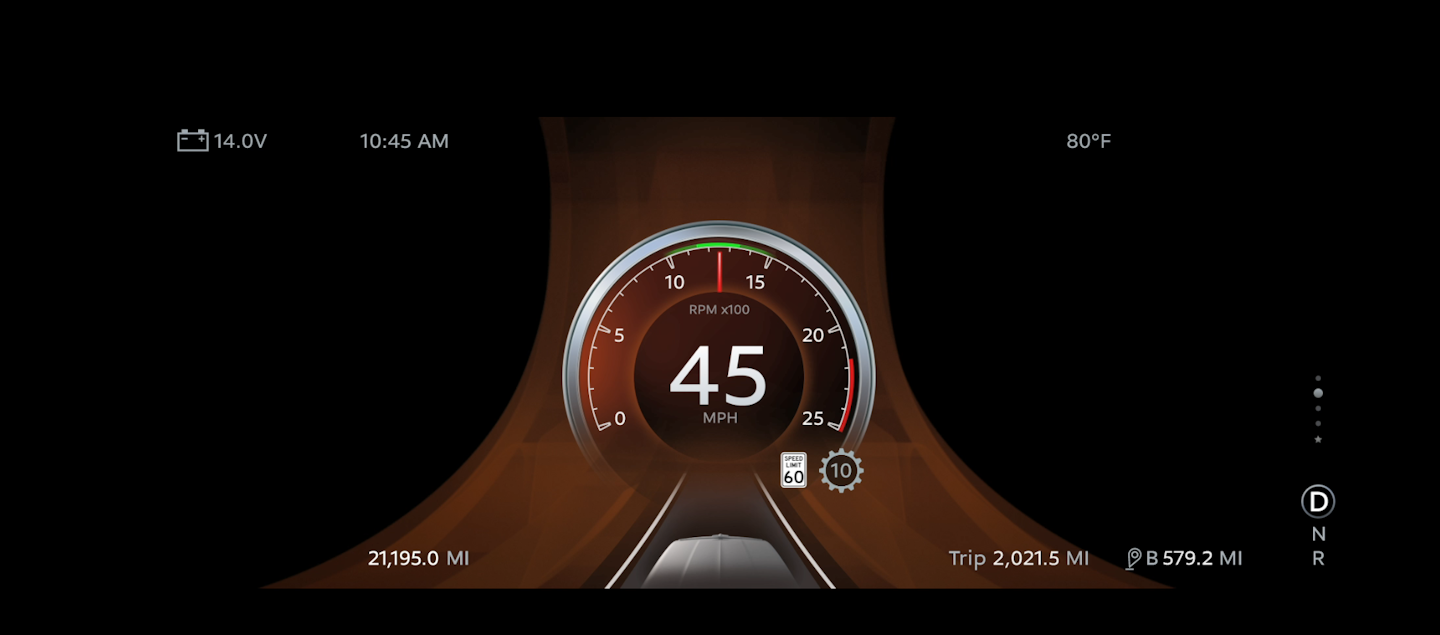 A Minimized View eliminates everything but the speedometer and tachometer for minimal driver distraction.Peterbilt
Prior to trip departure the digital display has the ability to run through a visual systems check, inspecting 13 systems and providing a green checkmark with each passed test. Post-trip, a detailed Trip Information screen provides a breakdown of important metrics of the most recent journey.
The digital display fully integrates with electrical and safety systems found on the new 579 including the Bendix Fusion Advanced Driver Assistance System. Incorporated within the digital display, the Advanced Driver Assistance Systems (ADAS) with integrated camera and radar technology enable advanced features, including collision mitigation, overspeed alerts and lane keep assist to be displayed prominently in the center of the display. The Digital Vision System provides drivers vastly enhanced, camera-enabled vision around the truck at all times including at night and during inclement weather. These features lessen the driver's workload and enhance safety and uptime.