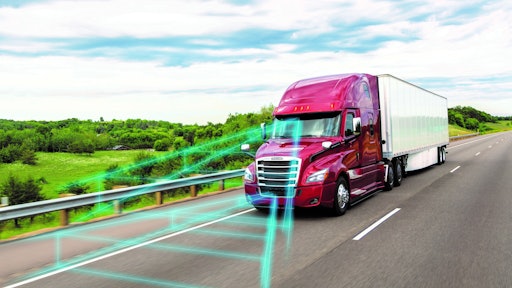 Daimler Trucks North America
Originally introduced for over-the-road trucking applications, integrated electronic safety systems have expanded into all facets of the market, including vocational applications. These systems have proven their worth by protecting employees and preventing collisions.
Daimler trucks offers a full suite of safety technologies bundled into its Detroit Assurance product, which continues to see additional features added and it continues to evolve. These features are available when the customers utilize the Detroit integrated powertrain solutions.
"We are focused on manufacturing the best trucks in the industry, and our customers tell us that there is nothing more critical than the safety features included in our Freightliner and Western Star trucks," says David Carson, senior vice president of sales and marketing, Daimler Trucks North America. "The ongoing evolution of our Detroit Assurance offerings is based on our unwavering commitment to developing purposeful technologies and solutions that will help protect truck drivers, other motorists and pedestrians."
New Detroit Assurance features have just been announced for the Freightliner Cascadia and Western Star 49X when spec'd with a Detroit powertrain. These features include:
Active Speed Intervention (ASI): If the truck exceeds the posted speed limit, ASI issues visual and auditory warning to actively alert the driver. Depending upon the conditions, if the driver fails to respond, ASI will go into effect and de-throttle the engine for two seconds, adjust the Adaptive Cruise Control (ACC) to the posted speed limit or cancel ACC.
Active Lane Assist (ALA) with Auto Stop: Exclusively available with the Freightliner Cascadia, ALA with Auto Stop actively brakes the truck to a stop rather than letting the truck roll to a stop in case of an incapacitated driver or if the driver's hands are off the steering wheel for more than 60 seconds. When ALA's Auto Stop Function activates, Lane Keep Assist keeps the truck centered in its lane while the truck gradually brakes down to 0 mph.
Brake Hold Mode: After coming to a stop, the driver can further press the brake pedal to activate Brake Hold Mode. This prevents the operator from having to continually press the brake pedal down during prolonged periods at a standstill. The brake will not deactivate if the driver's foot is moved from the brake pedal. Tapping the brake pedal or pressing the accelerator starts the truck moving again.
The Western Star 49X was the first vocational truck in the company's line to come equipped with the Detroit Assurance 5.0 suite of active safety systems. Detroit Assurance includes Side Guard Assist, Active Brake Assist 5 and Adaptive Cruise control to 0 mph. "If you are in stop and go traffic, because you are in a more urban environment, it has cruise down to zero," says Carson. "You can set your cruise control and the truck will crawl along. Talk about something that fatigues people, stop and go driving is really a big drain on that operator. It's more than just the job site, it's the getting to and from the jobsite. I encourage everybody to consider it and least learn more about it."
Side Guard Assist detects objects on the passenger side of the truck and alerts the operator. Active Brake Assist 5 detects distance and speed to moving and stationary objects in the truck's patch and determines if braking is necessary. The system works down to 5 mph, making it well-suited for travel in congested urban areas. It also recognizes pedestrians who are about to cross in the truck's path, alerting the operator while partially braking. It will then apply full braking if the operator does not react and will bring the truck to a complete stop, if needed.
Adaptive Cruise Control reduces driver fatigue in stop and go traffic. It automatically adjusts your cruising speed to maintain a safe following distance from other vehicles in the truck's path. This allows the truck to remain in cruise control longer. When equipped with the DT12 transmission, the adaptive cruise control will adjust the truck's speed all the way to 0 mph. It also helps mitigate front and rear collisions as operators travel from one jobsite to the next.
Tailgate Warning alerts operators when they follow another vehicle too closely while traveling over 20 mph. It can report these events via Detroit Connect to help you improve driver training.
Automatic headlights and wipers help keep your view clear and your attention on what is ahead. Intelligent High Beams automatically disengage high-beam headlights when the camera detects tail lights, headlights or city lights – and turns them back on once these light sources are no longer visible.
Lane Departure Warning helps keep an eye on the road. It alerts the operator with a rumble sound and dash warning if the truck veers from its lane without signaling.
Detroit Assurance also offers forward- and driver-facing video capture. You can set the system to automatically take a 20 to 30 second snapshot of both the truck and driver activity during a severe traffic event and have it automatically loaded to a web portal for review.
"By providing drivers with tools such as Detroit Assurance, we help mitigate potential accidents as well as alleviate driver fatigue and strain, which will help drivers stay more aware and make their jobs a little bit easier," says Carson.