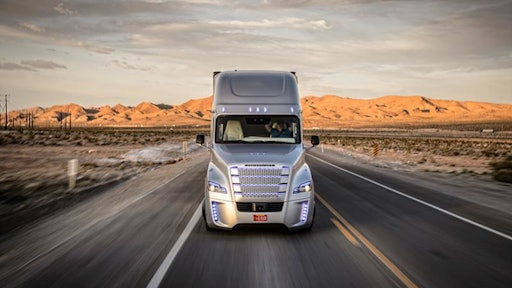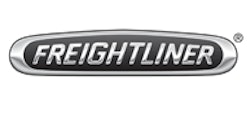 Freightliner just licensed the first autonomous heavy-duty truck to operate on Nevada public highways.
In July 2014 Daimler Trucks provided the world's first demonstration of an autonomous truck in action when the Mercedes-Benz Future Truck 2025 drove along a cordoned-off section of Germany's autobahn. Freightliner's (a Daimler subsidiary) The Inspiration Truck is the next milestone on the road to production of the Highway Pilot system.
The Inspiration is based on the Freightliner Cascadia model, but with the addition of the Highway Pilot technology modified for use on American highways.
Freightliner borrows Active Cruise Control+ from the Mercedes-Benz truck, and bundles it with a front radar sensor and stereoscopic cameras and other sensors that help the truck situate itself on the road. The cutting-edge technology is packaged under Freightliner's "Highway Pilot Technology" banner.
As soon as the driver maneuvers the Inspiration safely onto the highway, he can activate Highway Pilot. The stereo camera and radar systems combine with lane-keeping and collision-prevention functions. Highway Pilot regulates the speed, applies the brakes and steers.
The system won't initiate passing maneuvers; they have to be executed by the driver. The same is true for leaving the highway and changing lanes. The driver can deactivate Highway Pilot manually and is able to override the system at any time.
The Adaptive Cruise Control system uses the same hardware and software as the variants in production for Mercedes-Benz Actros and Freightliner Cascadia Evolution. Active power steering uses the same hardware as the production vehicles, but the software has been modified. The steering gear in Freightliner's Inspiration is proven on the road in Mercedes-Benz trucks since 2011.