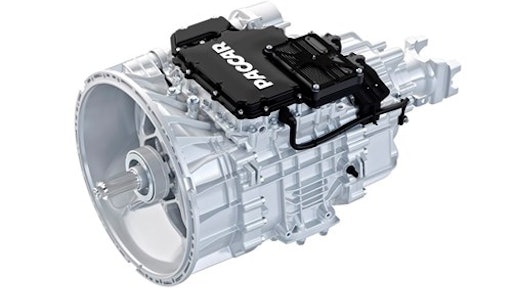 The PACCAR Automated Transmission is designed to complement the performance of PACCAR MX engines and PACCAR axles. Kenworth and Peterbilt will begin offering the PACCAR Automated Transmission to North American customers in October 2017.
The PACCAR Automated Transmission is designed for line-haul applications up to 110,000 lbs. GVW. It is available for engine ratings up to 510 hp and 1,850 lb.-ft. of torque and features tightly integrated electronic communications with the PACCAR MX engine.
The transmission is up to 105 lbs. lighter than comparable transmissions, savings that customers can use to haul more payload. The 750,000-mile oil change interval is the longest available for line-haul applications, which reduces maintenance costs and increases uptime.
The transmission includes a differentiated fluid pressure detection system that protects the gears and shafts from low fluid conditions. Other features include a maintenance-free clutch and an internally routed electrical system to maximize durability. PACCAR's new column-mounted shifter puts gear selection and engine brake controls at the driver's fingertips for better ergonomics and improved performance.