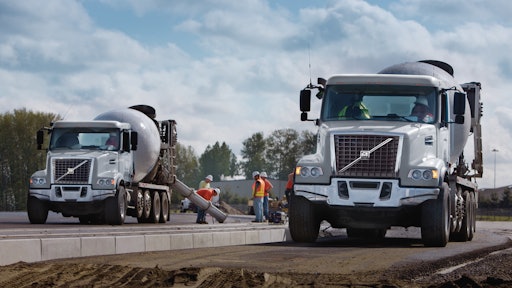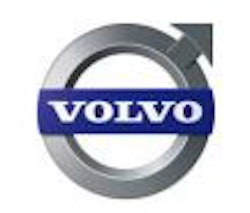 Volvo Trucks North America will showcase three application-specific Volvo VHD series vocational trucks in its booth (No. C7012) at World of Concrete 2018, January 23-26 at the Las Vegas Conference Center. The VHD 300 mixer, VHD 300 volumetric mixer, and VHD 300 dump models are designed to deliver power, productivity, and versatility to specific concrete and masonry applications.
"Our Volvo VHD series has an excellent reputation over a broad range of applications, and we're pleased showcase our product range for demanding concrete and masonry jobs," said John Felder, Volvo Trucks North America product marketing manager – vocational trucks. "The VHD work solutions we're presenting at World of Concrete 2018 represent our ongoing commitment to innovation for trucks that regularly face tough, off-road work environments. We take pride in making hard work as easy as possible." 
Recently introduced, the new interior for the Volvo VHD series will also be on display in the Volvo booth. Design of the new VHD interior was guided by feedback from nearly 2,000 professional drivers. The resulting improvements deliver comfort and convenience features to help maximize driver productivity, and help companies improve driver retention.
The new VHD interior features an ergonomic dashboard that puts more controls and gauges within the driver's reach and quick glance. A central, customizable driver information display provides trip and diagnostic data, and Volvo's smart steering wheel places controls for most interactive functions at the driver's fingertips.
An expanded variety of available seating options provide an increased range of seat adjustment that improves driving ergonomics. Drivers also benefit from Volvo's refrigerated passenger seat option, providing a cool place to keep food and beverages cold while out on the job.
All Volvo VHD on display are equipped with Volvo engines and transmissions connected with Volvo Remote Diagnostics, which monitors critical fault codes, enabling proactive diagnostics and repair planning to maximize uptime. Remote Diagnostics is standard on trucks with Volvo engines and is a central component of Volvo Trucks Uptime Services, which also include 24/7 support from Volvo Action Service, and ASIST, Volvo's service management platform.
Volvo Trucks will showcase the following VHD models at World of Concrete 2018:
Volvo VHD 300 6x4 with Mixer
Volvo VHD 300 6x4 with Volumetric Mixer
Volvo D11 engine with 365 HP and 1,350 lb.-ft. of torque
Volvo I-Shift AMT, 14-speed I-Shift with Crawler Gears
22,800 lb. front axle, 46,000 lb. rear axle
Volvo VHD 300 12x4 with Polished Aluminum Dump Body
Volvo D11 engine with 425 HP and 1,550 lb.-ft. of torque
Volvo I-Shift AMT, 13-speed I-Shift with Crawler Gears
20,800 lb. front axle, 46,000 lb. rear axle
In addition to the VHD series featured in the Volvo Trucks booth, a Volvo VHD 300 will also be on display in the Cemen Tech booth, Central Hall #5542. The VHD will be equipped with a Cemen Tech C60 fully automated mobile mixer with one-button operation.