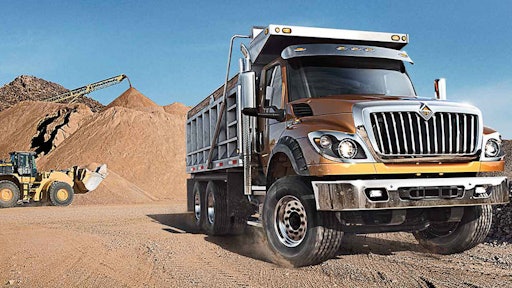 While there were many hardware updates in 2017, there were also product enhancements related to telematics systems and over-the-air update capabilities. Following are some noteworthy introductions.
Navistar Launches Line and Expands Existing Options
Navistar replaced its aging Workstar platform with the International HV Series. It became the first severe service truck line with International's A26 12.4-liter engine. Built from the proven European MAN D26 engine crankcase, the A26 produces up to 475 hp and 1,700 lbs.-ft. of torque from a design that weighs 600 to 700 lbs. less than a traditional 15-liter engine. The HV Series also offers the Cummins B6.7 or Cummins L9 engines.
[VIDEO] International HV Series Replaces Workstar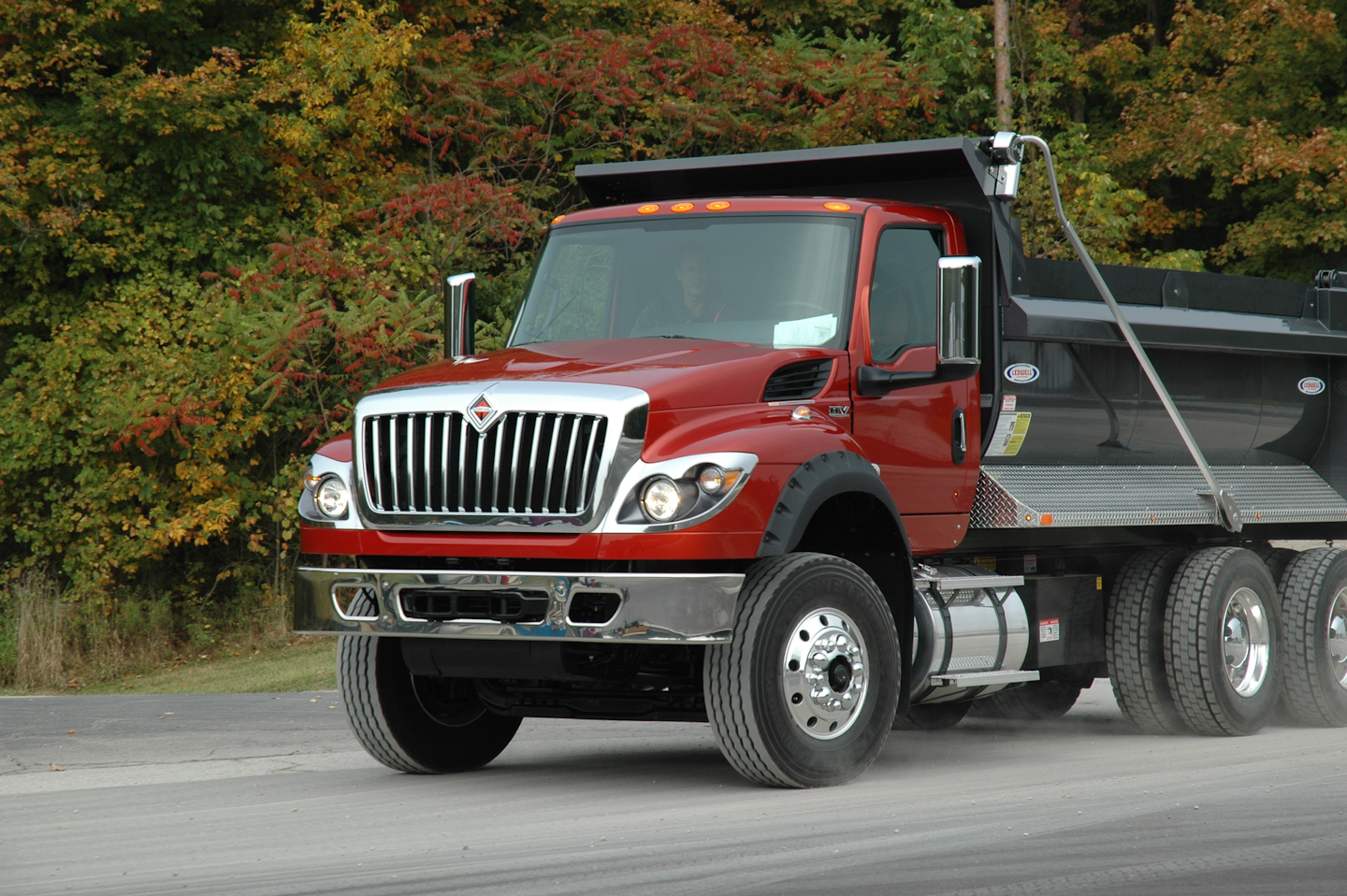 Navistar replaced its aging Workstar platform with the International HV Series, which became the first severe service truck with International's A26 12.4-liter engine.Changes focused on the engine and cab. The cab features double-sided galvanized steel construction, while redesigned cab doors give the driver a single large piece of glass to look through to improve side visibility and reduce blind spots. Reshaping the doors and side glass allowed the position of the optional pedestal mirrors to be optimized so drivers turn their heads 15% less on the left side and 5% less on the passenger side, making it easier to keep their eyes on the road and reducing neck strain.
An optional premium gauge cluster is customizable with virtual gauges. An easy access column-mounted stalk shifter is integrated with the engine braking to help drivers keep hands on the wheel and eyes on the road. The dash contains space for up to 30 customizable switches.
Super Single 1/2-in.-thick frame rails are rated up to 3.35M RBM and integral 20- and 27-in. frame extensions offer greater strength and reliability.
With an inside wheel cut of up to 50°, the HV Series can easily navigate tight city streets and construction sites. Regular Cab, Extended Cab and Crew Cab configurations are available.
Every HV Series model can be equipped with OnCommand Connection, a remote diagnostics system, and Over-the-air (OTA) programming. OTA offers drivers and fleets an easy, secure means of updating engine control modules to reflect the latest manufacturer-approved calibrations, without the necessity of visiting a dealer or other service facility.
Navistar also added options to the International HX Series, including a 51-in. sleeper cab on both the HX520 and HX620 models. "The HX520 and HX620 models will be available with an integrated 51-in. short sleeper cab for those drivers that need an incredibly rugged chassis designed to survive in punishing off-road applications and require a comfortable work space and roomy place to rest after a demanding day behind the wheel," says Mark Stasell, vice president, Vocational Truck Group. In addition, the A26 12.4-liter engine will be available on the HX515 and HX615.
On the telematics side, Navistar announced advancements to its OnCommand Connection platform, including Live Action Plans, a feature designed to predict when a part is going to fail. "We expect to be able to tell customers that we will proactively identify problems before they happen, recommend a fix and pay for warrantable fixes before anything fails on the truck and they experience downtime," says Persio Lisboa, Navistar chief operating officer.
The company plans an official launch of OnCommand Connection Live Action Plans in 2018.
Mack Adds Driver-focused Features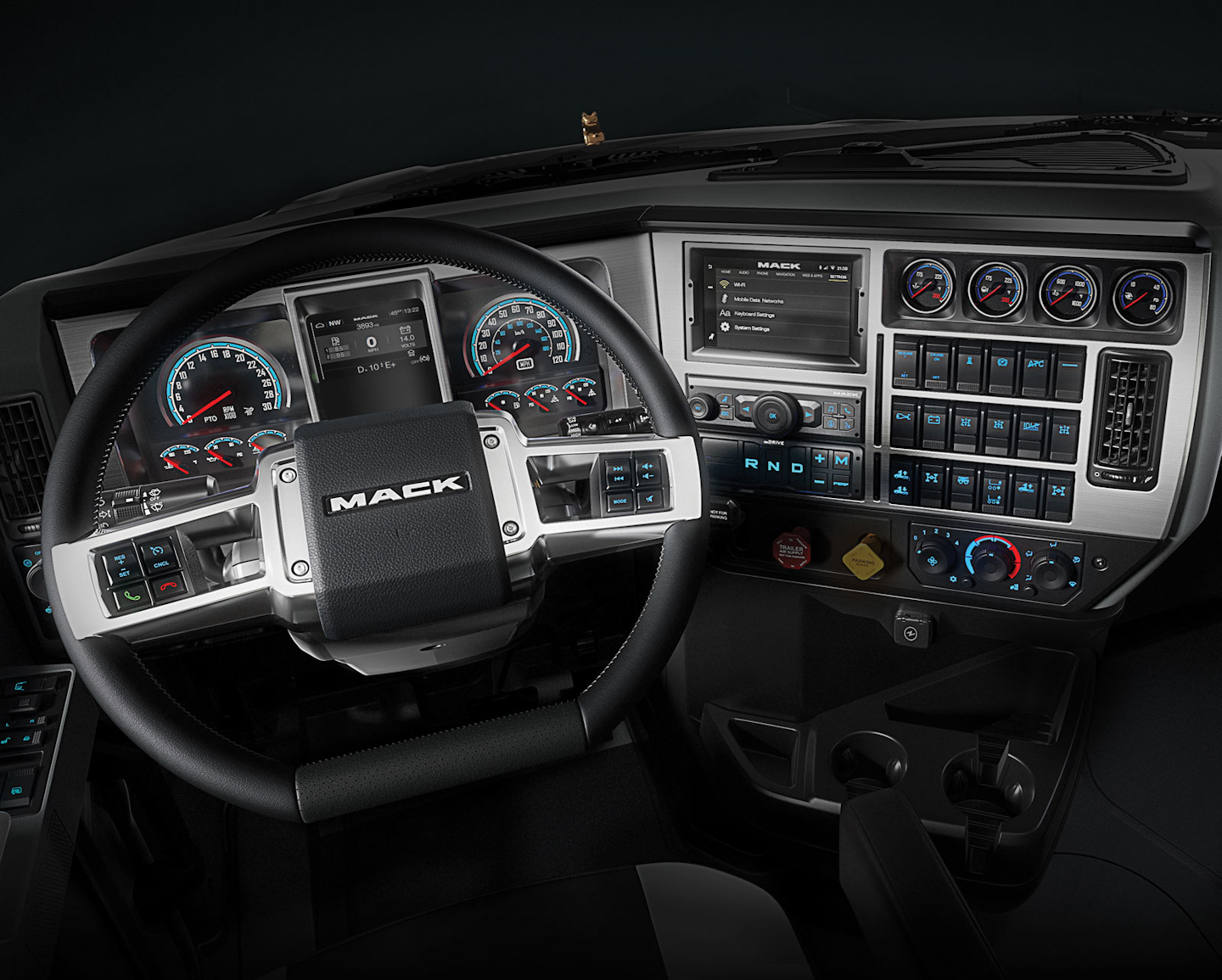 A new gauge cluster and dash layout on Mack Granite and Pinnacle interiors improves visibility and readability, and puts frequently used controls at the driver's fingertips.New interiors for Mack Granite and Pinnacle models are designed to help customers attract and retain drivers and improve productivity. A new gauge cluster and dash layout improves visibility and readability, and puts frequently used controls at the driver's fingertips. Switches are repositioned higher on the dash, while the Mack mDRIVE automated manual transmission shift pad is now within easier reach. The dash panel has room for up to 18 switches, which have laser-etched labeling that won't rub off.
HVAC controls now include Automatic Temperature Control that maintains the temperature set by the driver. Multiple 12-volt and USB charging ports are available throughout the dash, including a non-slip pad on top of the dash that features two USB charging ports.
A racecar-inspired flat-bottom steering wheel improves driver comfort, makes entering and exiting the vehicle easier and gives the driver a better view of the dash. The steering wheel can be equipped with illuminated cruise control, Bluetooth and audio system buttons.
"We've incorporated more ergonomics and comfort features to make the driving environment more automotive," says Stu Russoli, Mack highway product manager.
Updates to Mack's Co-Pilot display, located behind the steering wheel, include a 5-in. full-color screen for better visibility and more intuitive navigation. Co-Pilot provides drivers with a convenient way to monitor vehicle information, including engine and oil temperatures, trip odometers, aftertreatment status, tire pressures and more. A Pre-Trip Assistant guides drivers through inspection points and includes a single-person exterior light inspection mode. Controls for Co-Pilot functions are located on the updated right-hand steering column stalk.
The company also launched Mack Over The Air (OTA), enabling customers to update software without disrupting their schedules. "Our customers can now make these updates whenever and wherever it is convenient for them," says David Pardue, vice president of connected vehicles and uptime services, Mack Trucks.
Two categories of software updates are available through OTA. One is for powertrain components, and the other for vehicle parameters such as road speed limits, optimizing performance for customers with trucks that change duty cycles based on factors such as economics, load type and geographic area.
Mack Over The Air capitalizes on Mack GuardDog Connect telematics hardware to deliver the software updates. GuardDog Connect comes standard on every Mack model equipped with a Mack engine. It provides proactive monitoring and repair planning, enabling real-time diagnosis of issues, scheduling of repairs and confirmation that needed parts are in stock and ready to install.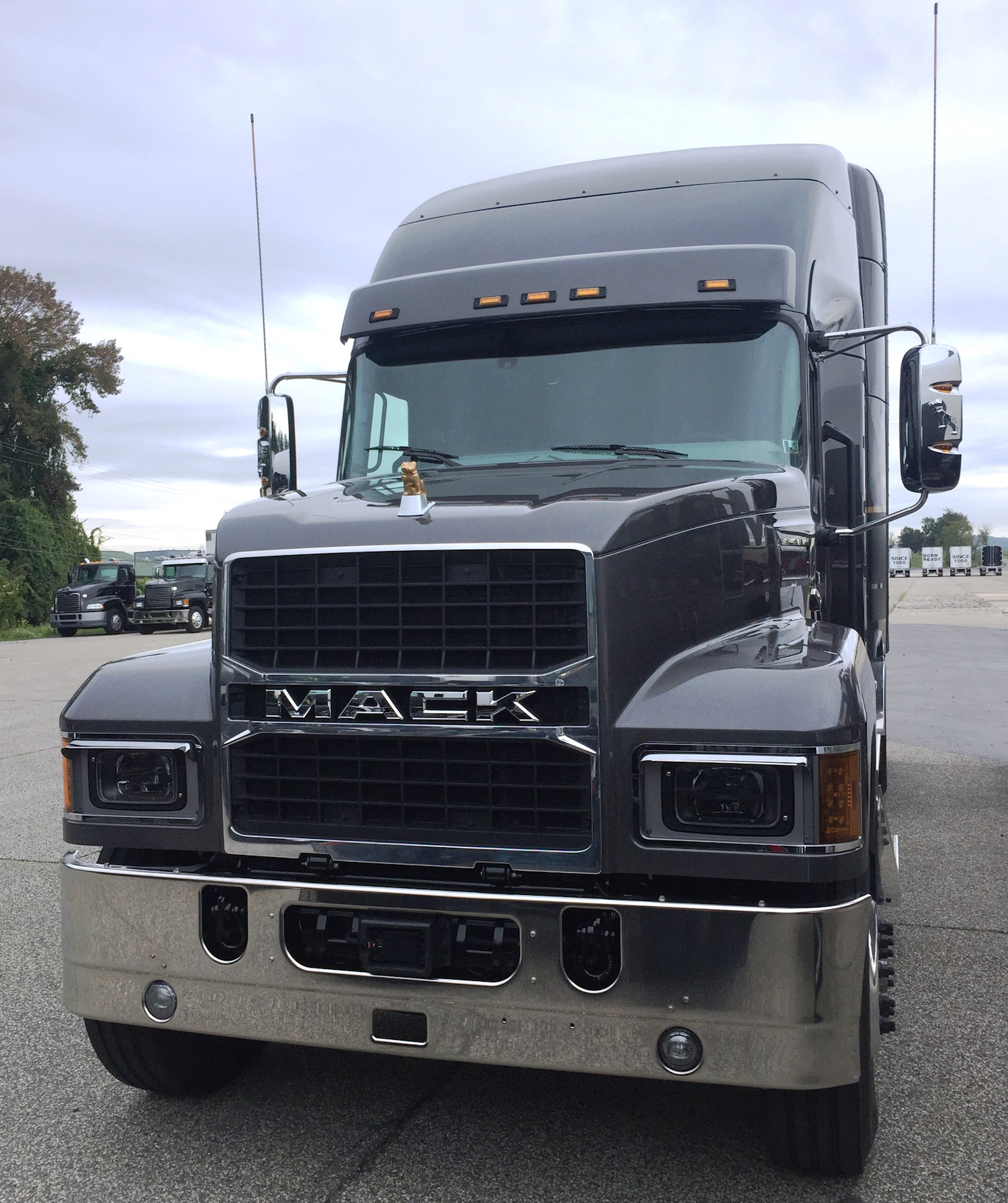 Mack introduced all-new LED headlights and a new grille for its Pinnacle model that echoes the design of the Mack Anthem, Mack's new highway model.Mack Trucks has also developed a telematics solution for Mack legacy vehicles. Working with its partner Geotab, Mack now offers connectivity for older vehicles that are not equipped with GuardDog Connect. After installing a small Geotab telematics device on model year 2011 and newer Mack vehicles equipped with Mack engines, the Mack Uptime Center will be able to monitor the same critical vehicle codes as with GuardDog Connect hardware. If an issue is detected, Mack OneCall agents will evaluate and provide the customer's designated contact with decision-critical information through Mack ASIST, an online communications and service management portal. Repair scheduling as well as parts and service bay availability are also confirmed, all while the truck is still on the job.
For its mDrive and mDrive HD automated manual transmissions — which are engineered to work exclusively with Mack MP engines — the company added rolling start and auto neutral as standard. "Mack's mDRIVE transmissions serve a wide range of customers, including those with demanding paving and concrete applications," says Tim Wrinkle, Mack construction product manager. "Now updated with rolling start and auto neutral, mDRIVE transmissions are even better suited to those tasks."
The mDRIVE rolling start allows drivers to shift the transmission into drive without pressing the truck's service brakes. This eliminates the possibility of creating a bump in the paving surface, which is a critical benefit for paving applications.
Several construction applications, including concrete mixers, rely on remote throttle controls. By automatically shifting the transmission into neutral when the parking brake is set, mDRIVE auto neutral helps improve safety by reducing the possibility of the truck moving due to throttle application.
DTNA Boosts Severe-Duty Connectivity, Performance
A Detroit Connect mobile app is now available for download by Freightliner and Western Star customers that have an active Detroit Connect subscription. This allows these customers to access information about their vehicles' performance without needing to be at a desk or on a computer. The free app is available for iOS or Android-enabled mobile devices, and can be found in the Apple Store or Google Play.
The app offers many of the same features found in the web-based Detroit Connect portal, making it easier for customers to gain insights about fleet health, fault event diagnostic information and fault history delivered by Detroit Connect Virtual Technician. A push notification feature even immediately notifies users of "service now" fault events delivered by Virtual Technician. The app is also designed to incorporate other Detroit Connect features, including Detroit Connect Analytics fuel efficiency insights and safety reporting.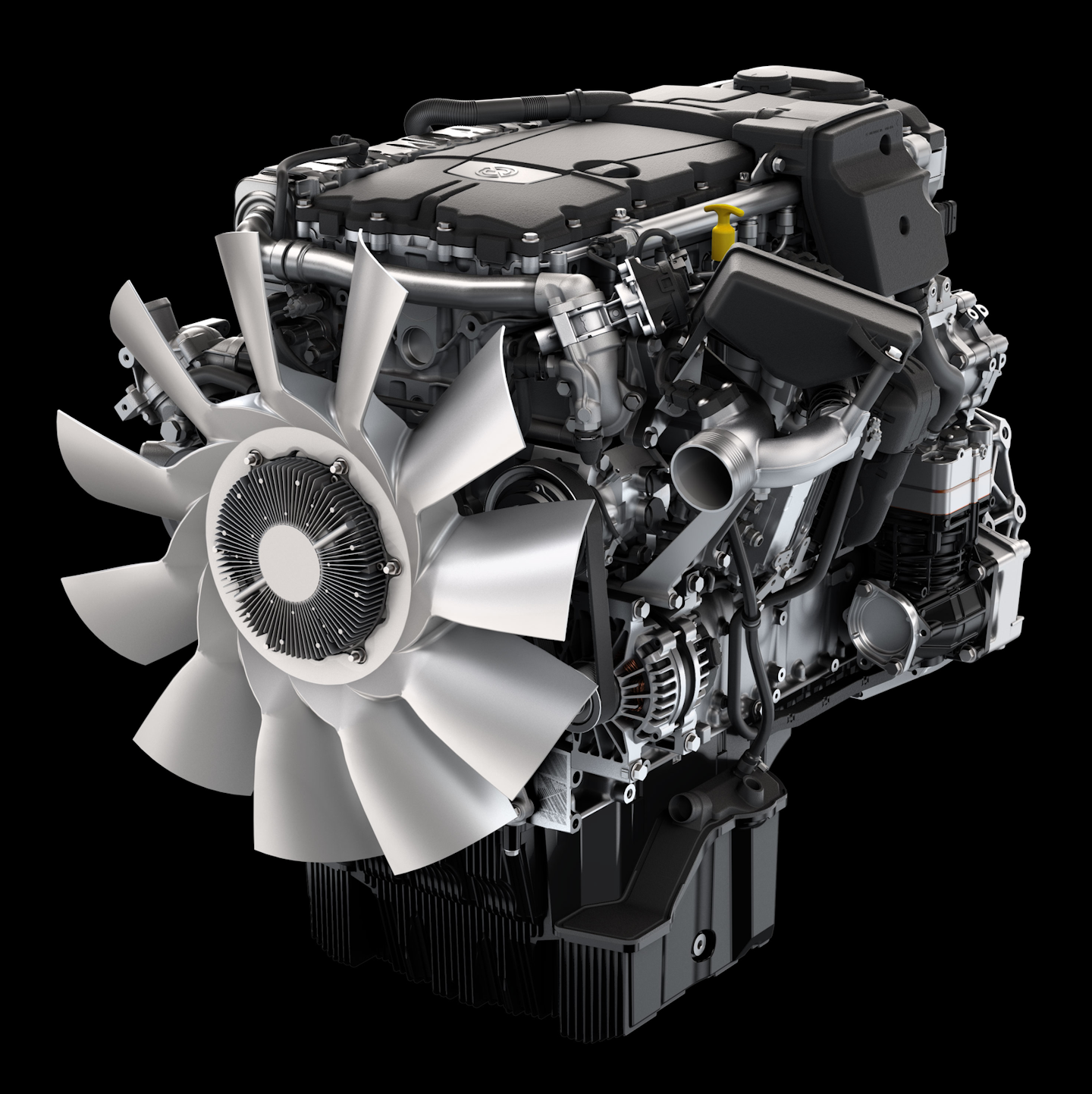 Aimed at the vocational truck markets, the Detroit DD8 is a 7.7-liter in-line, six-cylinder medium-duty engine. It boasts a horsepower range of 260 to 350 hp and a torque range of 660 to 1,050 lbs.-ft."Mobile access to real-time, actionable information regarding a vehicle's performance is essential for our customers," says Jason Krajewski, director, connectivity, Daimler Trucks North America (DTNA). "This new app enables fleet decision makers to take whatever action is needed to maintain uptime and maximize efficiency."
Access to the Detroit Connect portal and mobile app is included with any active Detroit Connect subscription at no charge. Freightliner and Western Star customers with an active Detroit Connect subscription can sign up for portal and app access by going to www.DemandDetroit.com/login.
DTNA also unveiled Express WriteUp and updates to Uptime Pro. Express WriteUp is a mobile application that allows service advisors to wirelessly create a complete repair order. When a vehicle arrives at the service location, the service advisor can obtain all necessary vehicle data by scanning the VIN or QR code that is located on the door pillar. The application instantly loads all warranty coverage, repair history and Detroit Connect Virtual Technician details.
"A scanned vehicle number eliminates human entry errors and further speeds the overall repair process," says Marty Kubiak, manager, central service systems, DTNA. "An incorrect VIN can create many problems downstream of the repair process. The intake process for a truck repair is the first and most critical step."
After a vehicle is received through Express WriteUp, Uptime Pro helps dealers to stay connected with the customer throughout the repair and manage the repair more efficiently.
On the hardware side, DTNA unveiled the new Detroit DD8 engine. Aimed at the vocational truck markets, the Detroit DD8 is a 7.7-liter, inline six-cylinder, medium-duty diesel engine. It boasts a horsepower range of 260 to 350 hp and a torque range of 660 to 1,050 lbs.-ft.
The DD8 will launch with both engine and transmission power take-off options required for many vocational applications. It will initially be available in the Freightliner M2 106, 108SD and 114SD models. The Detroit DD8 is scheduled for availability with vehicle production beginning in February 2018.
In addition, Freightliner Trucks added several severe-duty product options including the Allison 4700 Rugged Duty Series (RDS) automatic transmission, LifeGuard RollTek seats, improved routing and clipping, LED headlights in the M2 106 and M2 112 and Bendix Tire Pressure Monitoring.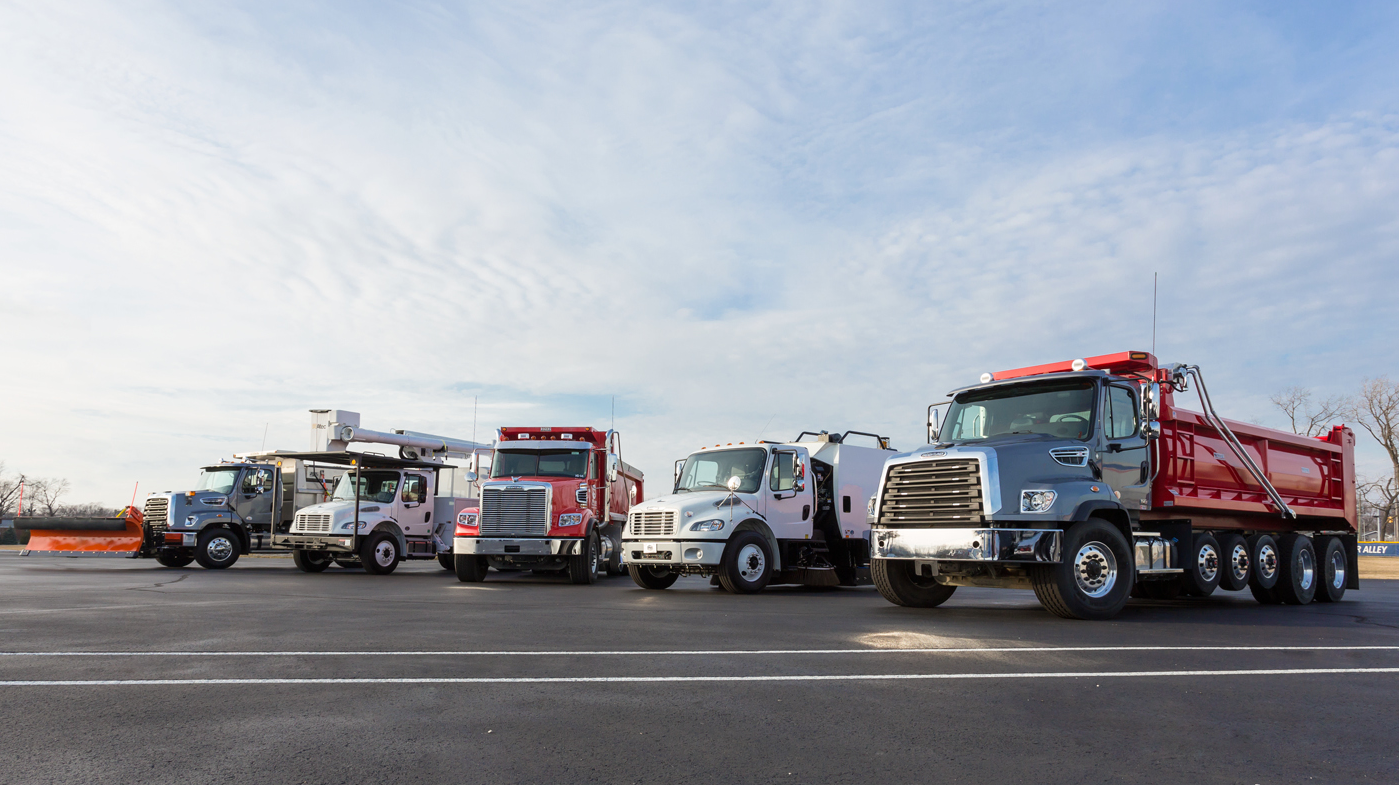 Freightliner Trucks added several severe-duty product options including the Allison 4700 Rugged Duty Series (RDS) automatic transmission, LifeGuard RollTek seats, improved routing and clipping, LED headlights in the M2 106 and M2 112 and Bendix Tire Pressure Monitoring.Available for the Freightliner 114SD and 122SD, the Allison 4700 RDS provides heavy vocational operators with improved startability, two reverse gears, enhanced PTO options and the durability required for severe applications.
Safety can be enhanced through LifeGuard RollTek seats. In the unlikely event of a rollover, the LifeGuard RollTek side-impact airbags inflate, the seatbelt tightens and the air suspension seats compress to the lowest position to provide additional protection to the driver.
Freightliner's entire vocational product line has been updated with new standoff brackets and optimized routing and clipping of chassis electrical and plumbing harnesses to provide a cleaner installation and greater long-term durability. The body and equipment mounting is also simplified with more consistent routing paths.
The Bendix Tire Pressure Monitoring System is now available for Freightliner's entire vocational product line.
Western Star also added several options. Western Star 4700, 4800, 4900 and 5700XE truck models offer the new Michelin X Multi D tire as a factory-installed option. The Michelin X Multi D tires have a co-extruded compounding scrub-resistant rubber for maximized tread life.
The Western Star 4700 can be spec'd with factory-direct H4 halogen headlight bulbs. The bulbs provide a brighter light than regular incandescent bulbs for better visibility. The cost-efficient H4 bulbs are readily available and easy to install.
Western Star has also expanded its in-cab battery box capacity to hold up to four batteries. Available for 5700XE day cabs, the batteries are under the passenger seat instead of the side of the chassis. This option can help extend the life of the batteries by protecting them from extreme weather conditions, road spray and harsh chassis vibrations. Customers can also spec a shorter wheelbase tractor, resulting in better wall-to-wall turning radius, lighter tractor weight and increased fuel economy.
Now available for Western Star 4800 and 4900 truck models, factory-installed LED headlights are effective for night-time driving or foggy road conditions because they produce an illuminating, piercing light without blinding other road users. A low-maintenance option, LED headlights also use less power from the truck.
PACCAR Adds Engine and Axle Choices
PACCAR's Kenworth division adds to the versatility of its T880 vocational truck with an all-wheel-drive configuration. The front drive axle is installed at the Kenworth factory, which speeds delivery time and saves costs.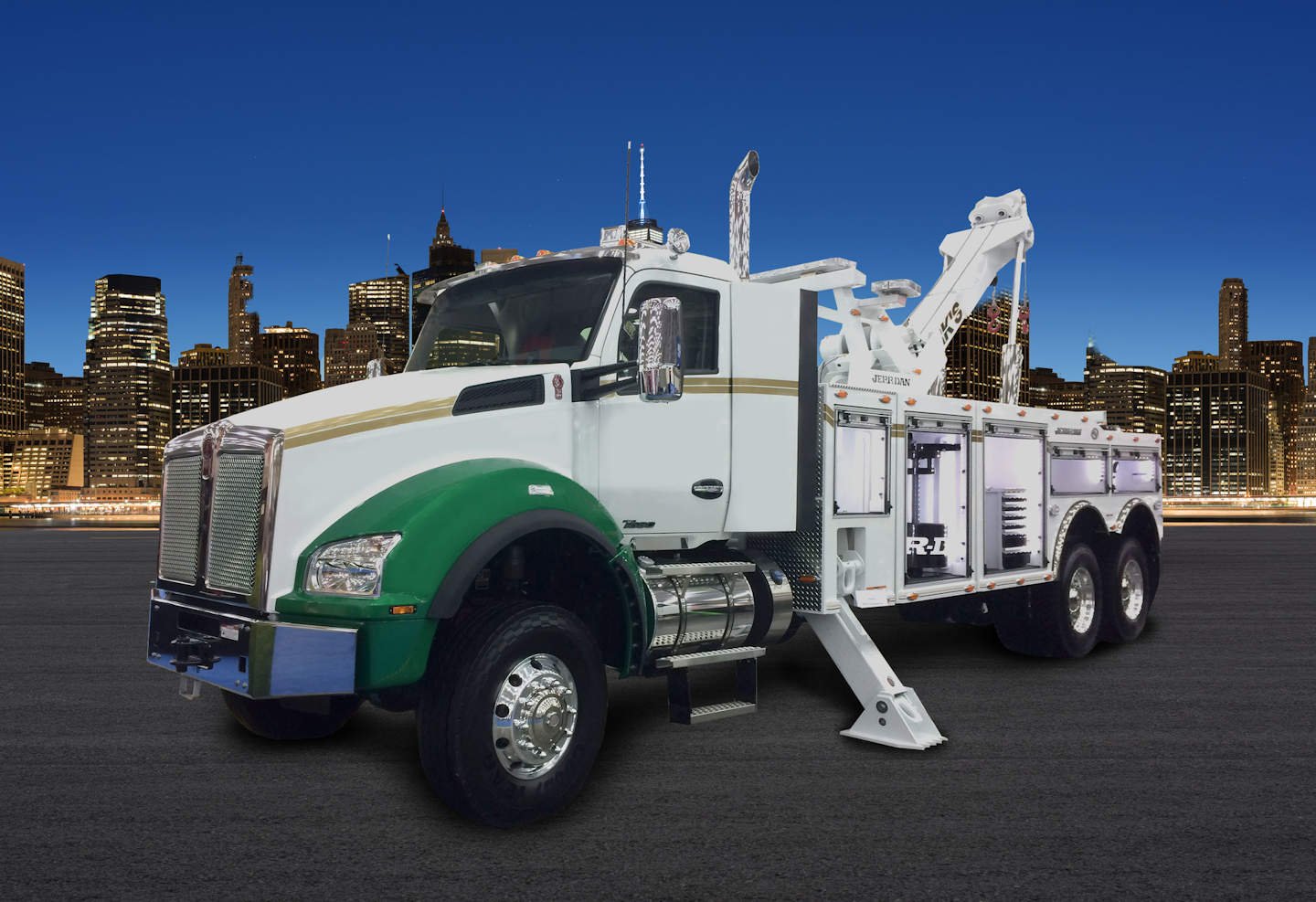 For the Kenworth T880, a Marmon Herrington MT-22 front drive axle is available in a 6x6 or 8x8 Class 8 configuration with a capacity rating up to 22,000 lbs. The all-wheel-drive configuration requires a Fabco transfer case."We see our all-wheel-drive T880 being used in oil fields, configured as an off-road crane, in utility and construction work or used with municipalities and fire/rescue," says Kurt Swihart, Kenworth marketing director.
A Marmon Herrington MT-22 front drive axle is available in a 6x6 or 8x8 Class 8 configuration with a capacity rating up to 22,000 lbs. The all-wheel-drive configuration requires a Fabco transfer case, and can be specified with Fabco's one-speed TC-142 or two-speed TC-143 transfer case.
Kenworth has also made its T370 available with factory-installed 18,000- and 20,000-lb. front drive axles. The Fabco FSD-18A and FSD-20A front drive axles are paired with a new Fabco TC-548 transfer case. The two front drive axles are available with the PACCAR PX-9 engine rated at up to 350 hp and 1,150 lbs.-ft. of torque. Both models require taperleaf front springs and are available with air or mechanical rear suspensions.
Kenworth and Peterbilt have also added the PACCAR 20,000- and 22,000-lb. wide track steer axles to their vocational lineups. The axles are available with standard front air disc brakes or optional drum brakes.
The PACCAR steer axle is designed for applications such as refuse, construction and heavy-haul based on its combination of weight-savings technology and field-tested durability. It offers optimal maneuverability with a turn angle of up to 50° with an innovative tapered kingpin roller bearing for a simplified design.
Peterbilt introduced an ergonomic column-mounted shifter on the Models 579 and 567. The column-mounted shifter will be standard on trucks equipped with the automated PACCAR transmission, as well as those equipped with Eaton Advantage and Ultra Shift automated manual transmissions.
Located on the right-hand side of the steering column, the shifter features a multi-mode design and allows control of all transmission and engine brake functions, including gear selection, engine brake mode and manual shifting. The column-mounted shifter places controls at the driver's fingertips, minimizing distractions and allowing an increased focus on road conditions and surrounding traffic.
"This new design also allowed us to improve on the usability of our dash by eliminating engine brake control switches," says Scott Newhouse, Peterbilt chief engineer.
With the implementation of the column-mounted lever, a new design pinch valve located on the dash has replaced the traditional lever for trailer brake activation, enhancing control during coupling and uncoupling maneuvers.