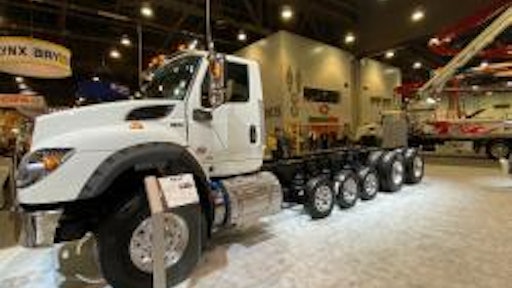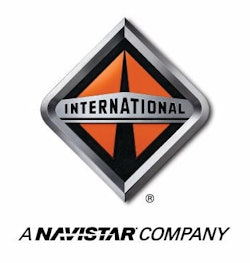 International Truck showcasing several vehicles from its vocational product lineup at World of Concrete 2020, including an International HV Series featuring the Hendrickson HAULMAAX EX suspension, an upgraded suspension offering for the HV and HX Series lineup.  The truck also features Hendrickson COMPOSILITE EXS lift axles which are a new offering from International.
The Hendrickson HAULMAAX EX suspension offers several key features that are beneficial for many vocational applications, including a progressive load spring system for improved stability, a lightweight design that removes unnecessary weight, optimized geometry for increased durability and redesigned bolster and auxiliary springs for exceptional ride quality. The suspension also offers increased tire clearances for 315-millimeter tires and improved strength as evident in its increased site ratings. The Hendrickson COMPOSILITE EXS lift axles are available today, and the Hendrickson HAULMAAX EX suspension will be available from International in the fall.
The HAULMAAX EX suspension is the second update that International has announced for the HV Series in the last few months. In October, the company introduced a high visibility, set-back axle option for the AWD HV Series that features improved maneuverability and increased visibility.