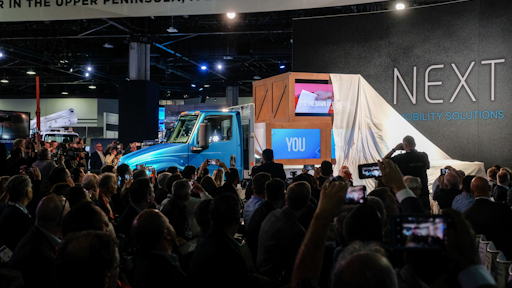 NACV
While it was only the second time the biennial show has been held, the North American Commercial Vehicle Conference (NACV) is emerging as a venue for commercial truck manufacturers to share their latest technological advancements and their vision of the future. Held in Atlanta in October, the show focused on three pillars that will drive R&D departments well into the next decade. These include electromobility, connectivity and autonomy.
Though the diesel engine is expected to be the dominant power source into the foreseeable future, electric powertrain options are being developed and will continue to gain market share in applications where the technology is a good fit. Right now, the predominant applications include the shipping ports, municipal fleets and pickup and delivery — but there were also electric and hydrogen fuel cell line-haul prototypes that could be game changers for the entire industry in the distant future.
Connectivity is here now and is already reshaping productivity and the way fleets are managed. Components communicate with each other to drive efficiency, while the vehicles are generating an ever-increasing amount of data that is filling fleet management software systems.
Autonomy has been gaining a lot of media attention, but don't expect driverless trucks to be traversing the highways any time soon. While the term autonomy may conjure images of driverless truck technology, autonomy actually comes in many forms. There are five SAE-defined levels of automation:
Level 1: Driver Assistance. One function is controlled automatically, such as speed. Cruise control is a commercially available example.
Level 2: Partial Automation. Both steering and speed are automated, with the driver ready to take vehicle control.
Level 3: Conditional Automation. All tasks are automated in some situations, such as highway driving. All safety critical functions are automated, but the driver is present for certain traffic and environmental conditions.
Level 4: High Automation. All tasks are automated in limited environments with the driver present. It is automated to perform all safety critical functions.
Level 5: Full Automation. Automation handles all roadway conditions and environments without a driver. The system performs equal to a human driver in all scenarios and conditions.
Advances is autonomy will continue to progress and certain applications will see the level of autonomy increase throughout the next few years.
Curt Bennink

Industry Faces Transformational Change
Large R&D investments will be required to develop future technologies surrounding connectivity, electromobility and automation. Companies are going to have to figure out how to best fund the development of these transformational technologies and position themselves to be competitive in the future. For instance, Navistar and the Traton Group, formerly known as Volkswagen Truck and Bus AG, formed a strategic alliance to jointly fund R&D efforts.
"We announced that the Traton Group is planning to take a leading position in electromobility," says Andreas Renschler, CEO, Traton Group. "We plan to spend more than 1 billion Euro in R&D in emobility, including connectivity and autonomous drive. I am convinced in the next 10 to 15 years one third of our trucks and buses will have alternative drivetrains and most of those will be fully electric. This is a very conservative figure. For this process, we are taking Navistar along."
Other manufacturers are taking a different approach to the necessary investments. Volvo Trucks emphasized the need for continuous investment in these technologies through both the up and down cycles of the market. "The future investments require a solid company," says Martin Lundstedt, president and CEO, Volvo Group. "Volvo Trucks, part of the Volvo Group, has been heavily invested in the megatrends of electromobility, connectivity and automation.
"We are executing our biggest investment program ever in North America and we will continue to do so for a number of years," says Lundstedt.
Volvo Group consists of 14 different brands operating independently, but utilizing the resources of a big family. "When you look into the new technologies, obviously there was thought in very specific segments and applications where we operate — construction, mining, ports," says Lundstedt. "That will spread across all our different segments and applications. We see the increased interest in green solutions. We see the increased interest in safety."
Connectivity Enables Data-Driven Solutions 
Manufacturers continue to find new uses for the ever-expanding data stream being produced by today's trucks. This presents the opportunity to redefine how every aspect of the business operates, including financing.
"We are excited to introduce a number of new products and services that are customer driven and customer focused, including the industry's first telematics-driven dynamic lease," says Roger Nielsen, president and CEO, Daimler Trucks.
The Dynamic Lease is made possible through the power of telematics data. "It is a precedent-setting, customer-focused solution that uses the embedded telematics of Detroit Connect to track truck mileage to provide a pay as you drive lease financing rate," says Nielsen. "Dynamic Lease will give our customers the power to personalize their financing to better manage cash flow and better navigate the uncertainties of running a business. Dynamic Leasing is not just ideal for our present market, it is the future of truck financing."
As the number of connected machines continues to expand, data management and data-driven services will become a key performance differentiator. "Connectivity is the basis for everything," says Lundstedt. "We have more than 1 million connected machines around the globe today. An enormous amount of data is generated." Over 200,000 of those connected vehicles are operating in the North American market under the Volvo Trucks brand.
This data is key to driving uptime. All manufacturers have instituted uptime programs that watch for potential failures and provide the data needed for fleet managers and owners to make well-informed decisions.
"Remote diagnostics allows us to predict when certain components need to be replaced proactively," says Peter Voorhoeve, president, Volvo Trucks North America. "We can avoid that unplanned downtime. The same thing with over-the-air downloads. You don't have to go to the dealership anymore for software updates."
Typically, trucks might need software updates or change parameter settings a couple of times a year. Over-the-air updates allow this to happen while the trucks remain in the field in 20 minutes or less.
As time progresses, the number of data points being collected  continues to increase. "In the last six months, we have added components to remote diagnostics," says Voorhoeve. "We are increasing the scope of the number of components in the truck that we can follow on wear and tear and then communicate with our customers to go in and do the necessary maintenance proactively in a planned manner."
Volvo Trucks

Connectivity transforms dealer role
Connectivity is changing the relationship between the end user and truck manufacturer. "Connectivity is a tool that our customers are using and that we see driving uptime," says Voorhoeve.
One way manufacturers are changing their relationships with customers is through uptime centers. "The Volvo Trucks Uptime Center is basically a center where all of this connectivity and the data comes together," says Voorhoeve. "That's where we have all of these people monitoring the trucks, taking the calls, meeting the goals."        
Mixed fleet software simplifies management
The amount of data being generated and the many different sites customers must use to monitor the data produced by their fleets has created challenges.
"Many of our customers are looking for a simpler way to manage trucks, especially when they need service," says Friedrich Baumann, Navistar. "In modern trucking fleets, data feeds are generated from nearly every aspect that touches a fleet. With each data feed, customers are normally given a new portal with a new password. Now imagine what happens when a fleet has multiple trucks out of service and each service is performed."
Some manufacturers, such as Navistar, are trying to simplify the process with mixed fleet solutions. "International 360 is a connected digital network designed to streamline and facilitate communication between customers, International truck dealers and Navistar," says Baumann.
"International 360 integrates with over 20 telematics service providers, including our own," says Baumann. "We have also integrated International 360 into our next-generation telematics device, which is standard on all heavy-duty trucks.
"International 360 also centralizes all communications between the dealership and customer during the repair process," he adds. "While the truck is with the technician, customers will see the repair status in real time. International 360 enables all makes. It captures data from all vehicles in the fleet regardless of make. We can even add trailers."
Automation Steps Toward the Future 
Starting with SAE Level 2 Automation, manufacturers are investing heavily in R&D to progress to higher levels of automation in the future.
Freightliner kicked off 2019 by becoming the first truck OEM to launch a Class 8 truck at the Consumer Electronics Show (CES) in Las Vegas. The Cascadia was the first truck to hit the road with Level 2 automation equipped with the Detroit Assurance 5.0 suite of safety systems. "We are committed to bringing SAE Level 4 automated trucks to the road within a decade and we began testing our automated trucks on the highways and interstate freeways in Southwest Virginia," Nielsen points out.
Voorhoeve explains that automation is not really about the product but the process. "We don't sell autonomous trucks, we sell autonomous solutions," he says. "We have Volvo Autonomous Solutions as a separate business area. If connectivity, electromobility and autonomy come together, then you connect the bigger picture."
Automation comes in many forms and you must determine the best solution for your particular operation. "What gets the most attention is Level 4 autonomy, driverless operations. But for most, autonomy is at best driver-assisted systems," says Persio Lisboa, Navistar. "We plan to bring to market a Level 2 autonomous solution in the second half of 2020."        
Electric Powertrains Target Early Adopters 
Electromobility was on display at almost every booth we visited at NACV. Pickup and delivery applications and areas with air quality issues, such as the ports, are a few of the initial targets for electric powertrains. There were also hydrogen fuel cell truck prototypes, such as Nikola, that will eventually target line-haul applications.
Freightliner highlighted its eM2 and eCascadia electric solutions for the future. "In total, we have 200 battery electric vehicles on the road globally testing and pushing the technology forward," says Nielsen.
Volvo Group has been researching electrified powertrain technology for the past decade. "Electromobility has been part of the execution model for more than 10 years now, starting obviously with buses — hybrids and fully electric buses. Now it is moving into trucks. It is being launched in Europe and North America in a number of truck models and also construction equipment and our marine segment with Volvo Penta," says Lundstedt.
Volvo Trucks announced its electric VNR truck with a fully electric driveline will be ready for market by the end of 2020. "We have cooperation with the state of California with the California Air Resources Board (CARB) [on a program] called the Volvo LIGHTS project, Low Impact Green Heavy Transport Solutions," says Voorhoeve. "These trucks will be tried out in the port of Los Angeles, which is a semi-polluted area. This is a joint project between Volvo Trucks and CARB — $45 million came from CARB and $45 million came from us. That is the largest privately and publicly funded project in this country in terms of electromobility."
There were also discussions at NACV about range and the specs of the batteries and trucks.
The International eMV medium-duty electric truck displayed by Navistar is based on the diesel-powered MV Series. "It features a redesigned aerodynamic hood providing customers with superior visibility," says Lisboa. "It also features an electric motor with over 474 kW, or 645 hp. The continuous power is over 400 hp, which is available all of the time. The system actually contains two motors in one housing. It runs at peak efficiency across the entire operating range. We expect customers in a typical pickup and delivery application to be able to travel up to 260 miles on a single charge. This truck reflects what we expect to see in production in 2021."
The eMV was designed to accommodate three battery capacity options: 107, 214 or 321 kilowatt-hours.
But customers wanted to know about more than the truck itself. "Concerns are not all about the truck," says Lisboa. "Their concern is about everything that is required to move to electric — the electric ecosystem."
To address this, Navistar rolled out NEXT, an electrification business unit that will be headquartered in Detroit. Its objective is emobility solutions, with the goal of working with each customer to find the ideal solution for their operation.
"There is a large potential market for electric trucks. The economics of these vehicles are getting better every day," says Lisboa. "Early adopters are finding there is no one size fits all approach. NEXT Mobility Solutions is a new business unit at Navistar whose mission is to make the move to electric as easy as possible. It goes beyond the vehicle to address the broader electrical ecosystem."
The aim is to bring together experts in engineering, charging systems and telematics to craft a custom solution to address each specific application.