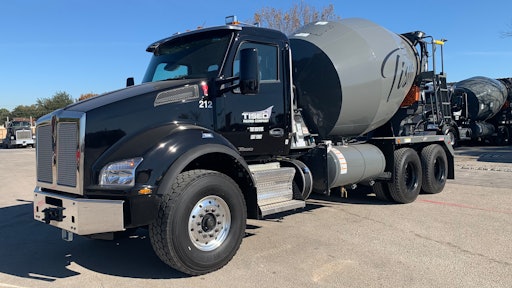 For Louis Tiseo, what his dad has accomplished in building a successful paving company in the Dallas Metroplex brings a lot of pride. Tiseo Paving Company, which moved to Dallas in 1981, has 120 employees. Many are third-generation Tiseo employees.
"My 81-year-old dad (Art) is still very active in the business, and has no plans to slow down," said Louis Tiseo, who started working with his father at age 14. Louis serves as president, while Art is the CFO. "He's out in the field 99% of the time directing jobs. He loves it. And we're very close to those who work with us. I grew up with a lot of the people that work with us today, and many of their dads also worked here."
The company operates pavers and a fleet of 35 Kenworth trucks, including T880 mixers and dumps, a few T800 heavy haulers, and several T370 stakebeds and water trucks. Its core business is working with municipalities on road paving jobs.
"It's 98% of what we do," said Tiseo. "It's very competitive and sealed bid work, so you have to control costs to get the business. Our Kenworths play a major role in keeping operating costs down, while giving our drivers a premium truck to drive."
Tiseo's four mobile batch plants enhance efficiency. "We're closer to jobsites. When a project is a mile or less from a plant, we use our dump trucks to haul 10 yds. of concrete to the jobsite, and our turnarounds are quicker," said Tiseo. "We also utilize 12 T880s.ine just came in with Con-Tech mixer bodies for longer mixed loads. We run between 10 to 12 drivers who alternate among the vehicles."
Award-winning Work
According to Tiseo, the company has won numerous major awards, including the 2018 American Public Works Association's Project of the Year ($2-$5 million category) from the organization's Texas chapter for reconstruction work in Waxahachie just outside Dallas. That project entailed nearly 18 months of work and more than 10,000 cu. yds. of concrete to complete.
"It's great that our work has been recognized over the years. I think one reason is because my dad sees things that others don't see," said Tiseo. "That allows us to find solutions for difficult problems. It's why we like to bid on the jobs others really don't want to touch. We like the challenge and we get the job done." 
According to Tiseo, at any one time, the company might have 18 to 28 projects running concurrently, each normally running 18 to 24 months for completion. "Our growth, on average is between 3% and 5% a year," said Tiseo. "That's where we like it."
"Tiseo Paving is all about quality and reliability," said Bob Bowden, vice president of regional sales for MHC Kenworth in Dallas. "They have a perishable product in concrete and have to be on-point with their customers. If they have an issue with a truck, it can quickly develop into a major problem and a lost load. If that happens, you have to get the set product out of the mixer or dump, and that requires chipping the barrel or dump. That's where Kenworth shines - reliability. And we have the MHC network in the Metroplex area five locations, plus our mobile service fleet  to match the footprint of Tiseo. So we're just a phone call away for immediate service."
According to Bowden, Tiseo's latest order of T880s features the PACCAR MX-11 engine rated at 400 hp. "They were using the PACCAR MX-13 engine, but the PACCAR MX-11 saves them roughly 400 lbs., at the same horsepower and torque rating. It's a great engine for vocational applications. We matched that with an Allison transmission, which their drivers absolutely love. We also added the Bendix ESP for stability control."
Strong Foundation
The Tiseo Paving fleet is easy to spot. They're all black, with matching gray on the mixer bodies. "They truly stand out and we get a lot of great comments," said Tiseo. "The look of the trucks doesn't help us get any business since it's a sealed bid process, but the image that the trucks project means a great deal to us. We have a lot of pride in our company, and that shows in our trucks. 
"We're a proud Italian family. My dad came over from Casino, Italy (an hour from Rome) to the Detroit area when he was 17 years old to live with his uncle," said Tiseo. "He had a fifth-grade education, but was a hard worker with integrity. He grasped the American dream and went to work setting forms for a construction company. He ended up running that company. Then in 1974, at the age of 35, he broke off and started his own company. When a friend of his went to Dallas and told him, 'It's really going on down here, you need to relocate here!' my dad listened. And we moved. It was one of the best decisions he ever made."
Going forward, Tiseo Paving has no plans to slow down. "We have a strong foundation built on integrity," said Tiseo. "It means doing the right thing when no one is looking. Nothing was ever given to my dad. Everything was earned. My responsibility now is to maintain that integrity and make my dad proud."
Companies in this article