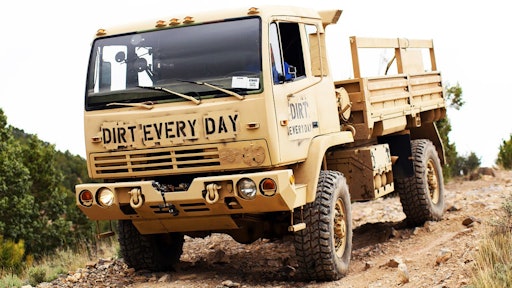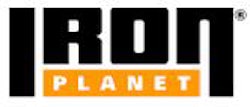 IronPlanet goes off-road with the popular YouTube series Dirt Every Day in one of the 2.5-ton military-surplus 4x4 trucks premiering today that the online marketplace for used heavy equipment and trucks will sell later this month.
The YouTube show, Dirt Every Day, gives viewers a close look at what a decommissioned Stewart & Stevenson Light Medium Tactical Vehicle (LMTV) truck from GovPlanet can do in an on- and off-road romp.
With nearly 3.2 million subscribers to the Motor Trend YouTube Channel, Dirt Every Day is the hit series featuring off-road adventures and the trucks, Jeeps and other machines that "get you there." The series covers everything from new 4x4 tests to aftermarket off-road upgrades, wacky 4-wheel shoot outs and dirt road trips. Dirt Every Day came together with IronPlanet to get an exciting peek into the second life of decommissioned military vehicles sold on its GovPlanet marketplace.
Dirt Every Day Host Fred Williams visited GovPlanet's Ogden, Utah site in early May where he selected a 1995 Stewart & Stevenson M1078 LMTV 4x4 Truck for Dirt Every Day's June 9 episode. With less than 11,000 miles on it, this LMTV is an example of the type of equipment that GovPlanet regularly makes available to the public at auction through its contract with the U.S. Defense Logistics Agency.  
Surplus Army Truck Adventure! - Dirt Every Day Ep. 40
"My intention with this episode was to showcase a cool military vehicle and tell viewers where they can get one for themselves," said Fred Williams, host of Dirt Every Day. "GovPlanet proved to be a great resource. Military trucks are awesome, usually no frills, with lots of big recovery points, and rugged matte paint.  I also think that most people see these trucks and think they are cool, but never get to actually drive them unless they are in the military, so I was hoping to convey what it's actually like."
Later this month the Stewart & Stevenson M1078 LMTV 4x4 Truck featured on Dirt Every Day will be available for sale in GovPlanet's June 24 all-Humvee online auction. Details for this event are available on www.govplanet.com and www.ironplanet.com. The Dirt Every Day M1078 LMTV listing can be viewed here.
Every item on GovPlanet includes a detailed inspection report backed by IronPlanet's exclusive IronClad Assurance buyer protection program, which guarantees the report is an accurate description of the item's condition.
Companies in this article