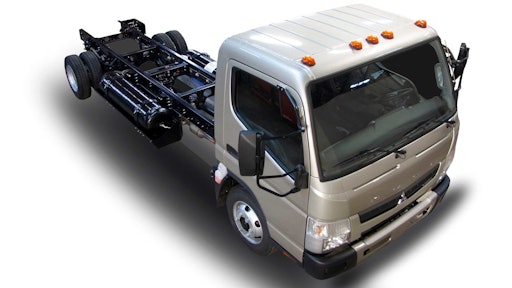 Mitsubishi
Daimler Trucks division Mitsubishi Fuso unveiled a medium duty (Class 3 to 5) concept truck powered by compressed natural gas, or CNG, Wednesday at the 2019 Advanced Clean Transportation Expo in Long Beach, Calif. The Fuso FE CNG, developed in collaboration with alternative-energy provider Agility Fuel Solutions, is said to reduce greenhouse gas emissions by 15% to 20% and reduce volatile organic compounds (VOCs), sulfur dioxide (SO2) and nitrogen dioxide (NOx) compared to more traditional truck powertrains.
Back the clock up about five years ago and it seemed like every truck OEM was touting the benefits of CNG. There were CNG concepts and vehicles crowding the floor space at most major trade shows. But relatively cheap diesel fuel prices seemed to temporarily dampen some of the enthusiasm for CNG and now many manufacturers are indicating electric vehicles are the ultimate future goal. But the fact remains that CNG is a clean and viable alternative that will pick up market share as diesel prices eventually climb. And unlike electric trucks, the technology is ready today.
More than 160,000 natural gas vehicles are operating in the U.S. According the U.S. Department of Energy, more than 1,600 CNG fueling stations are available in the United States. This fueling station network in major metropolitan regions and transportation corridors has increased the ability of medium duty truck operators to use CNG-powered trucks, especially in urban city environments.
The CNG system on the Fuso FE CNG truck is certified to the California Air Resources Board's optional low NOx standard. Because CNG engines produce essentially no particulates, the aftertreatment system is a simple three-phase catalyst instead of the complex system found on all newer diesel trucks. The truck produces no smell or smoke and is actually quieter than a diesel-powered truck, ideal for urban operations.
Agility brings extensive experience in natural gas vehicles, having provided CNG cylinders or systems for more than 60,000 trucks and buses worldwide.  On the FE Gas truck, Agility is providing a complete end-to-end CNG fuel system, including dual side-mounted CNG storage systems with capacity to equal 30 gallons of gasoline (gasoline gallon equivalent, or GGE) , an integrated regulator assembly and a fuel fill panel, and a CARB and EPA-certified low-NOx natural gas fuel system for the GM V8 6.0L engine that is standard on all FE Gas trucks. The FE CNG is estimated to have a driving range of 190 miles.  
The FE Gas has been designed for easy integration into customers' fleet operations. The CNG fuel system drives the OEM fuel gauge, providing the driver with a familiar fuel level between empty and full, rather than a pressure value. Because the CNG system does not significantly increase the weight of the truck, the overall payload capacity for the FE CNG is not greatly impacted, allowing operators to continue to deliver roughly the same amount of goods compared to other models.  
"Using Agility's experience in CNG will benefit our customers by enabling a reliable, integrated CNG-powered solution for our existing Fuso FE Gas truck models," said Jasmin Kluge, project manager for alternative fuels project, Mitsubishi Fuso Truck of America. "The additional benefit is its total cost-of-ownership advantage: lower fuel cost, less maintenance, less emissions and less noise, making this a win-win for truck fleets' bottom line and environmental stewardship."  
CNG fuel offers savings at the pump compared to gasoline and diesel. And Fuso says the reduction of emissions control systems and other components will reduce overall maintenance costs compared to a diesel truck. Scheduled maintenance and service work will be conducted or coordinated at any of the independent Fuso dealerships located across the United States and Canada.   
"We are excited to work with Fuso to develop a CNG option for the Fuso's FE Gas platform
"CNG is an excellent option for return-to-base and urban delivery fleets, with an attractive total cost of ownership," said Brad Garner, Agility's president of Powertrain Systems.
This concept truck represents a collaboration project between Fuso and Agility. Further tests and market studies are underway to determine the next steps for this product—with a potential CNG aftermarket solution from Agility occurring by 2020.