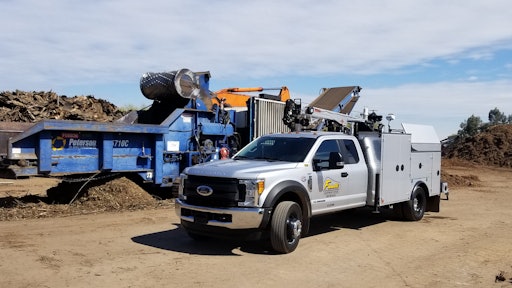 Fanelli Equipment Repair, owned by Phil Fanelli and based in Hilmar, CA, has been operating in the Central Valley area for over 12 years, repairing and servicing all types of Caterpillar equipment, including landfill, recycling and compost equipment for waste management companies, as well as servicing equipment used in the dairy industry.
Phil Fanelli has successfully grown his equipment repair business to include seven service trucks, each of which puts on thousands of operating hours and up to 50,000 miles every year. "I work my trucks hard, and so I rotate through them every five years, to ensure there's no downtime," says Fanelli. "Because of this, I expect any piece of equipment to last me five years, as well."
Until recently, Fanelli's service truck was equipped with a reciprocating air compressor, which resulted in a lot of challenges - the first and foremost being weight. It proved heavy on his truck, which at the time was a Peterbilt with a 14-ft. service body. Fanelli also found himself waiting for compressed air to be produced, resulting in downtime as his compressor tried to catch up to him. This slowed down his work.
When it was time to bring in a new service truck to the fleet, Fanelli seized the opportunity to "right-size" his truck. Because he's often traveling to visit his technicians on different jobsites, he chose to downsize to a Ford F550 truck. He also needed to address the weight and air supply concerns associated with reciprocating compressors.
For this truck build and upfit, he went straight to Spencer Hinson, owner and general manager of Lodi Truck and Equipment, located in West Sacramento. "I've been getting Spencer at Lodi to build my trucks for over 10 years now, and I wouldn't go anywhere else," says Phil. "I go in, tell him what I want and he keeps me involved in every step of the build."
Weight Savings Offers Upfit Opportunities
At first, Fanelli was interested in a VMAC UNDERHOOD 70 air compressor, which fits neatly in the engine compartment of the truck, supplies up to 70 cfm of air continuously and weighs just 150 lbs., saving up to 260 lbs. But when it was time to start the truck build, Hinson recommended the DTM70-H, a direct-transmission mounted PTO driven air compressor with hydraulic pump. It is well-suited for customers concerned with saving weight on their service truck, and who also need compressed air and hydraulic power at the same time.
"Spencer knows I'm really concerned about weight. It seems like I'm always overloaded, and he thought this setup would be the best fit," explains Fanelli. And the weight savings were significant: "The VMAC DTM70-H saved 500 lbs., which is a big deal when you're trying to set up an F-550. With these weight savings, it was the only way to go. We were looking at aluminum doors and aluminum fuel tanks, but to save 500 lbs. with one change... was a no-brainer."
The DTM70-H weighs only 180 lbs, which frees up hundreds of pounds of weight, and allows customers to downsize their trucks, and at the same time load the truck up with more supplies. "I added more tools, a drawer set, tool boxes and an oil tank, thanks to the weight savings," says Fanelli.
It's been several months since Fanelli picked up his new Ford F-550 truck from Lodi, and he's been using the compressor to power his air tools and crane simultaneously. Hinson's recommendation was key in this new truck build and was exactly what Fanelli needed.
"When I got the truck, it was show room quality - detailed, everything worked. It was exactly the way I wanted it.," Fanelli states. And as for the air compressor? "It's lightweight, which is what I needed, but it also produces the air I need, when I need it. It's bulletproof."