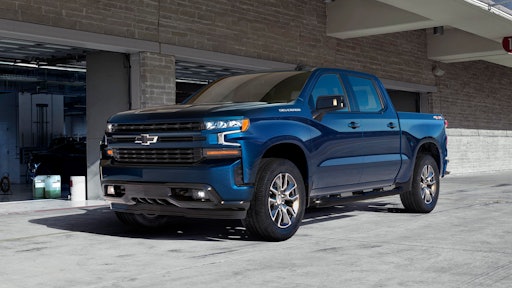 Not long ago, the major pickup truck manufacturers were in an all-out performance battle to claim bragging rights for the most torque, horsepower, payload and towing capacity. Torque ratings on heavy-duty pickups crept past 900 ft.-lbs., and maximum towing capacities witnessed impressive year-over-year gains.
But the drive to meet Corporate Average Fuel Economy (CAFE) standards has created a pivot in the R&D departments. While the newest generation full-size pickup trucks maintain impressive performance, the latest technological innovations focus on fuel economy. New materials, 10-speed transmissions, aerodynamic features, cylinder deactivation and start/stop function are among the latest technologies.
New Materials Save Weight
All of the Big Three pickup truck manufacturers continue to shed weight through the use of high-strength steels, aluminum and composites. There has even been research into carbon fiber.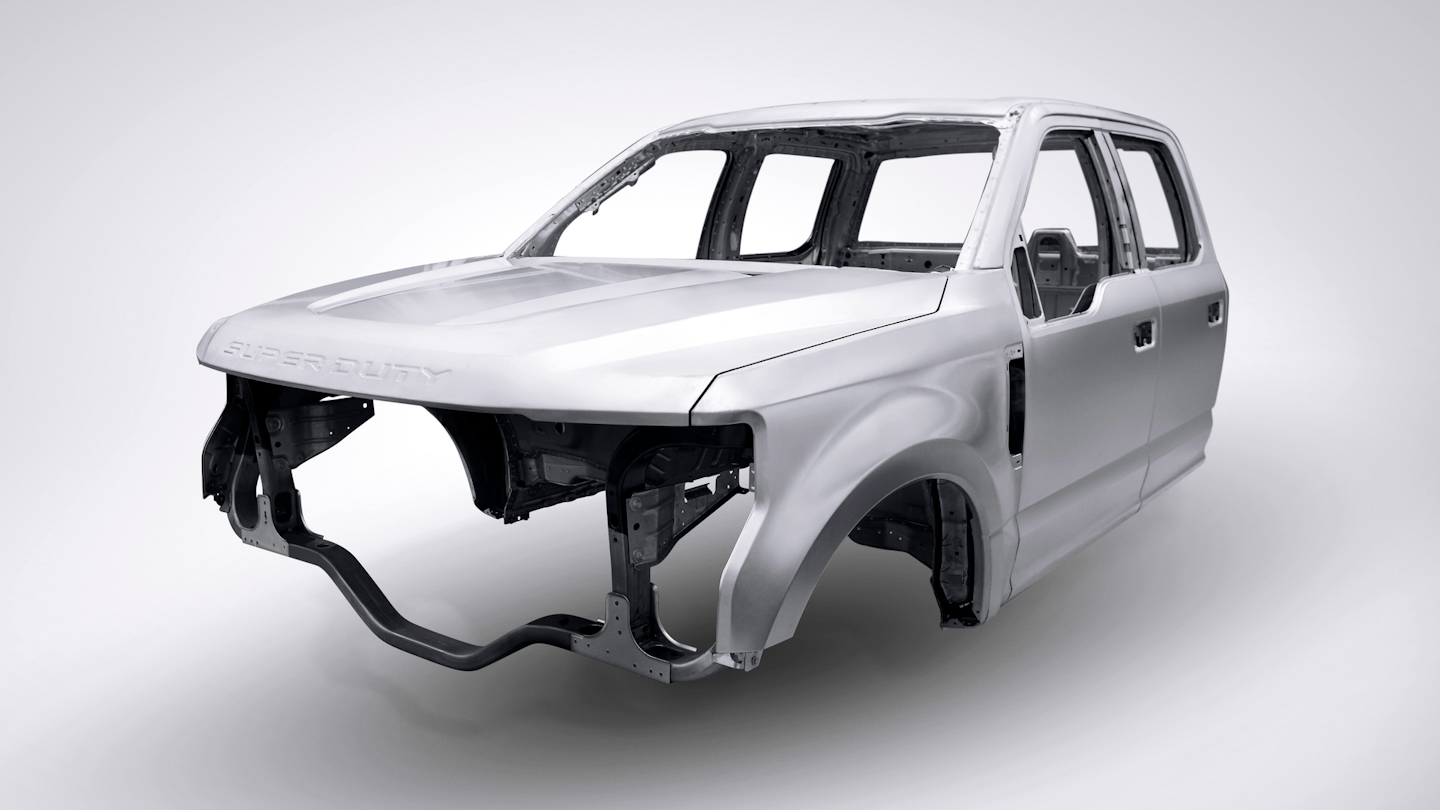 In 2015, Ford made a radical jump to high-strength, military-grade, aluminum alloys throughout the F-150 body.Weight savings is critical to achieve greater fuel economy. Consequently, the chassis of Chevrolet's 2019 Silverado 1500 pickup is trimmed down by as much as 450 lbs.; the latest generation Ford F-150 weighs up to 700 lbs. less than the previous generation; and overall weight for the 2019 Ram 1500 has been reduced by 225 lbs.
In 2015, Ford made a radical jump to high-strength, military-grade, aluminum alloys throughout the F-150 body, including the bed. Engineers also improved the truck's fully boxed ladder frame with more high-strength steel, making it stronger and lighter. The 2018 Super Duty pickups followed suit with the use of aluminum alloy bodies and high-strength steel frames.
The body weight of the 2019 Chevrolet Silverado 1500 has been cut by 88 lbs. through mixed materials use. All exterior swing panels (doors, hood and tailgate) are made of aluminum, and fixed panels (fenders, roof and bed) are made of steel. The underlying safety cage uses seven different grades of steel, each tailored for the specific application. The boxed steel frame is also 88 lbs. lighter than its predecessor, yet increases torsional rigidity by 10%.
Even the method of making parts was carefully scrutinized. The front independent short/long arm suspension on the Silverado 1500 features forged-aluminum upper control arms that are lighter and provide better wheel alignment than the stamped component they replace. The live-axle rear suspension is also redesigned, including new composite second-stage springs on LT models that save about 12 lbs. per side over the steel springs they replace.
The 2019 Ram 1500 frame utilizes 98% high-strength steel to improve durability, weight and rigidity for improved handling. Advanced materials and engineering eliminate 100 lbs., while increasing stiffness and durability for 12,750 lbs. of towing capability and 2,300 lbs. of payload.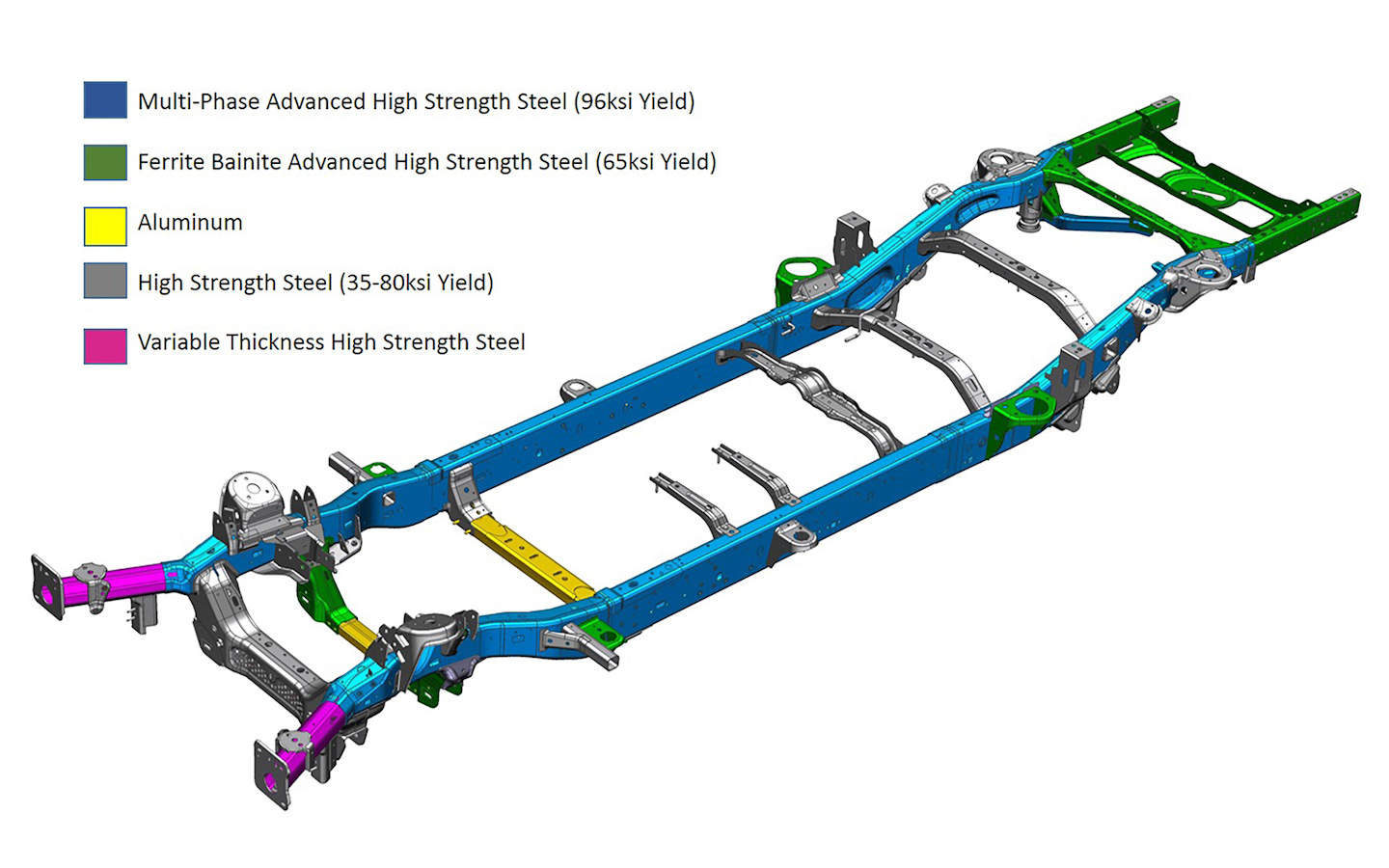 Frames - such as that used on the 2019 Ram 1500 - utilize high-strength steel to improve capability while reducing weight.The 2019 Ram 1500 also takes advantage of lightweight aluminum for selective components. Although the hood and select chassis components went to aluminum in 2009, the following chassis elements moved to aluminum on the 2019 model:
tailgate
engine mounts
front axle center section
front suspension crossmember
transmission crossmember
steering system gear
Reducing weight also involves substituting composites for metal, which results in high tensile strength at very low weight with improved durability. The upper front suspension control arms (integrated with a steel structure), and the air dam structure are made from, or combined with, composite materials.
Cylinder Deactivation Achieves Sophistication
Ram Trucks and General Motors have utilized cylinder deactivation on gasoline-powered pickups for several years to maximize fuel efficiency by shutting down cylinders when engine power is not needed. Typically, a V8 can shut down four cylinders and run in a more fuel-efficient four-cylinder mode.
But for 2019, General Motors introduces a more sophisticated cylinder deactivation system. The Silverado 1500 will include 5.3L and 6.2L V8 gas engines with Dynamic Fuel Management, which actively shuts off any number of cylinders from one to seven — in 17 cylinder activation combinations — to optimize performance and efficiency in all driving conditions.
Dynamic Fuel Management works by controlling engine oil flow via special valve lifters on each cylinder that activate or deactivate the cylinder via a software algorithm. The system operates in concert with the throttle system and provides only the power required, thus improving efficiency.
A New Spin on Hybrid Technology
In the full-size pickup market, traditional hybrid engine technology has come and gone a couple of times. But Ram Trucks introduces a new spin on hybrid technology with its eTorque mild hybrid system for the 2019 Ram 1500. It is available on the 3.6-liter Pentastar V6 and 5.7-liter HEMI V8.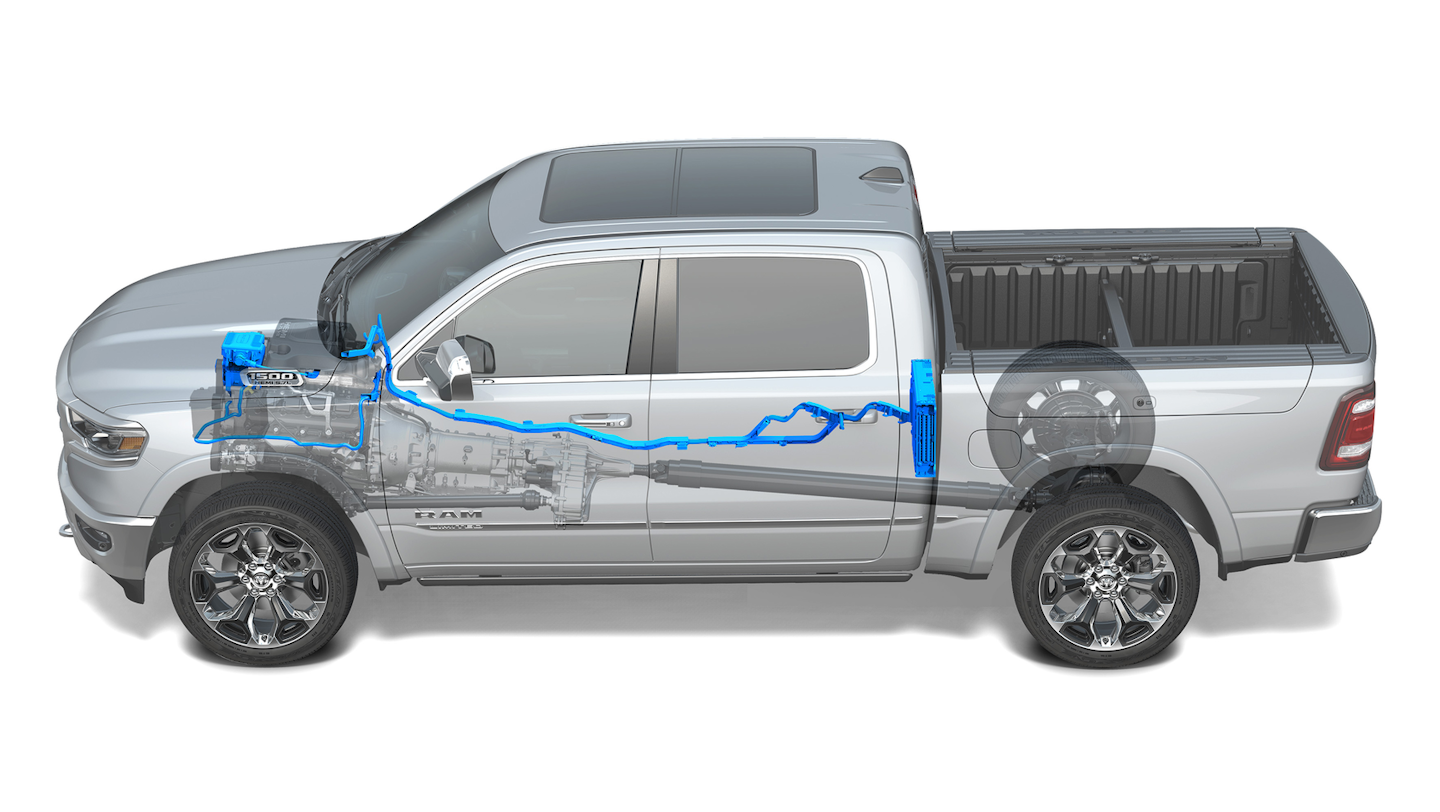 The Ram Truck eTorque mild hybrid system works with a 48-volt Nickel Manganese Cobalt (NMC) Graphite battery pack mounted to the rear wall inside the Ram 1500's cabin to enable a quick and seamless start/stop function; short-duration torque addition to the engine crankshaft in certain driving situations; and brake energy regeneration.The eTorque mild hybrid system replaces the traditional alternator on the engine with a belt-driven motor generator unit. It works with a 48-volt battery pack to enable a quick and seamless start/stop function; short-duration torque addition to the engine crankshaft in certain driving situations; and brake energy regeneration, which improves responsiveness and efficiency. With the engine running, eTorque's motor generator unit feeds 48-volt current to a 430-watt-hour lithium-ion Nickel Manganese Cobalt (NMC)-Graphite battery. The small suitcase-sized, air-cooled battery pack mounts to the rear wall inside the Ram 1500's cabin.
In addition to spinning the engine for restarts, the eTorque unit also recaptures energy during deceleration and braking to feed charge to the battery pack. The system actually increases the pickup's launch performance as well as fuel efficiency. The eTorque adds up to 90 lbs.-ft. of launch torque to the V6 and up to 130 lbs.-ft. to the V8.
Thanks to eTorque hybridization, the 2019 Ram 1500 will improve overall mileage by 3 mpg and will be able to offer up to 22 mpg for its combined city and highway rating. The 3.6-liter V6 with eTorque offers 2WD ratings of 20 mpg city/25 mpg highway, while the 4WD offers 19 mpg city/24 mpg highway. The 5.7-liter V8 with eTorque offers 2WD ratings of 17 mpg city/23 mpg highway, and the 4WD offers 17 mpg city/22 mpg highway.
Diesel Engines Grow in Popularity
In 2014, Ram Trucks became the first to introduce a diesel engine to the 1/2-ton pickup market with its 3.0-liter V6 EcoDiesel, which during its production run achieved 27 to 29 mpg depending on the model and configuration. EcoDiesel production was briefly paused to address EPA certification requirements, but is promised to be back in the 2019 line later this year.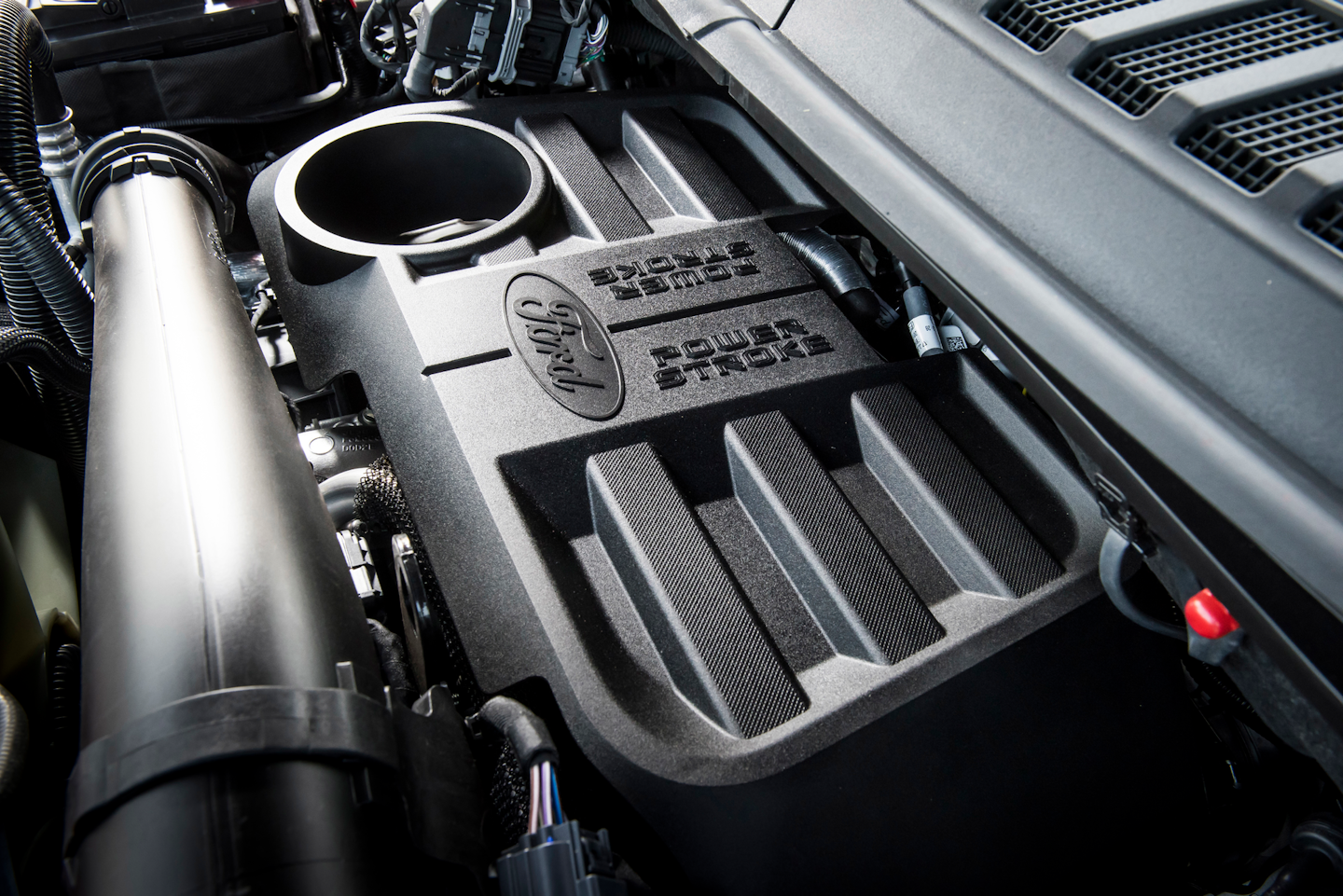 In the meantime, Ford launched a 2018 diesel-powered F-150. The new 3.0L Power Stroke Turbo Diesel engine is an option on Lariat, King Ranch and Platinum models. It pumps out 250 hp at 3,250 rpm and has a maximum torque of 440 lbs.-ft. at just 1,750 rpm. The diesel option maximizes towing and payload capability while offering an EPA-estimated rating of 30 highway mpg.
The 3.0L Power Stroke V6 diesel features a direct injection common rail fuel injection system running up to 29,000 psi, as well as a forged crankshaft and a variable geometry turbocharger. It is mated to Ford's 10-speed transmission and features a diesel-specific differential ratio mated to the engine's torque curve.
General Motors also announced that the newly designed 2019 Chevrolet Silverado 1500 will feature a Duramax 3.0L inline-six turbo-diesel engine, which will be paired with a Hydra-Matic 10-speed automatic transmission. At the time this was written, no specifications on the engine had been released. Stay tuned for further information.
Turbocharging Boosts Performance
One way to gain more performance out of a smaller displacement engine is through turbocharging. A turbocharger increases the amount of air entering the engine to create more power, allowing a more efficient smaller displacement engine to produce the same power output as a larger displacement naturally aspirated engine.
Ford is a key proponent of turbocharging with its line of 2.7-and 3.5-liter EcoBoost engines for its F-150. The 2.7-liter turbocharged V6 engine pumps out 325 hp and 400 lbs.-ft. of torque. A high-output version of the 3.5-liter V6 EcoBoost delivers 450 hp and 510 lbs.-ft. of torque. These engines are both hooked to a 10-speed automatic.
The 2.7-liter EcoBoost gets its performance from Ford's port-fuel and direct-injection (PFDI) system, with two injectors per cylinder, a dual overhead cam design with variable intake/exhaust cam timing, plus twin intercooled turbochargers for on-demand power.
General Motors rolled out a 2.7-liter turbocharged engine for the 2019 Chevrolet Silverado 1500. It offers EPA-estimated fuel economy of 20 mpg city/23 mpg highway in rear-wheel-drive models. The base curb weight of the 2019 Silverado with the 2.7L Turbo is 380 lbs. less than the current Silverado with the 4.3L V6, despite having more interior room and cargo space.
Standard on LT and RST trims, the 2.7L engine offers 14% more torque and 13% better city fuel economy and is more than a full second quicker from 0-60 mph than the 4.3L V6 it replaces. It delivers an SAE-certified 310 hp and 348 lbs.-ft. of torque. The Silverado 2.7L Turbo delivers peak torque from 1,500 to 4,000 rpm. The truck can accelerate from 0-60 mph in 6.8 seconds. Its maximum towing capacity is 7,200 lbs. and it has a 2,280-lb. maximum payload.
Developed from the outset as a truck engine, the 2.7L Turbo integrates many different technologies to support engine performance and efficiency, including:
 A double overhead cam valve train that enables high- and low-lift valve profiles, continuously variable valve timing and Active Fuel Management (cylinder deactivation)
A dual-volute turbocharger housing for improved throttle response, low-speed torque and virtually no turbo lag
Chevrolet's first application of Active Thermal Management, which uses targeted engine heating and cooling across the entire powertrain system to create optimal conditions for peak fuel economy and to recover otherwise wasted exhaust heat for faster engine and transmission warmup
Active Aerodynamic Aids Reduce Drag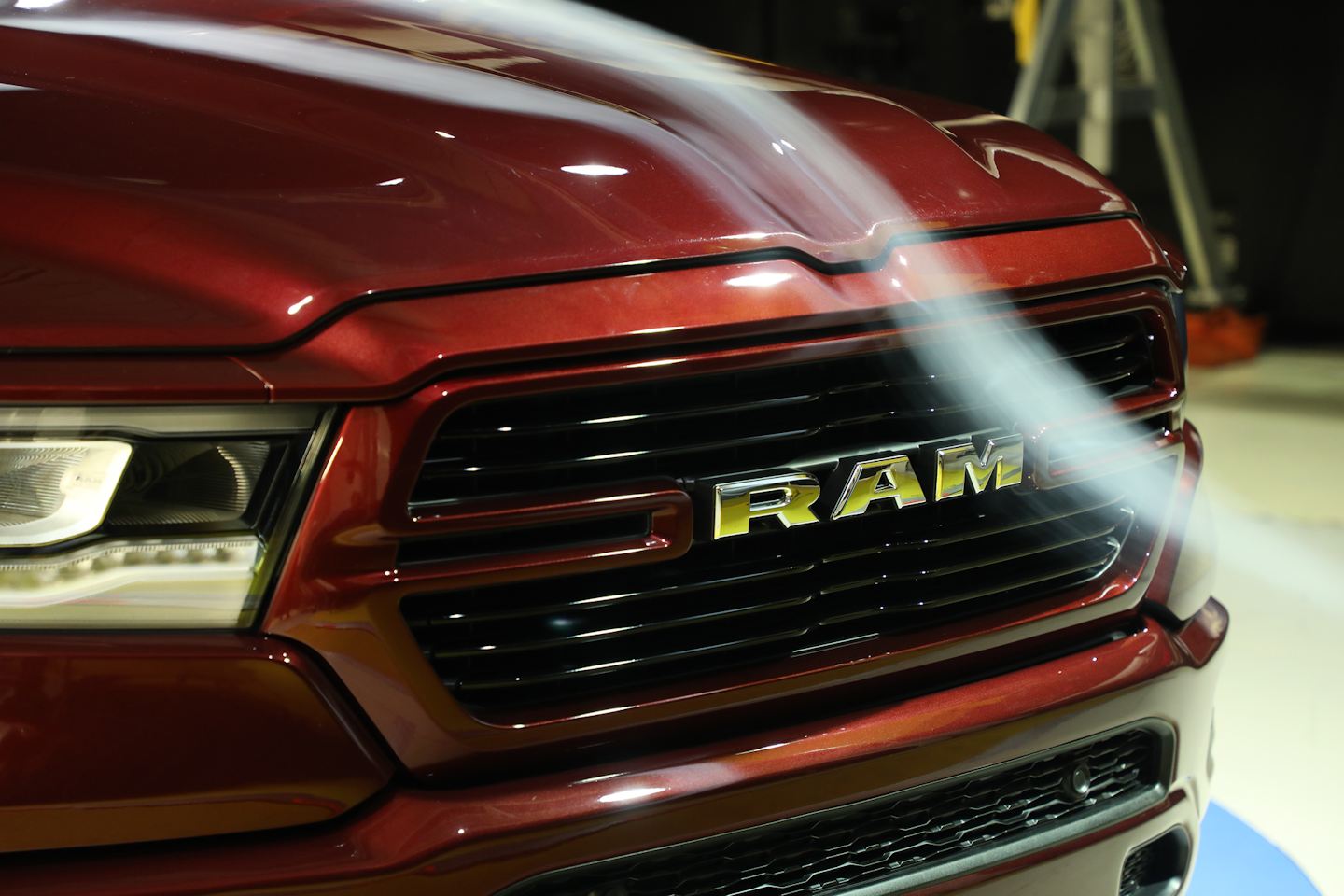 Active aerodynamic aids have become important tools to boost fuel economy ratings.
Ford, General Motors and Ram Trucks all make use of active grille shutter systems. The active grille air shutter system closes shutters in the front grille to enhance vehicle aerodynamics in driving situations where cooling and A/C loads are relatively low and high levels of front-end airflow are not required.
The Ram 1500 also incorporates an active front air dam. As the 2019 Ram 1500 approaches 35 mph, a standard active front air dam automatically extends downward 2.5 in. (non-air suspension and Rebel truck models).
There are five settings on Ram trucks equipped with the optional four-corner air suspension system. On the road, it lowers the truck 0.6 in., improving overall aerodynamics and efficiency.
While not technically an active aerodynamic aid, Ford, Chevrolet and Ram Trucks incorporate air curtain technology that guides airflow across the front wheels to reduce drag. Rotating wheels are a major source of drag. The wall of high-speed air works much like a skirt to reduce drag, while still leaving the alloy wheels fully exposed.
For the Ford F-150, horizontal slots underneath the headlamps channel air from the front of the truck through ducting to openings in the wheel wells, directing it across the outer surface of the wheel and tire.
On the next-generation GMC Silverado, the front grille features functional air curtains — similar to those introduced on the sixth-generation Camaro — that reduce wind drag by routing air around the front wheel wells.
Start/Stop Gains Traction
All of the Big Three offer start/stop technology on their 2019 pickup offerings. When you come to a stop, the engine shuts off to save fuel and restarts immediately when the brake is released.
Ford has made start/stop standard across the F-150 lineup. In its applications, Auto Start-Stop deactivates when it wouldn't be needed, such as when you're towing a trailer or running in four-wheel drive.
Ram trucks equipped with the eTorque mild hybrid system use the motor generator to supply power for quick and seamless restarts.
Transmissions Add Ratios
By having more gear ratios, it is possible to keep an engine near its ideal operating speed most of the time. This 10-speed transmission was the result of a collaboration between General Motors and Ford.Transmissions have been adding gears over the past several years. Most pickup trucks moved to six-speed transmissions. Then Ram Trucks adopted the use of eight-speed transmissions. Most recently, Ford and General Motors worked together to develop a 10-speed gearbox.
By having more gear ratios, it is possible to keep an engine near its ideal operating speed most of the time. The transmission's wider overall ratio enables a lower numerical top gear ratio, an attribute that reduces engine speed on the highway. 
Companies in this article