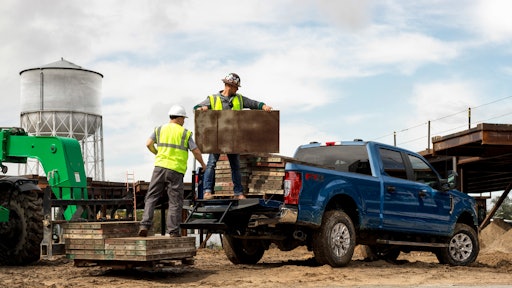 Equipment Today attended the unveiling of the 2020 Ford F-Series Super Duty, which promises new levels of towing and payload capability. 
"Super Duty customers have demanding and diverse needs – from towing heavy trailers to repairing critical infrastructure," said Kumar Galhotra, Ford president, North America. "Productivity is their lifeblood and their truck is their biggest tool. Our new Super Duty has more power, more payload and towing capability and better technology than ever to help these customers build a better world."
F-Series Super Duty improvements include new gas and diesel engines, an new 10-speed automatic transmission, chassis upgrades, exterior and interior design updates, and smart advanced technology that raises the bar in towing, payload and connectivity.
New Powertrains Steal Show
The Ford-built 7.3-liter V8 joins the standard 6.2-liter V8 in the Super Duty lineup and the Ford-designed third-generation 6.7-liter Power Stroke diesel V8 is upgraded to deliver more power and torque. A new Ford-designed 10-speed heavy-duty TorqShift automatic transmission is paired with the 7.3-liter V8 and third-generation 6.7-liter Power Stroke diesel V8. 
The 7.3-liter gas V8 engine delivers high performance in a compact package. This 7.3-liter is expected to be the most powerful gas V8 in its class. It uses a cam-in-block, overhead valve architecture with cast iron block and forged steel crankshaft for maximum durability. Port injection with variable-valve timing optimizes the intake and exhaust to match performance with workloads. Oil jets cool the pistons under heavy loads.
Super Duty's third-generation 6.7-liter Power Stroke includes a new 36,000-psi fuel injection system with new injectors that precisely meter and spray up to eight times per stroke to control noise levels and optimize combustion. This inboard exhaust diesel V8 features a redesigned electronic-actuated variable-geometry turbocharger that provides improved pumping efficiency and throttle response. Structural enhancements increase the strength of the cylinder head, block, connecting rods and bearings to handle higher cylinder pressure and increased output. New steel pistons provide higher firing pressure capability and less friction – meaning improved performance and more horsepower and torque.
The new engine options made cooling a priority. Across the range, an enhanced front-end design allows for optimized cooling under heavy loads. For the first time, all dual-rear-wheel Super Duty trucks are fitted with a uniquely designed high-airflow grille optimized for maximum powertrain cooling.
Ford is making its new 10-speed TorqShift automatic transmission available across all three Super Duty engine offerings for the new 2020 model. This TorqShift features a wider gear ratio span than the 6-speed and is designed for the harshest towing conditions. The heavy-duty transmission continues to offer class-exclusive live-drive power takeoff, which allows the operator to engage industrial equipment and accessories, such as snowplows, with the truck in motion.
This electronically controlled transmission has selectable drive modes that include normal, tow/haul, eco, slippery, and deep sand and snow. Even with four extra gears, it fits in the same space as the 6-speed and weighs only 3.5 lbs. more.
Driver Assist Technologies Evolve
For 2020, class-exclusive new Pro Trailer Backup Assist makes negotiating even the largest trailers into the tightest of spaces easier. With hands off the steering wheel, drivers use the Pro Trailer Backup Assist knob to easily steer the trailer via the reverse camera. The truck's Trailer Reverse Guidance system shows trailer angle and direction, and provides steering suggestions to most efficiently direct a trailer backward. Both systems are built to accommodate all trailer styles, including fifth-wheel and gooseneck trailers.
In addition, every new 2020 Super Duty includes FordPass Connect embedded 4G LTE modem with Wi-Fi access for up to 10 devices, keeping crews in communication no matter where the job might take them.
Available lane-keeping alert helps you stay between the lines on the road, while the Blind Spot Information System with trailer coverage monitors for vehicles in your blind spots – even when towing. Pre-Collision Assist with Automatic Emergency Braking and Pedestrian Detection aids in avoiding or mitigating collisions with other vehicles and pedestrians. These features are standard on XLT and above Super Duty models. Modern touches include the addition of wireless charging and USB-C ports to power your devices.