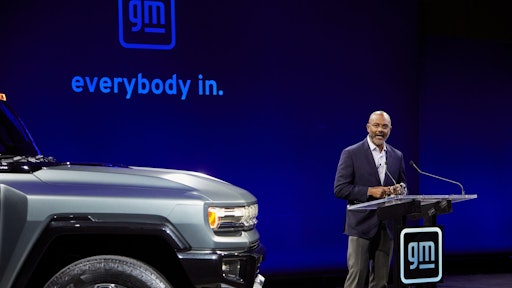 General Motors
The announcement that General Motors is going to build an electric full-size Chevrolet Silverado should not be a surprise to anyone. A primary competitor, Ford, previous announced its electric variant of the F-150, which it teased in 2019 with a million-pound towing teaser and plans to introduce as a 2023 model. Then there are upstart rivals including Tesla and Rivian who plan to soon enter then electric pickup market.
GM's electric Chevrolet Silverado will not simply be a modified version of it's current internal combustion siblings. It will be built from the ground up to be an EV using the company's Ultium Platform. GM's EV strategy is to utilize a modular propulsion system and highly flexible global EV platform powered by proprietary Ultium batteries.
Battery chemistry is a key focus for GM's EV strategy. "Affordability and range are two major barriers to mass EV adoption," said Mark Reuss, president, General Motors. "With this next-generation Ultium chemistry, we believe we're on the cusp of a once-in-a-generation improvement in energy density and cost. There's even more room to improve in both categories, and we intend to innovate faster than any other company in this space." The target is to provide a range of more than 400 miles on a full charge with the Chevrolet Silverado EV.
"The vehicles coming from Factory ZERO will change the world, and how the world views electric vehicles," said Reuss. "The GMC HUMMER EV SUV joins its stablemate in the realm of true supertrucks, and Chevrolet will take everything Chevy's loyal truck buyers love about Silverado — and more — and put it into an electric pickup that will delight retail and commercial customers alike."
In January 2020, GM announced it was investing $2.2 billion in its Detroit-Hamtramck assembly plant to produce a variety of all-electric trucks and SUVs. In October 2020, GM renamed the plant Factory ZERO, which reflects the facility's significance in advancing GM's vision of a future with zero crashes, zero emissions and zero congestion. Factory ZERO is the launchpad for GM's multi-brand EV strategy. The facility has advanced technology and tooling and was designed with a focus on sustainable manufacturing.
GM committed more than $27 billion to EV and AV product development, including $7 billion in 2021 and plans to launch 30 EVs globally by the end of 2025, with more than two-thirds available in North America. No date has been formally announced for the introduction of the Chevrolet Silverado EV.