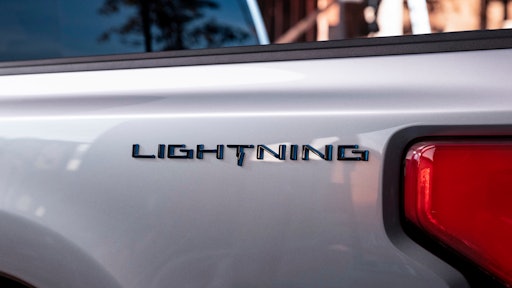 Ford Motor Company
 Ford is finally pulling the wraps off of its highly anticipated electric F-150 pickup truck, announcing it will be called the Lightning. Ford stirred up a lot of publicity in 2019 when a prototype all-electric F-150 was demonstrated by towing 10 double-decker rail cars and 42 2019-model year F-150s, weighing more than 1 million pounds.
At that time, Ford announced it would be brining an electric F-150 to market. In September of 2020, Ford announced construction of the new Rouge Electric Vehicle Center where it will build the all-electric F-150 by mid-2022 as part of a $700 million investment in building the all-new F-150 lineup. In February Ford announced it will now invest at least $22 billion in electrification through 2025.
The investment in electric vehicles continues to grow. "We are accelerating all our plans – breaking constraints, increasing battery capacity, improving costs and getting more electric vehicles into our product cycle plan," says Ford President and CEO Jim Farley. "People are responding to what Ford is doing today, not someday."
The Ford Lightning will join Ford's growing EV lineup, including the Mustang Mach-E and E-Transit commercial van. The pickup will be available mid-2022 as a 2023 model. 
You can attend the product launch on May 19 at 9:30 p.m. The introduction will be broadcast from Ford World Headquarters live with 30+ ways to watch across physical and digital destinations, including the Ford Facebook and YouTube channels, Twitter, key national publications as well as 18 impactful out-of-home locations such as Times Square in New York City and Las Vegas Boulevard.
"Every so often, a new vehicle comes along that disrupts the status quo and changes the game … Model T, Mustang, Prius, Model 3. Now comes the F-150 Lightning," says Farley. "America's favorite vehicle for nearly half a century is going digital and fully electric. F-150 Lightning can power your home during an outage; it's even quicker than the original F-150 Lightning performance truck; and it will constantly improve through over-the-air updates."