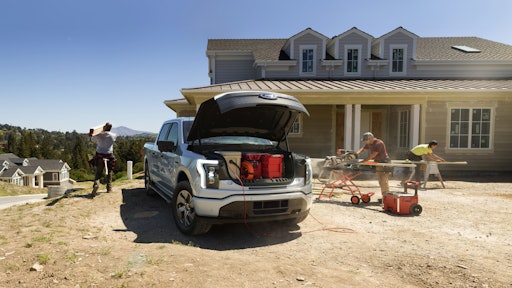 Ford Motor Company
The Ford Lightning name harkens back to the SVT F-150 Lightning which was unveiled in 1992, with the second generation introduced in 1994. "The Guinness Book of World Records called Lightning the world's fastest production truck," explains Kumar Galhotra, president, Americas and International Markets Group, Ford Motor Company. "Today the Lightning legacy lives on as the F-150 Lightning, a new entrant in Ford's most important franchise. We gave great thought before naming this vehicle Lightning, following in the footsteps of the iconic SVT F-150 Lightning. Much like the original Lightning, the F-150 Lightning is the truck that reinvents the way we look at trucks. It's powerful, lightning quick and zero emissions."
Performance is Still King
In the pickup market, performance sells. It is no different with electric trucks. "The best thing about electric vehicles is the instantaneous torque," says Jasen Turnbull, F-150 Lightning marketing manager.
The claimed performance from the full-time four-wheel drive is impressive. "The F-150 Lightning hits 60 mph in the mid four seconds with an available extended range battery," says Darren Palmer, North America BEV general manager. "It has a targeted 775 ft. lbs. of nearly instantaneous torque, the most of an F-150 ever. It reacts to your command in a fraction of a second. With no gear changes and a low center of gravity, it's a super smooth and engaging drive experience. In short, the F-150 Lightning delivers a driving experience that you have never felt before."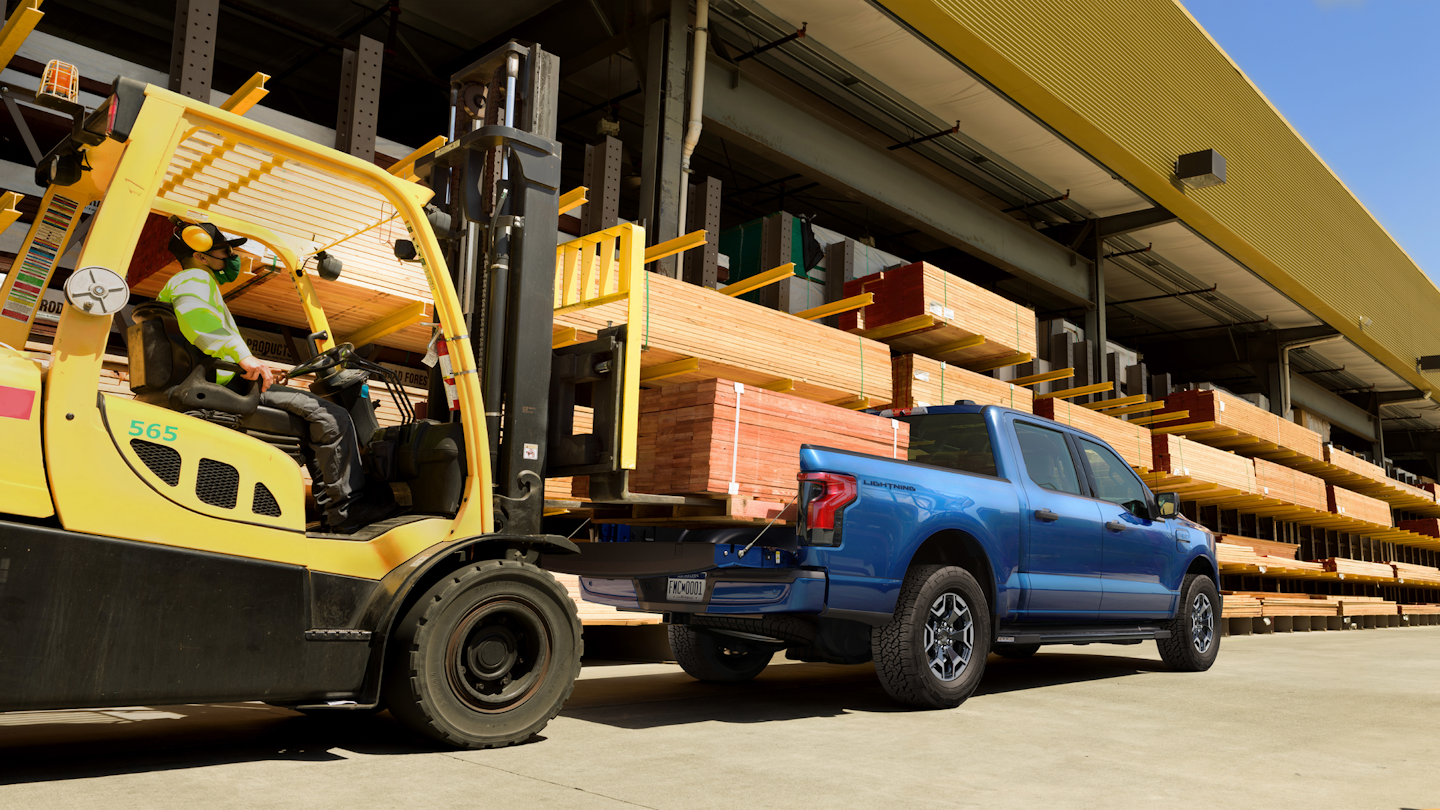 Ford Motor Company
Capability drove the development process. "Anything that we did, we maintained that goal of it needs to be a truck first and then we are using electrification to amplify the driving experience and capabilities," says Turnbull. Range anxiety is a common concern. "One of the first things that came out of our customer's mind is what is the range when I tow? We give the customer a real-time constantly improving calculator." When they tow or haul the calculator compensates for weather and grade. "We are going to give them an accurate range, no matter the conditions.
"The F-150 Lightning is powered by the largest lithium-ion battery pack Ford has ever put into a vehicle, delivering a combination of range and power you couldn't have imagined before," says Palmer. "We offer two battery back options – an extended range battery targeting an estimated EPA range of 300 miles and a standard range battery that targets 230 miles of EPA estimated range.
"Our F-150 Lightning battery utilizes state-of-the-art lithium-ion pouch battery cells with Nickel Manganese Cobalt cathodes ," says Gitanjli McRoy, manager, electrified propulsion systems engineering. "The cell energy in our F-150 was significantly increased, at the same time dramatically reducing our cobalt content over our previous designs. The team had to be really creative in packaging to ensure that we could maximize energy, minimize weight and deliver robustness for our customers."
Mounting the battery was done with a mechanically isolated structure to enable a robust design for off-road use according to McRoy. "The battery design includes a state-of-the-art liquid cooling system. Through the development we beefed up our cooling system and multiple components to be able to cope with the toughest of the driving ordeals, and it's for the whole life of the vehicle."
Charging was also a focus. "Our F-150 Lightning is introducing two onboard AC charging system," says McRoy. "Our standard range uses an 11.3 Kw single charger and the extended range uses a dual charger to deliver the fastest possible charge time to the limits of SAE charging standards."
More Than Transportation
The F-150 Lightning is more than transportation. "Really, it is the ultimate portable power source," says Ryan O'Gorman, energy services lead. It serves as a back up power source for your home. "If your F-150 Lightning is plugged in when a power outage occurs, intelligent backup power will automatically kick in to power your home. When power is restored, the truck automatically reverts to charging its battery. No additional input from the customer will be required, making this experience totally seamless. With the ability to off board up to 9.6 Kw of energy, F-150 Lightning can provide for up to three days [of back up power to your house] on a full charge."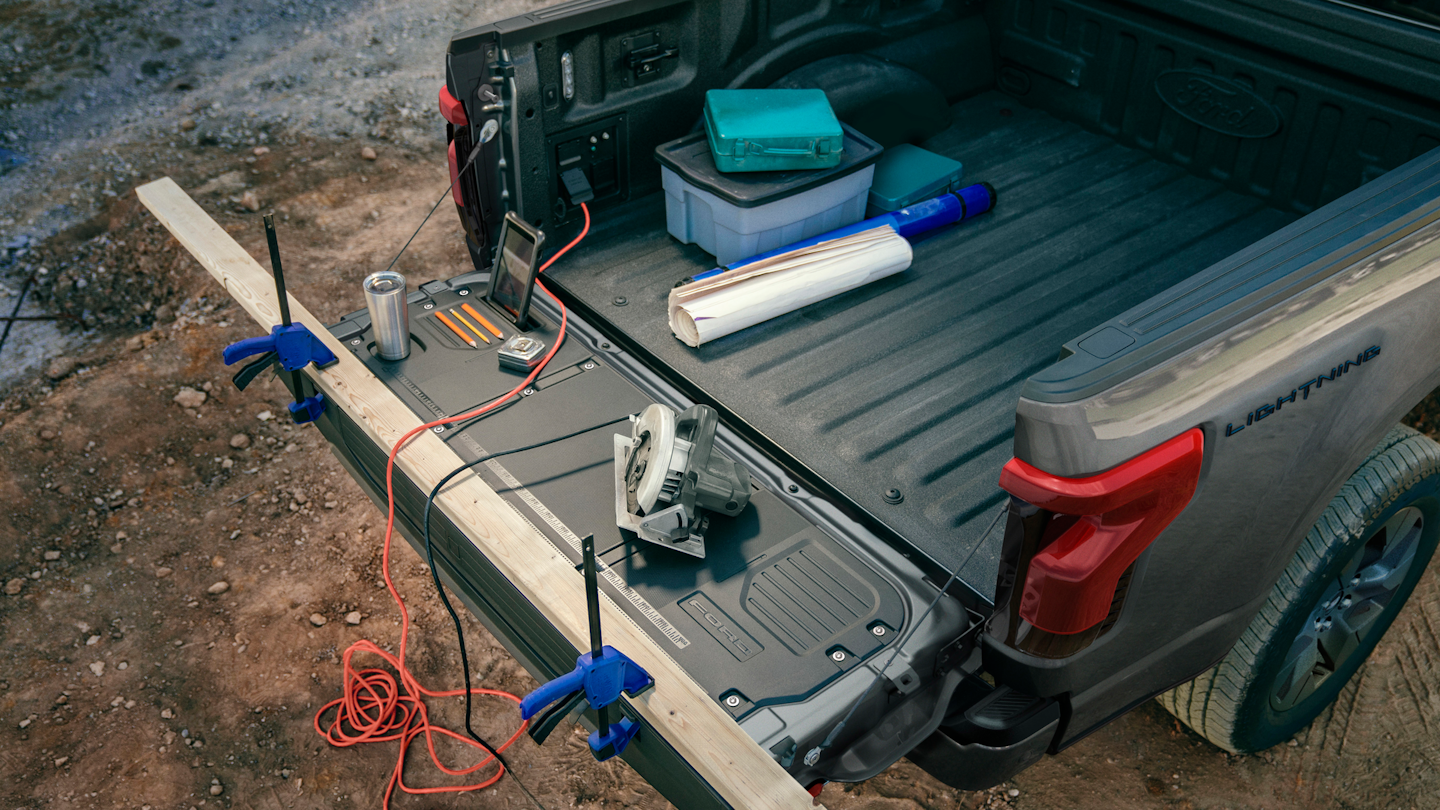 The F-150 Lightning offers 9.6 Kw of Pro Power Onboard, up from 7.2 Kw available for the F-150 hybrid using up to 11 outlets in the truck bed, cabin interior and and Mega Power Frunk.Ford Motor Company
Mobile power is also available to run tools. "The F-150 Lightning offers 9.6 Kw of Pro Power Onboard, up from 7.2 Kw available for the F-150 hybrid using up to 11 outlets in the truck bed, cabin interior and Mega Power Frunk," says O'Gorman.
The truck distributes power in a smart way. "If the truck battery level falls below a third of its total range, customers will get a Ford Pass notification and get to decide whether they want to keep powering their tools or accessories or reserve that energy for travel," says O'Gorman. "Customers can even set the truck to stop using Pro Power Onboard if the battery approaches a distance that is to the nearest charging station. The F-150 Lightning is reinventing the idea of vehicle power."
Lightning Utilizes Hands-free Solution
Ford has recently announced its Blue Cruise hands-free driving solution. "Now F-150 Lightning offers a true hands-free driving experience available with Blue Cruise," says Palmer. "Blue Cruise allows hands-free driving on many highways across the U.S. and Canada." It takes over driving in situations such as traffic jams and along highways to reduce stress.
The system uses a driver-facing camera to ensure you keep your eyes on the road. "It works even when you are wearing sunglasses," notes Palmer.
Driver Interface Simplifies Tasks
"The F-150 Lightning is the first F-150 to offer SYNC 4A, a sleek and modern interface designed for the vehicle's massive 15 ½-in. touchscreen available on Lariat and Platinum trims," says Husein Dakroub, SYNC 4A lead. It is the largest screen in any full-size truck today. SYNC 4A employs natural voice controls, cloud connected navigation and wireless access to Apple CarPlay, Android Auto and SYNC AppLink apps.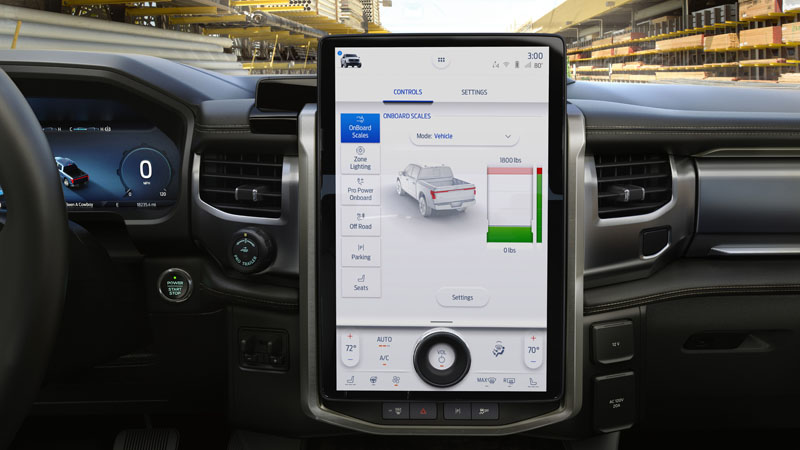 The F-150 Lightning is the first F-150 to offer SYNC 4A, a sleek and modern interface designed for the vehicle's massive 15 ½-in. touchscreen available on Lariat and Platinum trimsFord Motor Company
SYNC 4A allows drivers to create their own profiles, add their own pictures and have their vehicle preferences automatically saved. "The system also gets to know you," says Dakroub. "It will have your profile and settings loaded as you approach the vehicle. When you opt in, it also learns your habits.  And it makes suggestions for your regular activities."
The truck has the capability to get better over time by utilizing its built-in modem for wireless software updates. "Wireless software updates can be completed in under two minutes and some can be scheduled at your convenience," says Dakroub. "You can set overnight update and the vehicle will be updated in the morning."
Frunk Adds Versatility
What is a Frunk? It is basically a large front truck located where an internal combustion engine would typically be located. "Our Mega Power Frunk, the largest front truck among all electric vehicles, has incredible versatility," says Turnbull.
"There's a new opportunity to use the space where the traditional engine used to be," says Nancy Reppanhagen, F-150  Mega Power Frunk. "We used that space to create the largest front trunk in the industry with 400 liters of volume and 400 lbs. of payload. You can fit one check bag plus two carry-ons. You could fit two full sets of golf clubs. Essentially, we're giving you your cabin back."
The Frunk does include a drain hole so it can be washed out. There are also D-rings on the floor and cargo hooks on the side for secure cargo storage. Electrical outlets and a USB outlet also allow the space to be used as a portable workstation.
The Mobile Office
The F-150 Lightning converts to offer a unique office space. "We created this console that would flip over and become a work space," says Kenny Moore, F-150 Lightning exterior design manager. "In order to do that, the gear shift lever folds all of the way down flat."
This creates a user-friendly environment where you are no longer trying to write with a notepad balanced on the steering wheel or on the center console.
Ford F-150 Lightning Pro Target Commercial Applications
The 2022 F-150 Lightning Pro will fit the needs of commercial customers and  includes a complimentary 32-amp Ford Mobile Charger, making the transition affordable for small and medium-size businesses. It is available with a standard or extended range battery.  Where more power, towing and range are needed, F-150 Lightning Pro can be optioned as an extended-range version with a targeted EPA-estimated 300-mile range.  This version offers customers a targeted 563-hp 4x4 powertrain, while torque remains 775 lb.-ft. It includes an 80-amp Ford Charge Station Pro, which, when combined with the included onboard dual chargers, enables affordable Level 2 overnight charging using battery-friendly AC power – negating the need for expensive DC power installation. Equipped with the optional Max Trailer Tow Package, targeted maximum towing increases to 10,000 lbs.
"More than 145 million miles of telematics data show that for the average F-150 commercial customer in the U.S., 95% of their daily travel is less than 174 miles," said Ted Cannis, general manager, Ford North America commercial business. "Commercial customers track their business expenses closely – they buy what they need and not a penny more."     
To help gauge potential purchase and operating cost savings, Ford commercial customers have exclusive access to a new Ford digital fleet planning tool that calculates a variety of factors including purchase and lease costs, federal and regional tax incentives, and regional fuel and energy costs. F-150 Lightning Pro targets reducing scheduled maintenance costs by 40% over eight years and 100,000 miles – with potential for further operational cost savings through lower fuel costs. "The digital fleet planning tool will help demonstrate how Ford can provide many customers improved total cost of ownership for a full-size commercial electric truck, from favorable purchase costs, lower fuel and maintenance costs plus strong residual values we expect will mirror those of the commercial F-Series trucks," said Cannis. "Best of all, it comes wrapped in a trusted Built Ford Tough-tested truck that delivers what our customers love about F-Series today."    
Ford Invested to Get the Lightning Right
The importance of F-Series success for Ford Motor Company cannot be overstated. The F-Series alone generates more than $42 billion annually, according to Galhorta. To put this into perspective, this is more revenue than major companies such as McDonalds, Nike, Coca-Cola and Netflix generate.
"Ford is committed to leading in electrification in our areas of strength," notes Galhorta. "We are investing at least $22 billion globally in electrification through 2025. This is not simply about putting an electric powertrain into a vehicle. It's about unlocking technology and features that our customers didn't even know they needed. It is about providing an ecosystem of EV services that ensure the transition from gas to electric is as seamless as possible. We are unique in that we are able to offer affordable EVs though scale efficiencies and manufacturing know how.
"Electrification gives you so much more freedom," says Galhotra. "When you are working with an internal combustion engine, it defines where the lines of the vehicle go, but with an electric vehicle, that constraint is gone. You can design it exactly the way you want it. It enables things like the Mega Power Frunk because where the engine used to be is now empty space that we can use very thoughtfully to meet our customers needs. It offers value you would expect from a Ford – targeting pricing for the masses and targeting lowering the total cost of ownership for many. Technology is on par with the best luxury trucks and SUVs on the market."
"With just $100, customers can hold their place in line for the F-150 Lightning that starts at $39,974 for the entry level series and goes up to $90,000," says Galhotra.  
Companies in this article