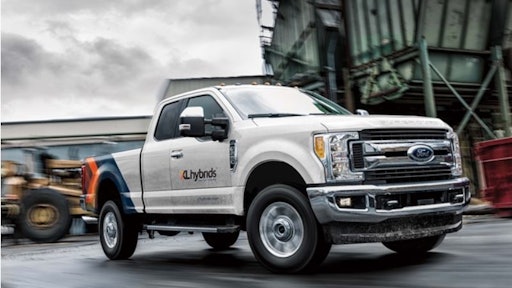 XL Hybrids will begin producing its XL3 hybrid electric drive system for 2018 Ford Super Duty F-250 pickups in the first quarter of 2018, the vehicle modifier told Heavy Duty Trucking in an exclusive interview.
"Ford has been a longtime partner of XL Hybrids and has been very helpful in our product development efforts and after having success with the E-Series and Transit vans solution," said Clay Siegert, co-founder and COO. "We've had significant inbound interest for this product on the F-250."
While adapted specifically for the F-250, the XL3 system will continue to offer up to a 25% increase in miles per gallon, and the accompanying reductions in CO2 emissions.
"It is the same platform product architecture that we've used for the hybrid product we've been selling for five years with 51 million real-world miles on them," added Ed Lovelace, chief technology officer of XL Hybrids.
The system weighs 350 lbs., which has minimal impact on truck payload. There is also zero impact on towing capacity. Fleets maintain the complete OEM warranty and get a three-year, 75,000 mile warranty from XL Hybrids on the XL3 powertrain.
XL Hybrids is a Ford-qualified eQVM supplier program participant.
The system will have an MSRP of $10,990, and, depending on factors such as the price of gas and the fleet's initial mpg, Siegert predicted a return on investment in 50,000 to 100,000 miles.