Bollinger Motors received 10,000 pre-orders for their B1 all-electric sport utility truck in 60 days, representing hundreds of millions of dollars in potential revenue for the company from eventual vehicles sales. Fleet orders are not included in that number as those are not being taken until pricing is announced.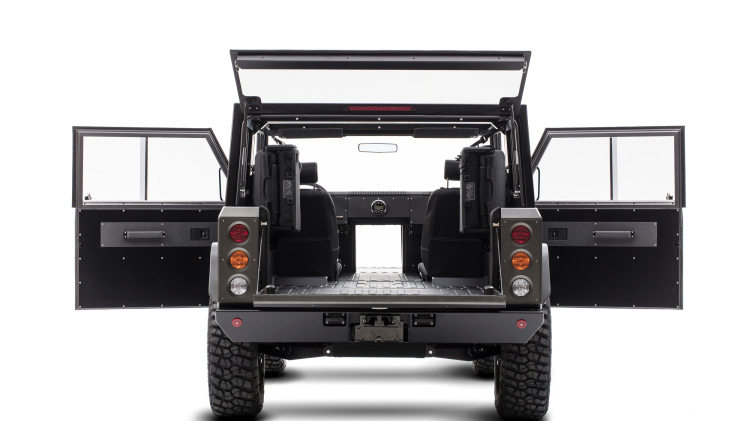 Pass-through door can accommodate up to 24 2x4s.
"I can't believe we've reached this number of reservations so quickly," said Robert Bollinger, CEO. "I think we really built something unique. A lot of people from all over the US and the world want a tough, capable truck that's also electric and we can't wait to start production."
The company also announced that the Bollinger B1 will make its industry debut at the Specialty Equipment Manufacturer's Association (SEMA) show which runs from October 31 through November 3 in Las Vegas. Attendees are encouraged to stop by their booth #51127 in the Performance Pavilion.
Started in 2014, Bollinger Motors is a U.S.-based company headquartered in New York. Its B1 on-and-off-road sport utility truck has a GVWR of 10,001 (1 lb. into the medium-duty category), and is engineered from the ground up with an all-electric powertrain, unique storage options, all-aluminum chassis, adjustable air-suspension, and convertible cab panels.
Specifications
Range: 120- or 200-mile, depending on battery-pack option         
Power: 360 hp
Torque: 472 ft.-lb.
Brushless, permanent-magnet motors
All-wheel drive
Front and rear locking differentials
Regenerative braking
Adjustable, self-leveling hydro-pneumatic suspension
10-in. of suspension travel
33-in. tires
15.5-in ground clearance
Seating for four
49-in.-wide cargo floor
Cab converts from full to half size
14 sq. ft. of lockable storage space
6,100 lb. towing and cargo capacity
Interested individuals can reserve a production vehicle with no money down at http://bollingermotors.com and can follow our journey on social media at:
Facebook.com/bollingermotors
Twitter: @bollingermotors
Instagram.com/bollingermotors
http://bit.ly/2gGV6VQ
Linkedin.com/company/bollingermotors