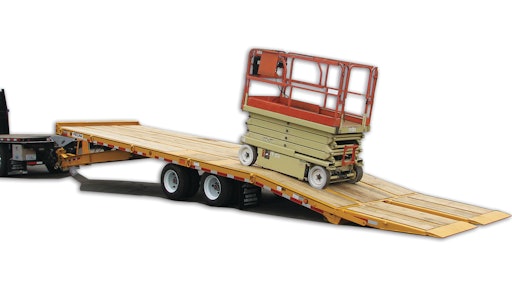 In September of this year Felling Trailers released an innovative trailer to its tilt line - the Air Tilt Deck-Over. This design utilizes air, powered from the tow vehicle, to tilt the trailer and optional ramps, eliminating the need for hydraulics. The air power from the tow vehicle fills two air bags, which then raise the trailer smoothly; the air bag will then keep the deck in the tilted position to allow for loading/unloading of multiple pieces of construction equipment.
The deck then lowers itself by releasing the air pressure at a controlled rate to prevent the deck from slamming down. These trailers are also equipped with Felling's Air-Latch System (Deck Lock). This allows the user to lock and unlock the deck with the flip of a switch instead of working with cumbersome levers or walking from one side of the deck to the other.
Ideal towing capability and balance is achieved by placing the axles further back on the Air Tilt model than other tilt trailers on the market. It has been touted to have the "Towability of a TAG trailer with the versatility of a tilt." These models are also suited for transporting low clearance equipment such as pavers, scissor lifts, forklifts and more with its low-clearance loading angle.
With the option of ramps, a load angle as low as 7º can be achieved for loading equipment. In the construction of this trailer Felling uses a High Grade 80 steel for the main structural beams that was fabricated in-house. The use of these beams in turn increases the trailer's strength yet reduce the total trailer weight. There are two base models for the Air Tilt; the FT-40 TA, which has a load capacity of 40,000 lbs. and the FT-50-3 TA with a load capacity of 50,000 lbs.
Standard Features:
Deck - White Oak 2" Nominal & 6' Wood Inlaid Beavertail
Main Beam & Crossmembers - High Strength Grade 80 Steel
Approx. Deck Height -32" Loaded
Tilting Mechanism - (2) Air Bags
Felling Air-Latch System (Deck Lock)
Tie Downs & Storage - 10 D-Rings & Toolbox with Lockable Cover
25,000 lb. Oil Bath Axles (CTR)
Brakes - 2S/1M with Park Brakes on All Axles
5-year Limited Structural Warranty
3-year Paint Warranty
Companies in this article