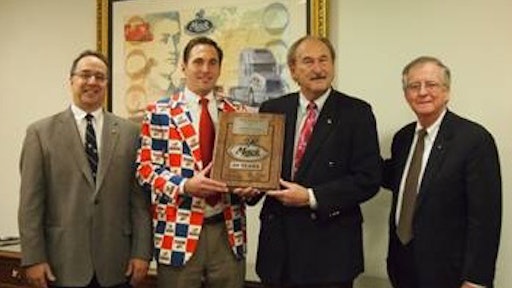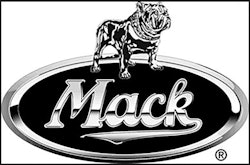 Mack Trucks honored the service of one of its long-standing dealers, the Kriete Group, Inc., recently at the Mack Customer Center in Allentown, PA, with a special tour and an award presented by Kevin Flaherty, president of Mack Trucks North American Sales & Marketing, and David Barletta, Mack Central Region vice president.
For the last 60 years, the Kriete Group, Inc., based in Milwaukee, WI, has been one of the premier dealers in the Mack dealer network, which features 429 service points throughout the U.S. and Canada. Now operated by Roger Kriete, chairman, and David Kriete, CEO and dealer principal, the Kriete Group was formed by Roger's father, Henry Kriete, in 1951 when he purchased the dealership from Mack Trucks.
"Being a Mack dealer brings our family and our employees great pride," said David Kriete. "We are honored that Mack recognized the 60 years of service that we've committed to being a Mack dealer, and we are looking forward to another 60 years."
The Kriete Group is a family-owned group of heavy and medium-duty truck distributorships that has grown to five locations throughout the state of Wisconsin. The company operates facilities in Fond du Lac, Madison, Green Bay and Racine, in addition to the original Milwaukee dealership as well as a lease and rental organization. Mack selected the Kriete Group as Mack Distributor of the Year for the Central Region of the U.S. five times during the last 60 years. Mack also twice named Kriete as the Mack Trucks United States Distributor of the Year in 1999 and 2005.
"Partners like Roger and David Kriete have made Mack one of the most successful truck brands in the market," Flaherty said. "It was a privilege to honor the Kriete Group, which has been strengthening customer relationships and providing excellent service and support to Mack customers for six decades."
Companies in this article