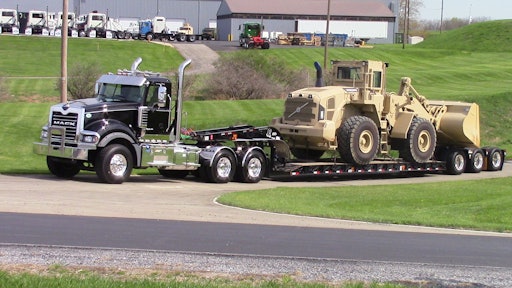 Staff
Every transmission supplier lists the approved oil specification for its products. But there are several other factors that may influence the ultimate choice.
"The first thing to note is that operators should always follow original equipment manufacturer (OEM) recommendations when making a transmission fluid choice," says Darryl Purificati, OEM technical liaison, Petro-Canada Lubricants. "These recommendations should be the first point of reference for any fluid- or lubricant-related decision."
Next, the severity of the application and expected oil drain intervals should be considered. "In comparing different transmission fluids for the same application, the criteria should be based on the specification and available supporting material such as testing or field trials for proof of performance and OEM validation/formal approvals," says Purificati. "There are still differences even for those fluids that meet the manufacturer's specification."
He adds, "Any given heavy-duty transmission OEM will publish a specification that will outline the minimum chemical and performance requirements for a fluid. Some transmission fluids are formulated to exceed some of the specific performance targets. A few of the more common characteristics that can exceed OEM requirements are cold temperature properties, wear protection and resistance to oxidation."
Understand the application
Vocational truck applications place unique demands on heavy-duty truck transmission fluids compared to line-haul applications. Even the way you track maintenance intervals can be different, depending upon the application.
"Any time you are operating off highway, you may want to look at hours more than miles," says Stede Granger, Shell Oil. "You could be really using the engine and transmission but accumulating very little mileage." Manufacturers often list mileage and equivalent hours of operation in their maintenance recommendations.
The application will help determine what product is needed and how often it needs to be serviced. "Depending upon what you are doing with the transmission, how much off-roading you are doing, you could be exposing fluids to higher temperatures," says Granger. "If that is the case, that could lead to more oxidation of the oil. You don't want to be operating severely oxidized oil. In an off-highway application, you definitely don't want to go past those recommended intervals."
The other issue with off-road applications is the potential for contamination. "Getting dirt and water in there would be more likely when you [have] off-road vs. over-the-road applications," says Brad Jordan, Shell Oil.
There are currently three distinctive transmissions that dominate the heavy-duty truck market: manual, automated manual (AMT) and automatic. No matter which type of transmission a heavy-duty truck utilizes, it is critical to use the fluid approved for that particular make and model of transmission by the manufacturer.
"These three types of transmissions have different hardware architecture that will require, for example, different friction modifiers, different levels and types of anti-wear additives and corrosion protection additives for soft-yellow metals," says Purificati. "It is always very important to ensure you are using the correct fluid in the correct transmission and for that application. Operators should also always follow OEM recommendations and advice from qualified lubrication specialists."
Owners need to use an approved fluid to maintain the OEM warranty. "Equipment that is out of warranty should still use products that are recommended for or suitable for use in the transmission," says Penney Do, driveline specialist, Chevron. "Severe applications (high loads, steep climbs) would benefit from synthetic-based products. The higher viscosity index gives better film thickness at elevated temperatures when compared to conventional. Additionally, it offers better protection during cold starts."
Check for any test data. "An approved fluid has met the rigors of testing defined by the OEM," says Do. "Some fluids may have supporting field testing (as opposed to a test rig) which can offer further assurance."
Matching Oils to Transmissions
Automatic and AMT transmissions now represent the vast majority of those sold in new trucks as fleets seek increased efficiency and the ability to attract a broader potential pool of drivers to address the widening driver shortage. But at one time, manual transmissions were the dominant choice in the Class 8 truck market.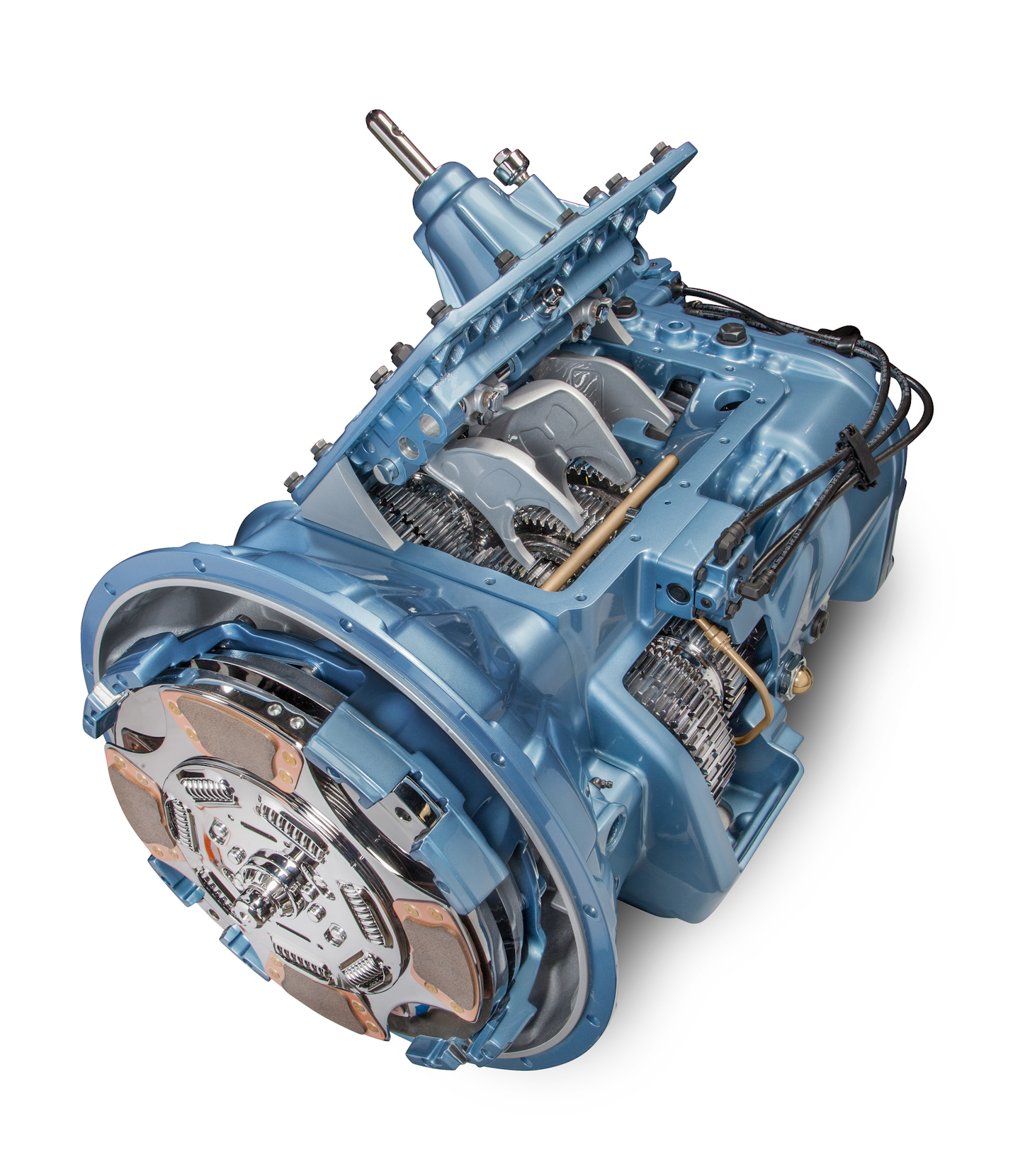 Manual transmissions initially used either gear oil or engine-based oils until purpose formulated oils gained traction. In 2017 Eaton came out with its current transmission oil specification, PS-386 Synthetic Transmission Fluid. Eaton states synthetic lubricants have proven to be superior to petroleum products and represent opportunities to promote superior maintenance and bottom-line operating performance while significantly extending component service life and reliability.Gear oils and engine oils were among the first fluids used in these transmissions. While some of the early manual transmission manufacturers recommended the use of API GL-5 gear oils, like SAE 80W-90, Eaton was the dominant manufacturer and originally recommended engine oils. "That's where the recommendation of SAE 50 engine oils came from," Granger explains.
But fluids were quickly developed that are more tailored to the specific needs of manual and AMT transmissions. "They still may look a little bit like engine oils, but they are really focused, specific transmission oils," says Granger.
The changes address the key differences between engine oil requirements and transmission fluids. "Transmissions have long drain intervals, and therefore require more robust shear stability compared to engine oils," says Do. "Additionally, there is a focus on gear protection and friction materials. Engine oils have short drain intervals and combustion by-products to contend with. This puts more emphasis on soot dispersion and acid neutralization for engine oils. Otherwise, the two fluids have similar key performance needs that are addressed with similar component chemistries used at varying levels — low-temperature performance, foam control, wear protection, antioxidancy, etc."
In 2017, Eaton came out with its current transmission oil specification, PS-386 Synthetic Transmission Fluid. According to Eaton, synthetic lubricants have proven to be superior to petroleum products and represent opportunities to promote enhanced maintenance and bottom-line operating performance while significantly extending component service life and reliability.
Extended Drain synthetic lubricants offer greater thermal and oxidative stability for extended product performance and reliability. The performance characteristics of these lubricants enable component manufacturers to offer extended drain intervals and extended warranties. Added benefits include a more efficient drivetrain that translates into proven fuel economy savings over mineral-based lubricants. Extended Drain synthetic lubricants are advantageous in all applications and Eaton highly recommends their use for severe duty applications and in cold climates.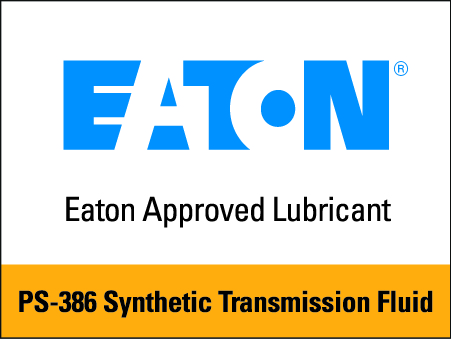 Be cautious when choosing an approved transmission fluid and don't get fooled by marketing jargon. In the case of an Eaton PS-386 approved product, this label should appear on the product.Eaton
There is marketing language you need to watch for, and watch out for, when choosing a lubricant. Unfortunately, product labeling can be difficult to understand. For its products, Eaton recommends using only lubricants with the "Eaton Approved Lubricant" label.
When determining if a lubricant is OEM approved, look for "Approved for/by..." on the packaging. Marketing "jargon" to avoid includes:
• Product X meets and/or exceeds the manufacturer's requirements of...
• Product X is recommended for use where...
When choosing between mineral oils and more expensive synthetic oils, make sure the cheaper product doesn't cost you more in the long run. "In this day and age where labor costs you money, the change-out costs you money — even though the synthetic is going to be a significantly more costly oil, it may save you in the long run because of fewer oil changes and less chances for something to go wrong," says Granger. "If you go to change an oil out, there is always a chance — and it happens — that [a technician] puts the wrong oil in there. There would be a definite advantage to not having to change the oil so often."
But there is still a place for price-point oils. "If you are in a situation where you are off highway and you are running in water or fording creeks and you have a chance of contamination, it would be a lot cheaper to change out that oil than change out a more expensive synthetic oil," says Granger. "Once you get that water in there, you have to change it out. I would be weighing that as a fleet owner, especially if I am not getting the mileage accumulation and the chances of water contamination are high."
AMTs are the Newest Players
An aging driver population and the addition of vocational-specific features have translated into increased popularity for AMTs. The AMT is a derivative of a manual transmission. It internally operates like a manual but shifts with computer-controlled actuators. There is no burdensome clutch to fatigue the driver.
Eaton started and dominated the AMT market early in the product's infancy, then many of the OEMs began to develop their own proprietary designs, including the Daimler DT12, Volvo I-Shift and Mack mDRIVE.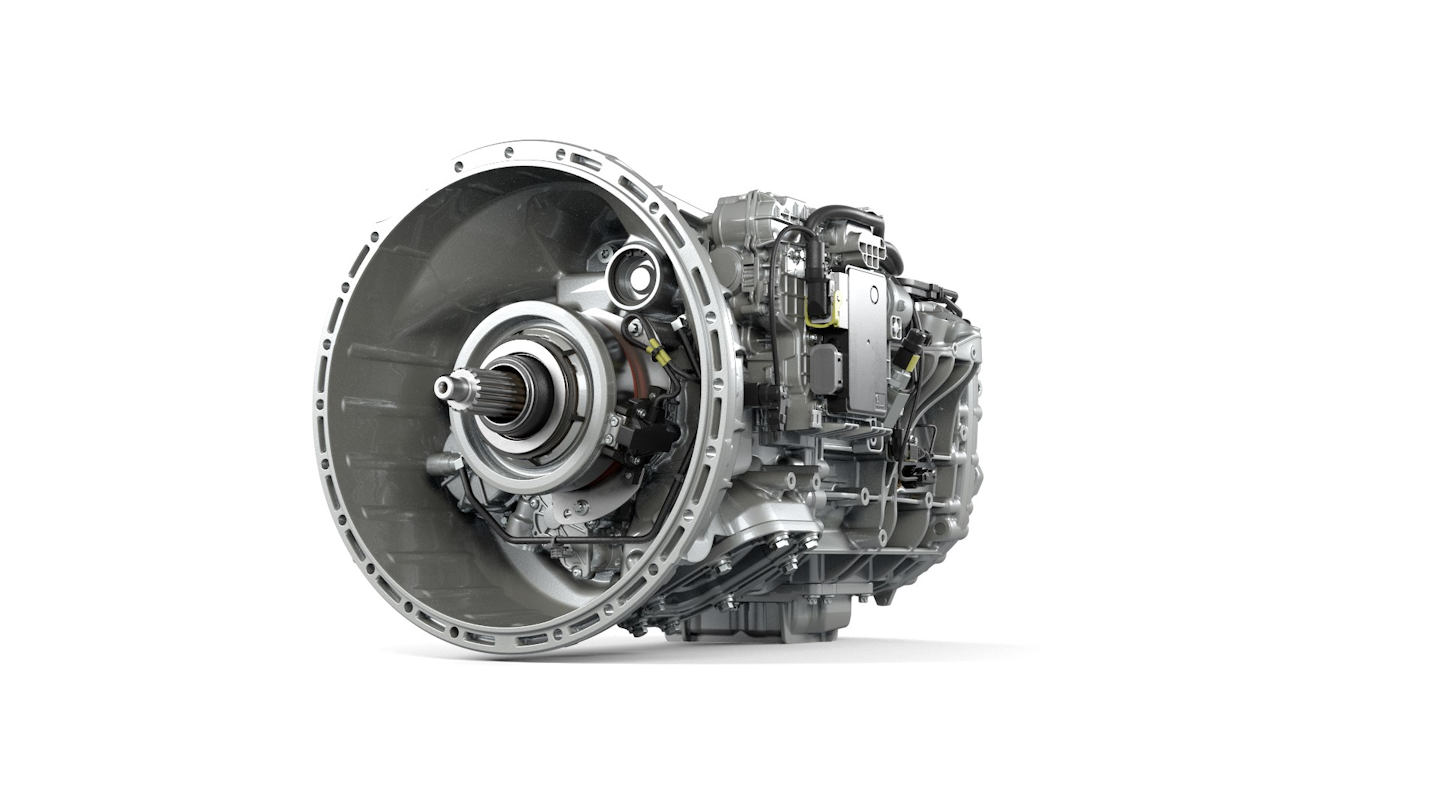 While the technology for 'automated' manual and manual transmissions is similar, the fluids that they require are very different and typically correspond to a certain make or model as specified by an OEM. Pictured in the latest automated manual offering from Detroit, the DT12.Detroit"While the technology for automated manual and manual transmissions is similar, the fluids that they require can be different and typically correspond to a certain make or model as specified by an OEM," says Purificati.
"As far as the difference between AMTs and manuals, it really depends if there is a wet clutch," says Jordan. "For AMTs with a wet clutch, the transmission fluid must also provide those particular friction characteristics for that clutch to operate properly."
There are examples where the same fluid can often be used. "If it is an Eaton manual vs. an AMT, they pretty much use the same PS-386 fluid," notes Granger. "Eaton also allows for the use of other fluids in the manual side that they don't allow for in the AMT side."
Automatic Transmissions Offer Off-road Benefits
Allison dominates the automatic transmission market. These are torque converter transmissions that offer the advantages of torque multiplication and stepless, uninterrupted power shifts. Vocational truck users have gravitated to automatic transmissions for their ease of use, reliability, efficiency of uninterrupted power transfer and the torque multiplier effect that offers the ability to start loads on slopes and in poor underfoot conditions.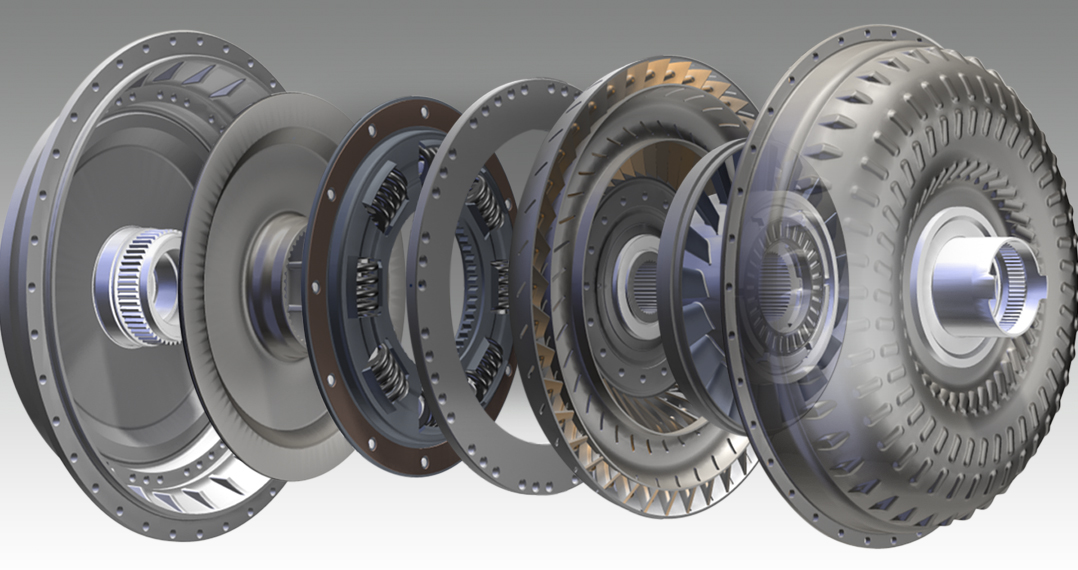 Nothing starts a vehicle up like a torque-converter-style transmission. One negative with a torque converter transmission is when you stalling it, some of the power of that engine is converted to waste heat in the transmission."Especially with a vocational-type vehicle, nothing starts a vehicle up like a torque converter-style transmission," says Granger. "One of the negative parts of a torque converter transmission is when you are stalling that torque converter, you are actually taking some of the power of that engine and putting that into waste heat in the transmission. You can actually raise the temperature of the fluid pretty significantly depending upon how much stalling you are doing on the torque converter."
Automatic transmissions place unique demands on the oil beyond lubricity and corrosion protection. "A crucial consideration for automatic transmissions is the friction of the clutch packs," says Do. "The fluid needs to provide the right frictional properties to ensure proper engagement of gears. It also needs to perform well for the torque converter lock-up clutch to prevent shuddering. In both cases, the fluid needs to be compatible with the friction material, so it's not prematurely worn."
Allison has traditionally offered a few options for transmission fluid, including TES 295, TES 468 and TES 389. There are performance and cost differences to consider with these fluids. "TES 389 is more of a mineral-base fluid with shorter drain intervals," says Jordan. "Option two is the synthetic TES 295, which will have much longer oil drain intervals and less maintenance required by the maintenance shop."
High heat environments typically favor synthetic oils. "In that application, you would be much better off with the Allison TES 295 fluid," says Granger. "Most of our customers opt to have the TES 295 for that reason and for much longer drain intervals."
There is a significant price difference between TES 295 and TES 389, but that can be offset by the longer drain interval for the synthetic product. "The drain interval really depends on application, but it might be a 5:1 or 8:1 longer drain interval for the synthetic product," Granger points out.
The big news is that Allison has introduced a new specification, TES 668, that supersedes TES 295. "The TES 295 specification came out in the late 1990s, so that is getting some age on it," says Granger.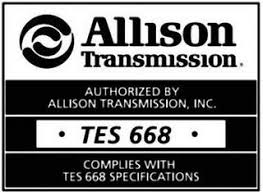 Allison is introducing a new transmission transmission fluid TES 668. It will supercede the previous specification and TES 668 products should begin appearing on the shelve soon.Allison"When comparing TES 668, the latest Allison Transmission automatic transmission fluid, with its predecessor, TES 295, the latest specification displays clear benefits in terms of oxidation stability, wear protection, durability and transmission performance," says Purificati. "Manufacturers of automatic transmission fluids have generally reduced viscosity for improved efficiency and increased the fluid life, which is reflected in extended oil drain intervals."
TES 668 builds on the proven 20-year record of TES 295 fluids by delivering the same performance with a modern additive package, according to Allison. TES 668 also provides a streamlined approach to aftermarket approvals, which allows broader availability of approved fluids to end users. Due to the high level of quality, TES 668 meets the needs in order to be used in combination with Allison Extended Transmission Coverages (ETC).
According to Allison, TES 668 improves on the previous TES 295 transmission fluid spec in oxidative stability, anti-wear performance and friction modifier durability. These factors improve the quality of the shifts and reduce the noise, vibration and harshness experienced as the fluid ages. Better friction performance provides more consistent clutch application, even across temperature variations and load sizes.
TES 668 meets the most demanding specs related to fluid stability, lubrication and cold operation. This allows Allison to support long drain intervals, including when operating under heavy loads. This next-generation transmission fluid is specified for all Allison 1000 Series, 2000 Series, 3000 Series and 4000 Series automatic transmissions. There are a range of durability problems that come from using an unapproved fluid in an Allison product, including seal and friction issues.
If you are currently using TES 295, you can switch to TES 668 when it becomes widely available. "TES 668 is back serviceable and it interchanges with the TES 295 products," notes Granger.
"Allison is really going to push everybody to move to TES 668," says Jordan. "That should happen fairly quickly."