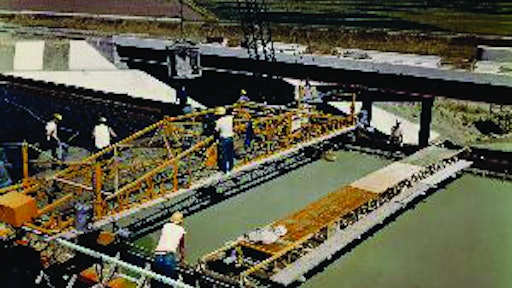 Until 1961, bridge contractors faced a number of limitations when paving bridge decks. Using screed boards equal in length to the distance between the bridge abutment and first pier, contractors were confined to paving only this distance at one time. "This also restricted bridge designs and the length of pier segments as there was a limit to girder camber with this method of paving," says Larry Eben, Southeastern regional sales manager for Terex Bid-Well.
In 1961, an upstart company named Bid-Well developed a new method for paving decks, which changed the face of bridge paving. "Tex" Bidwell, a bridge contractor from Rapid City, S.D., had an idea for paving the deck transversely, rather than the then industry-standard longitudinally. He developed this concept with a Canton, S.D., machine shop operator, Murray Rowe, and thus began the historical roots of today's Terex Bid-Well.
"With longitudinal paving, contractors would see transfer deflection from the girders after the pour, which resulted in an uneven ride. So Tex's idea was driven more to improve ride and gradeability," says Eben.
The first Terex Bid-Well paver design included an oscillating strike-off pan riding along a 48-in (1219-mm) deep truss frame. These pavers increased deck paving widths up to 60 ft (18.3 m) wide. The width was limited only by the electrical cords that powered the oscillating pan, augers and machine movement.
Within a few years, demand for these new transverse pavers grew, taxing the capacity of the small company. So in 1969, Rowe sold the company to the CMI Corporation (today Terex Roadbuilding), giving the company capital to expand and evolve the paver designs. Rowe would remain as president of Bid-Well, a position he held for more than 35 years.
Evolving Line
As bridge designs evolved due to the flexibility these new transverse pavers offered, so too did the design of the Terex Bid-Well paver. As bridge widths expanded in the early 1970s, the pavers transitioned from electric to hydraulic operation. This eliminated the electric cord limitations and expanded the machine's paving capabilities beyond 120 ft (36.6 m), giving contractors unprecedented flexibility.
Roughly this same time, the floating strike-off pan was replaced by a single roller strike off, which was marked by a transition to the BR Series . A second roller was eventually added to the design, improving paving quality and speed.
Because of the company's close working relationship with the customer, Terex Bid-Well has introduced a number of design innovations over the years to make the bridge contractor's job easier. In the mid 1980s, the company developed its patented Rota-Vibe system. The system delivers up to 5,000 vpm (83.3 Hz) over the rollers' entire length to reconsolidate the top 2.5 in (63.5 mm) of concrete, delivering a denser and more uniformly consolidated concrete surface.
Other design advancements include:
A 5-in (127-mm) hydraulic carriage lift, allowing the paving unit to be raised to quickly pass over obstacles and then automatically reset to established grade.
Swing leg design, which allows the machine to be offset for zero-clearance paving.
Pivot leg option, which enables the legs to be set to a true vertical position when paving superelevations, removing pressures on the rails.
A fogging system with nozzles that atomize the water to create a true, light fog.
Hydraulic crown adjustment that enables contractors to make quick crown changes.
Optional Skew bar kit that allows the paving carriage to be offset, so it hits the same crown points when the machine is paving at the skew angle.
Terex Bid-Well also manufacturers the only machine capable of paving bridge decks in excess of 200 ft (61 m) wide. "Responding to customer needs remains one of the cornerstones of the business today," says Rob Drew, site director of Terex Bid-Well and only the fourth leader in the company's history.
Above and Beyond
Responsiveness has led to other bridge paver designs over the years. In addition to today's 4800 paver, which uses the same 48 in (1219 mm) truss depth as the original paver, the company offers the 3600 and 2450 pavers, featuring 36-in (914-mm) and 24-in (610-mm) truss depths respectively. These were added to the product line to meet customer demand of those contractors who did not pave deck widths in excess of 100 ft (30.5 m).
This has also led to product development reaching beyond bridges. Using the foundation of the original 48-in (1219 mm) truss frame depth, the 7000 paver was developed to pave canals and slopes. This flexible model allows contractors to pave full width (up to 84-ft), half-width trapezoidal canals and straight slopes with up to 45° angles.
The need for additional weight and special features for airport and highway paving resulted in the development of the 5000, 6000 and 6500 Series pavers. "It was actually an airport application that led to the development of our Rota-Vibe system," explains Eben. "Today's airport and roadway pavers are built with higher horsepower and weight and features specifically designed to meet strict quality specifications when paving airports."
In 2001, Terex Corporation purchased the CMI Corporation, and Terex Bid-Well became part of the Terex Roadbuilding group. Due the commanding market leadership position earned by the paver manufacturer, Terex has retained the brand name, and today the company is known today as Terex Bid-Well.
Over the past 50 years, Terex Bid-Well has remained a central figure in the Canton, SD, community in addition to being a staple in the concrete paving industry. The company has retained and built around its original Main Street machine shop location. Several company employees are on the volunteer Canton fire department, and "when Jack Lease (former General Manager of Terex Bid-Well) was service manager, he was the fire chief," says Dean Johnson, service manager for Terex Bid-Well. Through the company's service schools, held four times a year in Canton, Terex Bid-Well has paved a number of parking lots in the community free of charge.
About Terex
Terex Corporation is a diversified global manufacturer operating in four business segments: Aerial Work Platforms, Construction, Cranes, and Materials Processing. Terex manufactures a broad range of equipment for use in various industries, including the construction, infrastructure, quarrying, mining, shipping, transportation, refining, energy and utility industries. Terex offers a complete line of financial products and services to assist in the acquisition of Terex equipment through Terex Financial Services. More information on Terex can be found at www.terex.com.
Companies in this article