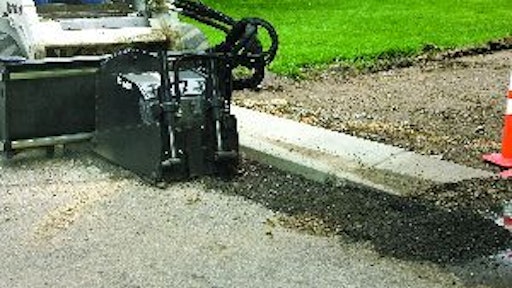 Bobcat High-Flow Planer
The Bobcat high-flow planer attachment is designed to mate uneven pavement surfaces, cut drainage in parking lots, perform street repairs and cleanup around larger milling machines.
Side-cutting bits decrease drum binding in the cut and produce a vertical edge that improves the joint bond between a layer of asphalt and the existing layer
Hydraulic side-shift for planing close to walls and curbs
Low-maintenance design
Flow Boy by Highway
Flow Boy offers asphalt, concrete and other processed roadbuilding material trailers and chassis-mount transporters.
Horizontal discharge conveyor
Instrotek CoreLok
InstroTek's CoreLok is a system for sealing asphalt samples so that the sample densitites may be measured by a water displacement method.
Can perform six tests, including asphalt bulk and maximum specific gravities, air void content, asphalt porosity, aggregate bulk and apparent specific gravities and percent absorption
Tests take less than 20 minutes
TransTech Model 301 Pavement Quality Indicator
?The Model 301 Pavement Quality Indicator is especially suited for use with tender asphalt mixes.
Advanced software simplifies use
Easy-to-view screen for enhanced readings even in bright sunlight
Built-in mat temperature sensor
Density measured in percent compaction, percent air voids and segregation modes
Dr. Shrink Shrinkwrap
This premium shrinkwrap provides an economical way to protect equipment and materials from dirt and damage on the jobsite.
Can cover everything from equipment to spare parts and lumber piles
Consists of UV-resistant, 100 percent virgin resin available in widths of 11 to 40 feet, lengths up to 425 feet and thicknesses of 5 to 12 mils
Can be ventilated with simple accessories to prevent mold and mildew
Easily installed zipper door allows instant access to equipment in storage
Available in three colors to suit the climate
Dana SmartWave TPMS
The SmartWave TPMS tire pressure monitoring system is available for retrofit installation on a variety of commercial truck models through original equipment dealerships.
Real-time electronic system actively and accurately measures air pressure and temperature for each tire on a vehicle
Transmits data wirelessly to a receiver and displays information in the cab
Suitable for all tire types
Can be installed at any point in the vehicle's life
Miskin Vibrating Compactor
This 18-ton pull-type vibrating compactor is available in padfoot or smooth drum models.
Vibration frequency varies with the amount of oil sent from the tractor
58.4 tons of compacting force (vibrating force plus machine weight)
Amplitude of .071 inches
Padfoot drum measures 79 inches wide by 72 inches high
2- to 5-mph working speed
WaveBox Portable Microwave
The WaveBox has the cooking ability of a conventional microwave in a rugged, compact, portable design.
WaveBox Original has a sculpted, lunchbox-style design and reinforced, weather-resistant ABS case
Extreme Duty model has a metal casing and touch-screen controls
Retractable AC cord and plug-and-run DC cords for vehicle power socket or direct connection to a 12-volt battery
CoolWave integrated soft-side cooler fits inside oven to keep food and drinks cool prior to heating