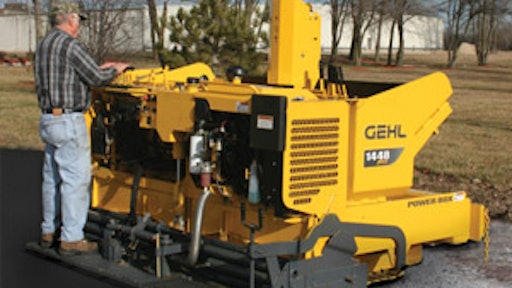 The new 1448 Plus and 1648 Plus asphalt pavers feature fully-extendable screed extensions that allow the machines to be adapted easily to different job applications, such as driveways, recreational ball courts, bike paths and parking lots.
A full-floating, adjustable and vibratory screed is standard on both Power Box models. The screed's 8-foot length and 13-inch width provides a solid foundation for smooth, accurate and finished asphalt mats. Crown and invert pitch adjustments are provided through screw-type jacks located at the center and ends of the main screed assembly. These adjustments allow the operator to maintain a consistent depth and develop drainage contours within the mat.
To heat the screed, the 1648 Plus uses a propane burner system. By preheating the screed, asphalt is prevented from bonding to the screed's wear plate and scoring mat finish. The 1448 Plus uses the engine exhaust to heat the screed with propane-heated screed as optional.
Other features on the pavers include an electronic control module and reduced noise levels. The module provides an automatic preheat timer and audible warning alarms. It displays indicator lights for engine temperature, engine oil pressure, battery and engine preheat.
Noise levels have been reduced by three decibels compared to past models, making these pavers more comfortable to operate and reducing operator fatigue.
The Gehl 1448 Plus asphalt paver is powered by a 36-horsepower Yanmar water-cooled diesel engine; the 1648 Plus Asphalt Paver is powered by a 48-horsepower Yanmar water-cooled diesel engine. Both engines have EPA Tier III capability.
Other improvements include a new side-by-side design for the hydraulic oil cooler, which increases cooling capability on the 1648 Plus model. A separate cooler is dedicated to the drive system. The speed control lever was changed from a 13-step lever to an "infinitely-variable" lever, making travel speed easier to control.
The ground drive is a direct-drive type track design that will not slip under normal/severe conditions. This provides the customer more versatility in different sub-base conditions. This system self-cleans, and it tensions itself with the aid of a hydraulic cylinder. Track pads are made from cast steel, providing the customer both durability and long-term reliability.
Operator visibility is excellent with the low-backwall design. This allows the operator to easily see the asphalt hopper, truck position and front mainframe area when paving, thereby increasing productivity and safety.
A front lip has been added to the asphalt hopper to retain asphalt within the paver's hopper assembly as the truck unloads and pulls away. This protects the ground drive system from undue contamination and produces a more even-finished mat.
Both pavers have excellent serviceability with access from both sides of the engine. This provides easy access to hoses and other components for simple maintenance. With the engine access panel removed, access to the alternator and starter is unobstructed. Many competitive units require the engine assembly to be removed for service.
For efficient transportation, units have fold-up hopper wings, resulting in an overall width of 8 feet 6 inches. This requires less trailer space and allows room for additional equipment, such as an asphalt roller.
HAMM HD 14 VV Compactor
The new 4.6-ton HD 14 VV from HAMM is an articulated asphalt compator which offer vibration in both the front and rear drums. VV stands for "vibration front, vibration rear," with the capability of vibration running in the front drum only, rear drum only, in both drums, or no vibration. Unit has a working width of 56.3 inches when offset and a drum width of 54.3 inches. Unit is powered by a 40-hp Hatz Model 4W35T four-cylinder turbocharged water-cooled engine. Other features include a low sound level, ergonomic driver's platform and centrifugal force of 14,625 pounds.
Updated Deere J-Series Wheel Loaders
Several models wihtin the John Deere J-Series wheel loader line have been udated to feature Tier III-compliant engines and new cooling systems. The 444J, 544J, 624J, 644J wheel loaders have been updated to include Tier III-compliant PowerTech engines that deliver fuel efficiency, wet sleeve cylinders and an electroncially controlled fuel system for precise injections. The 644J now features Deere's exclusive Quad-Cool cooling system, which is an easy cooling system to clean, as well as resistant to plugging.
Equipment Resources Mini-Might Patrol
The Mini-Might Patrol will turn a skid steer into a full-blown grader. Unit will attach and detach in less than five minutes following carrier modifications. The operator sits outside of skid steer for greater visibility. Unit is equipped with certified ROPS and safety shutdown system and weighs roughly 4,000 pounds. Features include a standard 8-foot moldboard with 10-foot option and laser and stringline system capability.
RoLine Laser Line
Selcom Sensors That See introduces a laser specifically engineered to measure or profile pavement topography in 3D, regardless of geometry. The RoLine sensors are not affected by road surface characterisitics, measurement speed, sunlight, temperature or vibration. With the RoLine line sensor, a 100-mm line of data across the road surface (similar to a tire width) allows seeing more of the road. The unit then delivers what is sees as accurate, repeatable 3D profiles. Pavement types include transverse, longitudinally tined, and grooved and diamond-ground concrete. Units have the ability to maintain quality on the fly when transitioning from concrete to asphalt.
OEM ST-500 Radio Service Tracker
OEM Data Delivery introduces a technology for tracking asphalt paving and sealing equipment, continuously and in real time. The ST-500 Radio Service Tracker transmits the hours that each paver, compactor, milling machine, cutter and sealer is in use, along with various service alerts, via radio frequency to an on-site radio tower. The tower interfaces with a PDA hand-held data collector or directly to a computer. The equipment ID, hours, location and service data is downloaded into a web report or computer program. The tool can be used to track equipment time required for specific operations and for avoiding over- and under-servicing. It can also be used with PDA programs that capture fuel, repair, inspection, compliance and task data. Managers receive detailed reports that allow best-possible allocation of resources.
Terex CMI RS425C Reclaimer/Stabilizer
The four-wheel-drive CMI RS425C reclaimer/stabilizer from Terex Roadbuilding features an enhanced drive locking system that efficiently divides oil flow between the front and rear drive motors. The 70/30 front-to-rear oil flow ensures the machine continues to move forward should one wheel lose traction. This improves machine performance in deep cut stabilization applications or when stabilizing with additives. A second steering cylinder has been added to the rear of the new RS425C, delivering easier rear-wheel steering when working in deep cuts and improving maneuverability around obstructions. Other features include 232 tungsten carbide tap-in/tap-out teeth, standard 50-inch-diameter mandrel, 96-inch cutting width and 16-inch cutting depth. An available larger diameter cutter provides up to a 19-inch depth mixing capability.
Subaru Robin Balloon Light Tower
Subaru Robin's new balloon light tower casts an even 360-degree glow, making it ideal for road construction. Unit's design keeps the unit compact for easy transport. Set-up is simple with fold-out outriggers, an easy-to-operate manual winch and steerable pneumatic wheels. The balloon self-inflates to four feet in diameter, providing 110,000 lumens from the 1,000-watt metal halide lamp. A three-stage mast extends the light to a height of 14.2 feet. Additionally, the light tower includes a standard 40-watt sublight. When the halide lamp is shut down to cool before reassembly for transport begins, the sublight continues to glow, making shutdown safer and more convenient.
Quest Cross Sections 2.0
Quest Solutions has released its Cross Sections 2.0, the latest version of its highway takeoff software, which offers new features and is based on a more advanced development language. While Cross Sections has always calculated cut and fill, the new version allows contractors to break out separate sections of a road, such as a ditch, a specific lane or median and calculate the individual cut and fill quantities, each incorporating multiple levels of bedding, backfill, asphalt and other materials. This enables contractors to conform to varying DOT specifications.
Bomag MPH122-2 Recycler/Stabilizer
A more powerful engine and three new rotor options head the list of improvements that Bomag has made to its MPH122-2 recycler/stabilizer. Unit now features a 482-hp Tier III-compliant turbocharged Deutz V6 engine. The MPH122-2 additionally offers three new rotor options - a 91.7-inch-wide stabilizer rotor with Kennametal paddle-type teeth and a 19.7-inch maximum cutting depth; a 99.6-inch-wide universal rotor with a 16.5-inch cutting depth; and a 99.6-inch-wide universal rotor with bolt-on Kennametal tooth holders and a 16.5-inch cutting depth. Bolt-on tooth holders can be easily replaced at the work site without welding.
Ingersoll Rand Double-Drum Asphalt Compactors
Ingersoll Rand introduces the DD-22 and DD-24 double-drum asphalt compactors for light- and medium-duty applications. The DD-22 has a drum width of 39 inches and an operating weight of 5,400 pounds. The DD-24 has a drum width of 47 inches and an operating weight of 5,725 pounds. The front and rear drums on both compactors protrude beyond the frame, making it easier to compact around obstructions without the chassis getting in the way and giving operators a clear view of drum edges. Units offer two vibrating frequencies: 3,300 or 4,020 vpm.
Shell ROTELLA T with Triple Protection
The Shell ROTELLA T motor oil with Triple Protection technology meets Caterpillar specifications ECF-1-a, ECF-2 for pre-2007 on- and off-highway diesel engines. The oil also meets Caterpillar specification ECF-3 for 2007 engines with diesel particulate filters and provides enhanced engine protection, cleanliness and compatibility with exhaust after-treatment devices. ROTELLA T also meets API CJ-4 specifications for heavy-duty diesel engine oils and the latest engine builder specifications.
Companies in this article