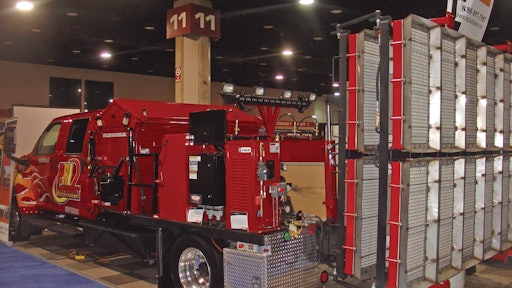 Infrared pavement repair equipment is fast becoming a mainstay of many pavement maintenance fleets, largely because of the versatility of the equipment and the wide range of repairs and maintenance it enables the contractor to offer. And as infrared has become more accepted by contractors and end users as a way to maintain and preserve pavement, manufacturers have developed greater variety and more options for the contractor. The following is a sampling of infrared equipment available to contractors today. Most of these manufacturers produce a variety of models and options and you can learn more about each company's range of offerings and options by visiting their websites.
P1000-2 Infrared Asphalt Patcher Truck
Heat Design Equipment
Heat Design Equipment's line of infrared repair equipment, which includes joint match heaters, infrared asphalt truck attachments, and mini infrared asphalt patchers, also offers four models of patcher trucks designed for high-production infrared repair. The Patcher Truck Model P1000-2, for example, features ten 75,000 BTU high-intensity infrared heaters with a ceramic fiber heater surface that have an initial heat over 22,000 BTU/SF for quick temperature elevation. The individual heaters measure 3 feet x 18 inches and when combined can heat an area 8 feet x 6 ½ feet, and its heaters can be individually lit to provide various heating patterns.  The heater features a quick release so it can easily be removed from the truck, and a heating unit can be changed out in less than one hour. Operating on liquid propane, the unit consumes 1 pound of propane per square foot of heater and is equipped with four tanks that provide enough fuel to operate the heater deck and reclaimer for two days. The P1000-2 has pivot points that have easy access grease fittings and a heater frame that can be adjusted up to 12 inches. 
Patriot
Kasi Infrared
Kasi Infrared manufactures a variety of infrared units and the leader of the fleet is the Patriot, a truck-mounted, self-contained infrared restoration system mounted on a single chassis and available in 2-, 4-, 6-, and 8-ton-capacity reclaimer models. The 48-square-foot heater consists of eight 6-foot-long, high-efficiency stainless steel UltraGlow infrared converters. These built-in converters generate the infrared radiation used to heat the pavement. Normal heating time is 5-7 minutes to a depth of up to 3 inches without damaging the asphalt. The 8-foot x 6-foot heating area can be divided into two 4-foot x 6-foot sections if need be. The Patriot's asphalt reclaimer keeps mix at plant temperatures up to 48 hours regardless of weather conditions. Other available Kasi units include the 2- and 4-ton Minuteman; IR-480; IR-360T; IR-300; IR-120; IR-120SH; and 2-,4-,6- and 8-ton reclaimers.
Total Maintenance Vehicle
Ray-Tech Infrared Corporation
Ray-Tech Infrared Corp. offers contractors a variety of infrared equipment including asphalt reclaimer and storage units, asphalt pavement heaters, asphalt combination units, an asphalt joint heater and an aggregate/RAP pre-heater. One unit, the Total Maintenance Vehicle, has everything a crew could need mounted on one truck chassis. Designed for making complete, permanent asphalt pavement repairs the TMV is available with a 2-, 4- or 6-ton reclaimer. The unit operates with 100% propane gas drawn from two 100-gallon cylinders and uses four 22,000 BTU infrared-type converters. This 4,250-pound unit reclaims cold material within 16 hours. The TMV also includes a rear-mounted 8 foot x 6 foot pavement heater with dual systems that operate individually and can fire in any position from vertical to horizontal. Its 34-inch x 54-inch x 15-inch side dump waste bin is activated by the 24-volt pivot winch, and the dump bin swings to the opposite side of the truck to load the compactor into the compartment opposite the waste bin. Other available units by Ray-Tech include the Tech 20, Tech 36, Tech 48, Tech 78, Tech 108, Mini Tech and the Mini Combo.
Trackless Electric Infrared Asphalt Heater
Trackless Vehicles Ltd.
The Infrared Asphalt Heater attachment from Trackless Vehicles Ltd. is operated with an 80-hp generator, compared to traditional propane asphalt heaters, and it produces 45 kw and 175 amp. When the asphalt heater isn't in use it can be separated from the generator frame in less than 5 minutes. As a result, the 110-volt and 220-volt receptacles can be used to power welders, pumping stations, and other equipment or tools. With a heating pan area of 4 feet x 6 feet, the unit has 11 heating elements. The Infrared Asphalt Heater produces an even and controlled heat without an open flame and will not burn the surface. Another feature is the controlled cycle times allowing contractors to establish their optimum cycle time for the jobsite conditions. Because of the way it's designed and the fact that it's an attachment, the unit does not require a license for changing propane tanks, and eliminates the possibility of leaking valves or fuel tank ruptures. Also, there is no open flame near a fuel tank, nor is there an open flame over or near catch basins or manholes. The small size of the unit also allows contractors to precisely position the infrared heater.
KM2-18X Infrared
KM International
With several available units, KM International offers contractors a variety of portable and trailer-hitched infrared asphalt heaters.  One unit, the KM2-18X Infrared, is lightweight and easily moved to areas previously inaccessible by larger infrared equipment. Operating using two 30-pound cylinders of propane, it consumes 12 pounds of propane per hour. The KM2-18X Infrared uses a 1-inch ceramic blanket featuring convection/conduction heat for an even transfer of heat. The unit has 300,000 BTUs and has a 12-volt DC-powered blower. Operators have the option to use a single 3-foot, 6-inch x 3-foot, 3-inch zone or dual 3-foot, 6-inch x 6-foot, 6-inch zones totaling 22.75 square feet of infrared heat. The KM2-18X Infrared also works for thermoplastic template applications. Contractors can use this unit for small pothole repairs, emergency repairs and joint repairs. Additional units available from KM International include LB2-16 Portable Infrared Asphalt Heater, KM4-40, KM4-48 and KM4-20.
Accu-Therm Infrared
Thermotrack
Thermotrack has several available products for stamped asphalt including coatings, grid patterns and an infrared heating system. The Accu-Therm Infrared, a reciprocating infrared heater, focuses on precision heating ability, adjustment capability and mobility. The electric-powered, belt-driven, non-stationary infrared heating elements travel back and forth on a rounded rail track for deep heating without surface damage. It can heat an area up to 58.5 square feet, and the element baffles deflect and focus the infrared heat downward preventing heat from rising. The graduated heating process allows for each pass over the asphalt to increase temperature and penetration. The unit's heating elements are constructed of stainless steel and wire mesh.  
4x4 Heater
Asphalt Reheat Systems
Among Asphalt Reheat Systems available units are portable heaters, trailer heaters and seam (or joint) heaters. The 4x4 heater is one of several portable heater options. Available with a standard high-output heating area of 16 square feet, the unit weighs 195 pounds and measures 60 inches x 65 inches x 39 inches. Three heating options are available including a split channel with 2-foot x 4-foot areas, a high-output heating 4-foot x 4-foot areas, and pinning two units together to heat a 4-foot  x 8-foot area. When pinning the two units together, contractors connect the units with a bracket but still operate it with a single control. The 4 x 4 has low fuel consumption with up to 3 hours of operation per 20-pound propane tank. The unit can reheat almost any asphalt to a pliable texture in less than 5 minutes, and it can be used to repair both small and mid-size areas.  In the split channel version the operator has the option of heating one half the unit at a time, and changing which side receives the heat is done by flipping a switch on the handle.