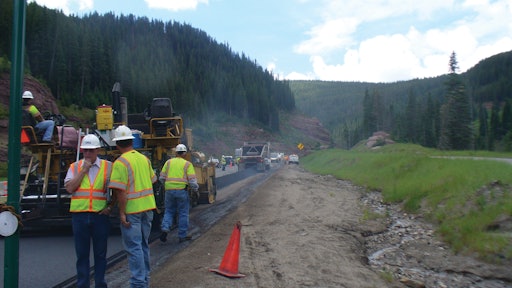 Suffering from pot holes, cracking and severe delamination, Vail Pass required resurfacing and safety updates. Working with the Colorado Department of Transportation (CDOT) and contractor American Civil Constructors, Inc., subcontractor Lafarge, located in Fort Collins, CO, completed the paving of Vail Pass.  
The paving began June 21, 2011 and was completed on Sept. 18, 2011. The Vail Pass project consisted of two lanes on the westbound and one lane on the east bound between mile marker (MM) 180 and MM 190. After the subcontractor, Alpha Milling, milled the existing asphalt 2 inches, Lafarge followed with a paving train. Key equipment used was a Cat AP-1055D and Barber Greene BG650 windrow elevator. "We used approximately 32,965 tons of asphalt to complete this project," says Justin Jordan, superintendent at Lafarge. "We used a SX75 58-28 virgin mix without reclaimed asphalt pavement (RAP)."
The PG 58-28 binder is a softer binder that predominantly used in geographical locations with higher elevations. It theoretically upholds to the freeze and thaw cycle better and reduces cracking potential. 
When completing the paving, Lafarge utilized two 30-foot ground contact skis on the paver. "We used these two skis on the paver because Colorado Department of Transportation Project Engineers didn't want the edges to match too high or too low to the existing shoulder," Jordan says.
With about 30 lane miles, Lafarge completed the work operating from 8 a.m. to 3:30 p.m. "We were paving 12.5 feet wide at approximately 1200 feet per hour," Jordan says. "We placed about 800 to 1,500 tons per day depending upon traffic delays."
Lafarge's breakdown roller was a Dynapac CC722 followed by a Sakai DW750 with a Dynapac CC6624 high frequency finish roller.
Additional miscellaneous paving included two miles of paving on the right lane of the east bound side. "This paving corrected delaminated portions of the road and fixed areas where there was standing water and bad cracking," Jordan says. Lafarge used the same mix, a SX75 58-28. Other paving included temporary detours for the bike path.
Managing high volume traffic
Every project poses different challenges, and with Vail Pass, Lafarge encountered several challenges with traffic.  "Vail Pass has a steep grade, and several issues we ran into dealt with commercial haulers traveling the road and coming down steep grades through construction zones," Jordan says. "There were a few instances of truckers losing their brakes and having to take emergency off ramps. Our biggest concern was managing the traveling public and the amount of trucks going up and down Vail Pass during construction."
To plan accordingly, production was limited due to traffic delays in both directions. "After a couple of weeks of paving, the prime contractor reduced the number of work zones on the project to prevent the traffic from becoming too congested," Jordan says. "This allowed our mix to get in and out quickly so we wouldn't lose temp. We were able to get our product down and pave the road quickly."
Another challenge for Lafarge was the location of the asphalt plant roughly 50 miles away. "We were hauling to west Vail Pass and the plant was located in Silverthorne, so our trucks had to take that same route to get back and forth each time," Jordan says. "The trucks were going over the same path as the other drivers. We had safety plans in place such as limiting truck speeds for our drivers, weekly safety meetings with our drivers to keep them focused on safety, making sure the trucks were in good mechanical condition, and making sure the guys were watching over their equipment so we didn't add to the number of potentially unsafe trucks traveling down the road while we were paving."
Proper training helps achieve incentives
With the paving of Vail Pass, Lafarge received approximately 80 percent of available smoothness incentive. "CDOT Region 3 and Lafarge were extremely pleased with the amount of money obtained in smoothness, mix quality and density," Jordan says.
With an experienced crew, Jordan credits by following standard paving procedures it resulted in achieving a high percentage of smoothness incentive. "We were able to go in and follow standard paving practices, consistent paving speeds and consistent rolling," he says. "We had a good quality control program set in place to monitor such actions."
Additional operator training was also beneficial to the project. "A lot of our guys have been trained in the Cat Operations training," he says. "We utilized those paving principles, and we communicated with CDOT and ACC to identifying problems that were ahead of ourselves prior to us getting there."