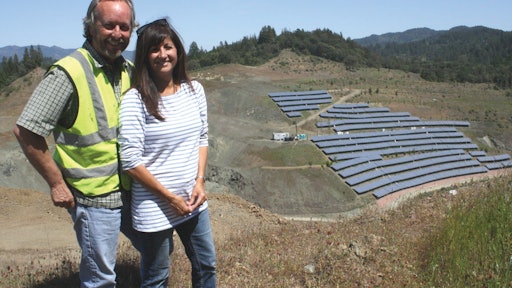 In 2011, BoDean's Mark West operation became the first quarry in the world to fully operate under photo-voltaic solar power. "This was done to be a leader in the use of cleaner alternate fuels and power sources in order to minimize greenhouse gas emissions and operate as a responsible neighbor to the communities surrounding its facilities," says Bill Williams with BoDean.
The company sponsored a "Flip the Switch" event in the spring of 2011. "This was the day we switched from being reliant upon the utility company to provide our power to relying on the Sun through solar power," says Williams. "The event was held on May 11, 2011. Although we flipped the switch on that day, our solar power went on-line two days before on May 9." ­­
Why did BoDean decide to go with solar power? "It costs a tremendous amount of money each year to power our motors, crushers, screens, conveyors, pumps and dewatering system," says Williams. "Energy costs keep going up and will continue to do so. It made sense to us to switch to using renewable sources for our power via photo-voltaic solar and stabilize our costs. This switch will save money, have a positive effect upon cash flow, and reduce our carbon footprint by over 900 tons of greenhouse gas emissions (GHG) per year."