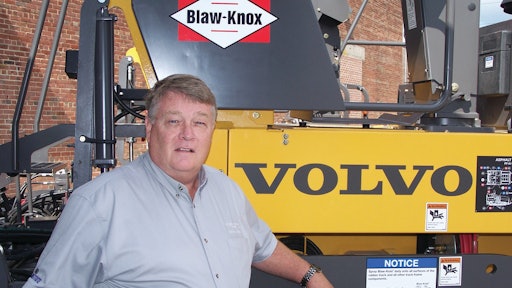 Steve Neal, one of the lead trainers at The Road Institute in Shippensburg, PA, has been training people since 1974. In the mid-1960s, the Blaw-Knox Paver Factory School, known as Road Institute, started when asphalt pavers transitioned from tampers to vibratory screeds. "We used to use drawings and crayons to trace schematics in those days," he laughs.
Throughout the 1970s, training transitioned from the dealers to end users and became more customer-oriented. Over time, Neal has continued to provide training as Blaw-Knox was acquired by Ingersoll Rand and the business was sold to Volvo Construction Equipment. While he's done everything from purchasing and manufacturing, to sales and marketing, he's always landed in training at some point with each company.
"My goal with training operators is to get the best practices out to the industry," says Neal. "Their technique is not necessarily right or wrong – it's what works best for their region or project."
The Road Institute, sponsored by Volvo Road Machinery, focuses its training efforts on the paving contractor and various other occupations within the asphalt paving industry. A few of the many topics covered include paver and compactor operation training, screed and automation use, and asphalt mix information.
"We provide the paving contractor, operator, agency and industry personnel with the 'important link' between equipment technology and industry applications," says Neal. "Our operator courses and seminars are designed to improve an operator's skills with both theory (classroom) and hands-on operation."
Neal tries to keep the classes as generic and "non-denominational" as possible. "We do not require that a student own or operate Volvo equipment as a prerequisite to attending training," he says. "We are interested only in providing the best operator training in the industry."
Operators range from the novice to the very experienced, with some going through the course several times. "I've had students tell me they pick one or two new things up each time they attend," says Neal.
Neal says the greatest benefit of training programs like The Road Institute is making crew members feel like part of your team. "Sure, they're learning the best practices and latest technologies and how to get the job done better and faster," he explains. "But the bottom line is they feel like an important part of your organization if you're investing in them. They're happier because they can see how the training helps them with advancement in the company. And all that translates to your bottom line.
Neal concludes with this thought: "Jack Welch, former CEO of General Electric, once addressed the question, 'What if I train them and they leave?' with a response, 'What if you don't and they stay?"
Companies in this article