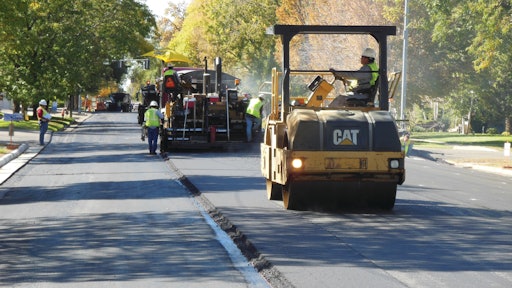 A general rule of thumb for paving thicker pavements is to place two or sometimes three thin lifts as opposed to one thick lift. But an award-winning parking lot paving job by Martin Marietta Materials, Greeley, CO, instead relied on the contractor's regular practice of placing one thick lift for a surface course.
The job, which was honored by the National Asphalt Pavement Association, involved construction from the bottom up of a 15,000-sq.-yd. parking lot adjacent to a paved employee parking lot at JBS Swift & Co., a beef producer. Martin Marietta was a subcontractor on the job to GLH out of Windsor, CO. GLH handled the subgrade work, base paving and concrete work but left the final lift of paving to Martin Marietta's Greeley operation. The contractor runs and asphalt plant that produces an average of 180,000 tons a year and employs 25 people among a paving crew, patching crew, plant operation and a small office staff.
Paving Superintendent Dave King said the job, which was completed in summer 2013, required 3 ½ in. of a warm mix asphalt atop 7 in. of base. "Generally you might do it in two but we find we have better luck with a thicker lift," King says. "It looks better and stays hot longer so our compaction is better and requires less manipulation."
King says the job didn't specify warm mix asphalt but Martin Marietta suggested it and JBS Swift liked the idea. "We like the warm mix better because it saves in heating and we feel the rock coats better with warm mix than with conventional hot mix," he says. "It's better for the environment, and it's better for our workers. It's safer for them plus it helps keep the workforce fresher because they're not standing on 400° F hot mix all day long."
He adds that the mix stays warmer longer, "and it's more forgiving if you don't get on it right away with the roller."
Experts at One Thick Lift
"Placing a thicker lift is not something we were just trying. We lay thicker lifts quite a bit and we have gotten very good at it," King says, adding that customers in the Denver market have bought into the approach. He says local municipalities have even gotten together and developed a spec that requires the lift thickness to be at least 2 ½ times the nominal aggregate size where a lot of specs only require twice the nominal aggregate size.
King says the company relies on a lot of 3-inch lifts because the thickness offers a number of advantages, including the fact that one lift speeds up production because one lift is placed instead of two. But generally speaking the advantages stem from the thicker mat maintaining its heat longer and easing and improving compaction.
"A thicker lift holds heat better so you get a little more compaction time," King says, adding that a thicker mat requires less effort to compact. He says many contractors like thinner lifts because there's not as much shrinkage from compaction but he says that when compacting thinner lifts it's easy to fracture soft rock in the mix.
"When you have a thicker mat there's more room for all the particles and aggregate to move so on a thick mat you're impacting more of the particles when you compact it," he says. "Having extra thickness gives extra room and that enables the finished pavement to be denser. If you have a ¾-in. mix and only lay a 1 ¾-in. mat that doesn't give you much room to manipulate the material verses a 3 ½ in. mix, for example."
Two Pavers on the Job
On the JBS Swift job Martin Marietta planned for a large paver, a small paver with that crew also handling hand work, three rollers and a quality control technician.
Most paving was done with a Caterpillar 1055 paver while a LeeBoy 8500 was used for short pulls and tight areas such as between islands. King says there were more than 30 islands sprinkled throughout the job and if they had not used a second smaller paver they would have had productivity issues that would have made it more difficult for the crew to complete the two-day job on the consecutive weekends it was scheduled.
"If we can keep the process moving fluidly that helps the product and the quality," King says. "By using the small paving crew with the 8500 working between the islands we were able to keep the big paver moving on long pulls."
King says the contractor teams a small and big paver often, especially when paving turn lanes and when working on city streets. "For one thing we don't like to pave too wide. We'd rather not pave the full 21-ft. width. Also, we work them together in an effort to keep as many joints as we can hot. And that's probably one of the things the people who looked at this job noticed when they gave us the award."
He says on this job the CAT 1055 would make one long pull and as soon as it passed an island or other small area the crew put the Leeboy 8500 to work paving the pieces in between and any cutoffs behind the paver.
"Having the second paver follow right on the heels of the first helps with rolling too because you're not rolling against open edges very often, especially in the small areas," he says. "By doing the small pieces with the small paving crew we didn't spend a lot of time doing small work in between the long pulls, and that helped keep the process moving along. Otherwise we would have done those smaller areas with the big paver and it would have been slower and there probably would have had a lot more cold joints, which we were trying to avoid."
Relying on Three Types of Rollers
Martin Marietta used a traditional three-roller process to compact the thick mat, starting immediately behind the paver with a CAT 534 vibratory roller in breakdown mode. That was followed with a Sakai rubber-tired roller for intermediate rolling, and then a CAT 434 static steel wheel roller in finishing mode.
King says that with a 3 in. lift of ¾-in mix they expect to get 20-25% compaction by the time they're off the mat.
King says the crew made two passes with the vibratory roller, which is standard for the mix and lift thickness. "Three passes would be max because as you approach that extra pass you start to get checking and you start to get movement," he says.
"Once we get what we need from the breakdown roller we bring in the secondary roller to see what pattern works best with this mix, the base etc. The rubber tire roller brings the mat back together and you don't get as much pushing."
He says too many paving contractors don't understand the value of using a rubber tire roller in the intermediate phase of compaction. "Depth is one of the major contributors to be able to get compaction in using rubber tire roller," he says. "A lot of people don't use one but you're really better able to manipulate the mix with it than just using a roller on top. You get a lot of compactive effort from the rubber tire."
Regardless of lift thickness a quality control technician follows the paving crew around on each project to make sure the mix has the correct asphalt cement content, that the crew achieves proper density and that the crew and plant maintain the quality of mix throughout the job.
"Anytime we start a new job the QC tech checks our compaction and we can adjust our rolling pattern accordingly," King says. "Different thickness and different materials generally require different rolling patterns and the tech will be right there when the first load of asphalt goes in the mat. He'll be right behind the roller with a nuclear density gauge to get a sense of how the mat is compacting. We can see right away what works so we can adjust the pattern of rolling to best utilize the iron we have there to get the best density out of it.
"And this can all change during the day as the temperature changes," King says. "We do the same with the finishing roller with a goal of maintaining density throughout the whole process."
He says that while there were density specs in this job most projects don't have them.
"But even then we have our QC tech out there to get the density needed to give the owner the best and longest-lasting pavement we can," King says. "It also provides us repeat business."