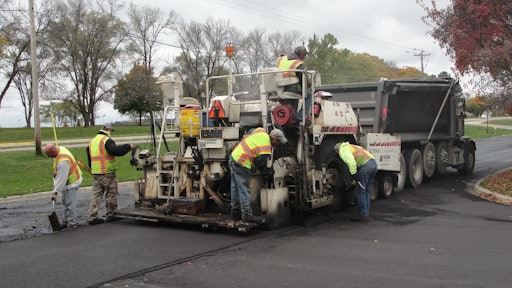 Thinlay asphalt overlays – or thinlays – are quite a buzzword in the asphalt industry these days. In our 2015 Industry Forecast, Mike Acott, president of the National Asphalt Pavement Association (NAPA), said thinlays are quickly developing and expanding as an essential pavement preservation tool.
"Thin asphalt overlays are a reliable way to restore smoothness and drivability to an aging pavement, while correcting distresses and even adding structural value in some instances," Acott says.
Typically, a thin asphalt overlay is a surface mix of 1.5 inches or less placed on a well prepared surface. The pavement being overlaid may be milled or unmilled, but it should not show signs of structural distress requiring a more extensive rehabilitation.
In the fall of 2014, the Wisconsin DOT (WisDOT) partnered with Mathy Construction, headquartered in Onalaska, WI, in a pilot project to place a thinlay asphalt overlay on State Trunk Highway 80 (WIS 80). The 9.75-lane-mile project is located west of Avoca, in Southwestern Wisconsin and is a north/south connector highway between east/west travel routes along the Wisconsin River and WIS 18 to Iowa..
The area of the road chosen for the thinlay had some fatigue cracking and a few locations exhibiting cold temperature (transverse) cracking. It was also in need of super elevation correction (17 "supers" on the project) as well as crown corrections. The existing ride was an average of 150 inch/mile. 
"Basically it was an older road showing signs of its age but no major distresses," says Jerid Baranczyk, vice president of Iverson Construction, a division of Mathy.
This is important because the decision to apply a thin overlay to an existing pavement surface should be made only after a careful evaluation of the pavement condition and the elimination of the need to perform a structural rehabilitation.
"There was some deterioration of the road," says Judie Ryan with Bureau of Technical Services-Materials Lab, WisDOT. "But the region considered using a thinlay product as a maintenance tool to lengthen the life of the road. We had to time this type of maintenance application right so we didn't start losing structure of the road, which would otherwise lead to a more complex and costly full reconstruction."
Experience in thinlays
Mathy Construction has been constructing thin asphalt overlays since 1999.  "We've paved many miles of city streets and county roads," says Baranczyk. "Watching the performance of these projects, we felt confident that a thin asphalt overlay was the right product to extend roadway life."
For this pilot project, the road was first milled taking ½-inch depth at the centerline and profiled to the proper slope. "We then paved a leveling layer averaging ¾-inch thick to further correct the outside edges and provide a uniform platform to place the surface thinlay mix," says Baranczyk.
Ervin Dukatz, Mathy - V.P. Materials and Research, notes that the work done on the road before the asphalt is laid is crucial to a successful project. "Sometimes a little more upfront work, for example the pavement surface correction that was done on WIS 80, results in a better, more cost-effective project," he explains.  The existing pavement IRI smoothness of 150 in/mi was improved  to 47in/mi.
The mix design of the STH 80 thinlay pilot project met the WisDOT SPV 460.0195.01 criteria for 9.5mm an E0.3 . "That's a mix designed for less than 300,000 ESAL's made with 9.5mm NMAS," notes Dukatz.
Mix Design Criteria:
Ndsn = 40 gyrations
Design Air voids = 4%
Minimum VMA = 15%
BR (Binder Replacement) <10% from RAP
Binder: PG 58-34
The finished mix design had a binder content of 6.3% with 8.9%BR.  The limestone coarse aggregate two-face crush count was 98%, the FAA was 42% and the dust/effective binder ratio was 0.6.
This mix design was  similar to mix designs used previously by Mathy for other thinlay projects. 
A total of 6,000 tons of the 9.5mm asphalt mix was used to pave the 1 ½ inch thick overlay, said Dukatz.
Challenges of WIS 80
 WIS 80 has many rolling hills and curves. Much of the route is largely forested, interspersed with small fields. Couple the hilly, curvy road with the fact that the project was completed under traffic and during harvest time, and the challenges start to stack up.
 "We had to get the crew in and out so farm traffic wasn't impeded too much," says Ryan with WisDOT. "Project startup was just after Labor Day with a month scheduled to complete it. We also had a lot of stormy weather to work around during that month, which meant we had to worry about additional moisture impacting the product and any desired performance."
Because the WIS 80 pilot project was located on a hillside with skinny shoulders and a drop-off on the northbound lane edge, it was a challenge to fit construction equipment into the space and obtain good joint seams. "With one full lane width always open for the 18-wheelers and the driving public, it was tricky at times but was achieved successfully," says Ryan.
Another challenge of getting traffic in and out – the tacking procedure. Sticky tack can also adhere to vehicles crossing  through the work zone. With thinlays, the tack coat is crucial to bonding the new overlay to the old pavement. Because the overlay is thin, the interface between the old and new pavement is in closer proximity to the shear forces created by vehicles during braking and turning movements. Many thinlay specs require a heavier-than-normal application of tack coat to minimize the risk of unwanted movement or potential for delamination affects with seasonal snowplowing activities
For Mathy's construction crew, the greatest challenge was the initial shape of the road. "With limited milling and leveling quantities, getting the road to uniform platform was a challenge," says Baranczyk.
Constant communication helped overcome this challenge, he says. "By communicating throughout with the WisDOT construction engineering team, we were able to minimize quantity overruns and provide the travelling public a quality finished product."
Uniformity is key
A quality pavement can only be achieved with a uniform laying of the mix. In order to stay on top of this, Suzan Nast, WisDOT project manager, says materials quality testing and nuclear density testing was completed by Mathy and materials verification and nuclear density testing was completed by department consultant Jewell and Associates.
The Mathy crew also used a material transfer device to keep paving operations moving in order to eliminate stopping and starting, which can lead to an uneven surface and result in poor ride quality.
Ryan notes that one lesson learned during this pilot project was that a thin asphalt overlay cools much faster than standard thicker pavement layers. "We had to tighten up the paving train," she says. "The temperature window diminishes more quickly with thinlays, which can affect workability and successful compactability."
Compaction was achieved using two rollers. A Dynapac CC624 HF 84-inch double-drum roller was used for breakdown, while a Hamm HD14 54-inch double-drum roller was used for the finish.
Smooth ride and longer life
One of the goals of a thin lift asphalt overlay on WIS 80 was to improve the pavement smoothness. "The ride turned out well," says Nast. "We hope to see less reflective cracking in the longer term and improved longevity with this more flexible mix."
Ryan agrees, noting, "Our first goal was to keep a smooth ride. Research bears that smoother asphalt pavements equate to longevity. We also wanted to be efficient and complete the project quickly. Finally, we wanted to increase the life cycle of the pavement by getting an extra seven to 10 years of life before the investment of a full reconstruction. This goes beyond pavement life cycle and gets into the budget life cycle by stretching dollars up front to save bigger dollars later."
While WIS 80 will be under scrutiny by research technical teams during the winter and spring months to make sure it maintains its performance, WisDOT is moving ahead seeking more thinlay projects and suitable applications. Mathy Construction will be there with its expertise.
"Thin asphalt overlays are a valuable pavement maintenance and preservation tool," says Baranczyk.  "The end result of their use is a smoother, longer lasting road with an added benefit of additional strength to the pavement structure."