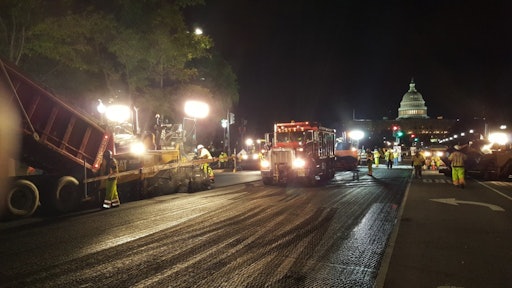 Whether we like it or not, the decisions Congress makes in Washington trickle down and impact our every day work life. At the Transportation Construction Coalition (TCC) Fly-In last month, asphalt industry groups gathered together to discuss key issues that law makers may be addressing soon and challenged contractors to get involved by contacting their representatives to voice their opinions. Here are just five of those key issues contractors may be facing down the road, if they aren't already. 
1.      Funding
It's no secret that our roads and bridges are in dire need of maintenance and repair. Data from the National Asphalt Pavement Association (NAPA) indicates that 44% of our roads in the United States are in poor or mediocre condition and 23% of bridges are structurally deficient or functionally obsolete. 
With the American public losing over to $1,500 each year due to congestion and damaged vehicles caused by our poor roadways, you would think Congress would be eager to fund these infrastructure projects, but that's not the case. 
The Highway Trust Fund (HTF), established in 1956, was designed to provide federal investments to improve the nation's surface transportation network. The primary source of revenue for this fund are federal motor fuels taxes, which were last increased in 1993. Instead of continuing to adjust this revenue stream, Congress liquidated the HTF surplus to support increased spending authorized by a 2005 reauthorization of the federal surface transportation programs. 
As a result, existing HTF revenue levels are now unable to support current levels of highway and public transportation investment and the HTF's cash flow crisis will only get worse over the next two years. Prior to the enactment of the FAST Act, existing trust fund revenues were short of maintaining current highway and public transportation investment levels by an average of $14.6 billion per year. Once FY 2021 begins on October 1, 2020, the gap between incoming HTF revenues and the amount needed to preserve existing surface transportation funding levels will average nearly $18 billion annually. 
The magnitude of the looming HTF crisis and the impact of the resulting uncertainty on state transportation improvement plans reinforces the need for proactive congressional action. The industry should urge all members of Congress to include a permanent HTF solution as part of any infrastructure or surface transportation reauthorization bill acted on this year. 
For e very infrastructure dollar invested, nearly $4 in economic activity is delivered, that's a 4:1 benefit ratio. It's time for Congress to raise revenues to restore solvency to the HTF and support alternative funding mechanisms such as mileage-based user fees. Any HTF fix should have a permanent, dedicated, user-based HTF revenue stream to support the increased transportation investments advocated by President Trump and members of Congress from both parties. 
2.       LCCA Mandate
There's a fair amount of talk in regards to a "Green New Deal" and how infrastructure may be tied to that. For example, proponents of tying the green new deal to an infrastructure plan support mandating the life cycle costs of transportation infrastructure. 
The FHWA uses Life Cycle Cost Analysis (LCCA) as an engineering economic analysis tool that allows transportation officials to quantify the differential costs of alternative investment options for a given project. LCCA can be used to study either new construction projects or to examine preservation strategies for existing transportation assets. 
While the benefits of LCCA for improved decision-making and potential cost savings are well documented, beyond its application in the pavement design process, the use of LCCA on infrastructure projects is varied and limited. NAPA cautions however that simply mandating LCCA will not solve the problem. 
NAPA says that in 1995, states were ordered to conduct LCCA and Value Engineering Analysis for every National Highway System (NHS) project costing $25 million or more. The mandate was removed in 1998 because states could not meet the requirements 
Instead of mandates, NAPA supports federal legislation and policies that focus on:
Strengthening existing use of performance evaluation in the planning process;
Tying funding to performance to encourage and incentivize state and local agencies to use existing tools, including LCCA, to optimize performance;
Ensuring consistent and accurate data for use by states and local agencies; and
Funding education for conducting and implementing economic analyses. 
3.       Recycled Materials
The use of recycled materials in asphalt has been an ongoing issue in our industry. On the one hand, recycled materials can benefit both our roadways and the environment if done correctly and with the proper research. On the other hand, the push to implement materials before thorough research is conducted is never advised.  
In late 2018, media reports and social networks began generating an interest in the possibility of using recycled plastic waste in asphalt mixtures. The idea was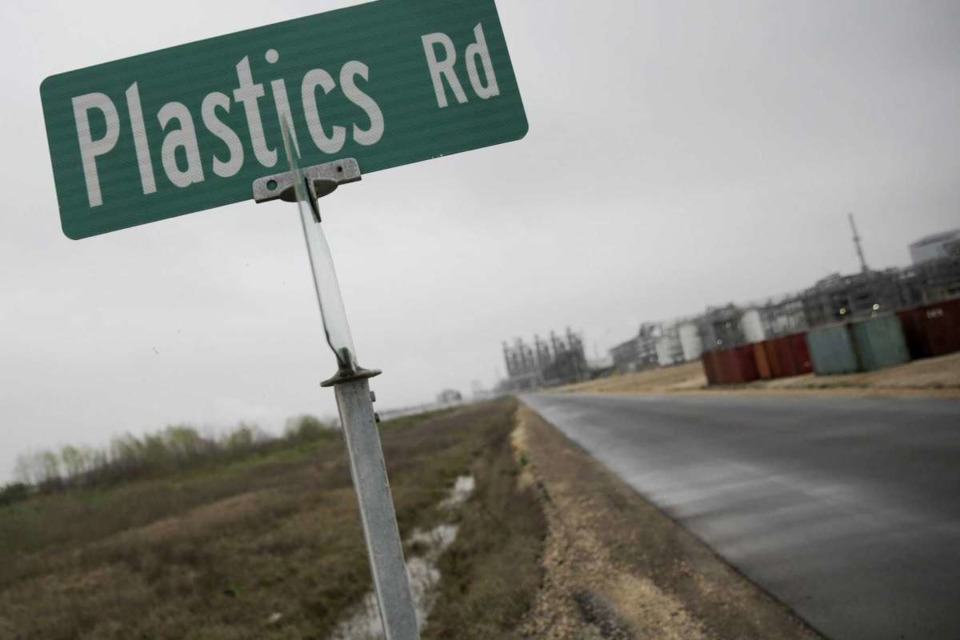 Plastics Road, near the Dow facility in Texas was paved using 1,686 pounds of low-density polyethylene plastic — the equivalent of 120,000 plastic grocery bags — along with rock and minerals bound together by the asphalt. The mandate of plastics in our roadways however, should not be done without proper research.marketed as an opportunity to simultaneously improve the quality of asphalt pavements and help address the issue of waste plastic in cities and towns across the U.S. While magazine articles and videos have trumpeted potential positive impacts of using recycled plastic modified (RPM) asphalt, such as increased service life and reduced need for polymers to modify asphalt binders, and while preliminary research suggests some of these benefits maybe realized, a full set of research to confidently back these claims is lacking. 
"The current waste plastic challenge is a critical concern; however, there is equal concern about the current state of the U.S.'s aging transportation infrastructure," NAPA says. "Investment in maintenance, improvement and expansion of transportation infrastructure in the U.S. must focus on delivering long-lasting, high-performing pavements as cost-effectively as possible." 
NAPA advises that any action taken to change the way an asphalt mixture is designed, produced and constructed must demonstrate through independent, third-party research that there will be no negative impact to pavement performance or unintended consequences that could impact the health safety of plant operators or construction crews. If that can be demonstrated, RPM could serve as a mutually reinforcing solution; helping to bolster the recycling of plastics as well as improve performance of the transportation infrastructure. 
4.       Worker Safety
According to a survey conducted by the Association of General Contractors (AGC), 67% of highway contractors have experienced vehicle crashes into their work zones in the last year. 28% of those incidents resulted in worker injuries, which emphasizes the urgent need to improve the safety of our work zones. 
However, in a low-bid roadway construction contracting environment, work is often awarded based on the lowest cost proposal that meets minimum agency specifications and requirements and does not include enhanced safety equipment or practices beyond those originally specified in the bidding process. Unfortunately, at present, no federal funding mechanism is available to accommodate these types of modifications to an existing contract, and DOTs may be reluctant to approve such changes once a contract is accepted, if additional project-specific funds are not available to offset the cost of necessary increased safety measures. 
To help encourage funding for worker safety initiatives, nine industry associations are working together to enact legislation that would allow state transportation agencies to employ an innovative contracting mechanism to create a safety contingency fund in order to implement work zone safety enhancements that are not foreseen during the project planning and design stages. The initiative is based off the Texas Department of Transportation (TxDOT)'s innovative contracting method for road construction work projects whereby a "safety contingency fund," an amount incidental to the roadway construction project's total budget, is set aside to cover the cost of needed enhancements to ensure roadway work zone safety. 
Title 23 of the United States Code, Section 120, Subsection (c)(3)(B), provides several examples of Innovative Project Delivery, including those that use innovative procurement and contracting procedures, and provides for an increased federal share payable up to 100 percent for innovative projects. This section should be amended to specifically include innovative project delivery methods that improve work zone safety for motorists and workers. An amendment would add the establishment of a safety contingency fund to enhance work zone safety as a further example of an innovative project delivery technique. 
5.       Emissions Regulations
The asphalt pavement industry has a long history of implementing sustainable practices and is actively engaged in multiple efforts to reduce the carbon footprint of pavements. According to NAPA, over 90% of America's roads are paved with asphalt and since transportation vehicles are the largest source of carbon emissions in the U.S.,building and maintaining smooth asphalt pavements plays a significant role in creating a low-carbon transportation network.
When it comes to asphalt pavements, emission reductions can be achieved through expanded use of existing proven technologies and optimized design and construction practices, such as: 
Enhanced Performance — New asphalt pavements are smoother than ever while maintaining vehicle safety, and smoother pavements improve vehicle fuel efficiency while also reducing vehicle wear and tear, offering numerous benefits across the nation's entire fleet of vehicles. 
100% Recyclable Asphalt — Old roads and parking lots are completely recyclable. During maintenance and resurfacing activities, reclaimed asphalt pavement is effectively mined from the road for use in new pavements, reducing the emissions associated with extracting and producing raw materials. 
Reduced Mix Production Energy — Warm-mix asphalt technologies can reduce mix production temperature, reducing production energy requirements and associated emissions. 
Long-Life Pavement Design — Perpetual Pavement designs yield asphalt pavements with an indefinite structural life so that only the surface needs periodic replacement, eliminating emissions and user delay associated with reconstructing pavements from the bottom up. 
Optimized Construction Practices — Asphalt pavements are placed quickly, have no cure time, and are often placed at night, all of which reduces traffic congestion and associated emissions.
NAPA says there is more Congress can do to further reduce the carbon footprint of pavements:
Provide adequate funding through the next transportation reauthorization bill to keep existing roads smooth through maintenance, rehabilitation, and reconstruction.
Encourage the Federal Highway Administration (FHWA) to work with state highway agencies to increase RAP and WMA adoption with the goal of further reducing emissions.
Provide funding for research and deployment of technologies that further reduce the need for virgin asphalt binder, such as high RAP mixes; and 
Encourage FHWA to evaluate Perpetual Pavement design for use as an approved design methodology for state highway agencies.
If there's one thing we know about our Congressional leaders, it's that they want to get reelected. If these issues matter to you, tell them. The more we make our voices heard, the more likely they are to vote in Washington in a manner that impacts their constituents back home. To find you representatives, visit https://www.house.gov/representatives/find-your-representative.