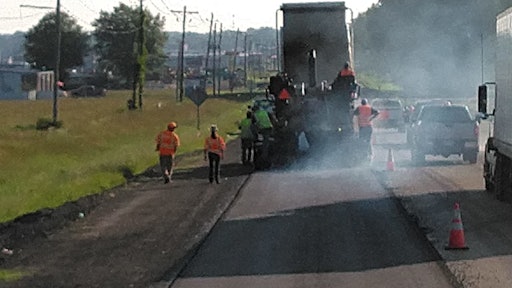 Finding workers to fill the 7 million open jobs in the United States right now is not an easy task. Finding the right workers for the asphalt industry, those who come to work on time every day, are dedicated to their trade, willing to learn a skill and ready to work long hours, is even more difficult.  
While finding ways to recruit labor to our industry seems to be a never-ending challenge, it's important to remember your dedicated workers and continue to commit to them as well.
At a recent National Asphalt Pavement Association event, Patrick Nelson, president of Lehman-Roberts Co., listed out some ways he'd found that keep new employees invested in their developing careers and season employees committed and engaged.
1.      Focus on Community
Building a sense of community at your company is an important way for employees to continually feel valued. Nelson says his company focuses on the good work they do for the city they live in and makes sure employees know they're appreciated. 
"You can't get to school or work without driving on a road we've touched," Nelson says. "What we do has an impact. It improves people's lives."
Lehman-Roberts also make sure employees are given opportunities to achieve that optimal work-life balance by making schedules in advance and always letting employees know when they will have Saturdays off and rotating crews on and off the night shift.
2.       Change On-Boarding Process
The typical first day at a construction job involves a few safety videos and the next day the worker has a shovel in their hand. While some employees may appreciate this go-get-em tactic, most new hires need to feel valued and like they will be part of a team. This is why Lehman-Roberts now has employees stay away from the jobsite for at least a week after coming on board.
"We have training that happens every two weeks," Nelson says. "New hires will watch safety videos, meet with various members of the team and executive committee and really get to know what we do and what the expectations are before we let them loose on the jobsite."
Nelson says this helps employees feel invested in what they will be doing right from the start.
3.       Develop Effective Communication Plan
Once an employee leaves the office for the jobsite, don't forget about them. Lehman-Roberts developed a communication plan that checked back in with new hires after 30, 60 and 90 days.
"We sit with an employee and make sure they are getting what they need from the job," Nelson says. "Are they getting enough training, are their benefits set up correctly, etc. This helps new employees feel engaged with what they're doing and in the company that hired them."
4.       Invest in Worker Development
Past that 90 day timeframe, your employees will still need periodic training to ensure they are up to speed on the latest industry trends and equipment. Lehman-Roberts took this one step further and extended yearly training to their foreman.
"Your foreman are the key to anything you're doing," Nelson says. "You need to equip these people with the tools they need. We put them through leadership training each year to foster this development."
Turnover in the construction industry doesn't just mean losing a body to do a job, it means losing a skilled worker. Make sure you're doing everything you can to keep your best employees happy and on your crew.
What employee retention tactics have you tried? Let me know at jlombardo@acbusinessmedia.com