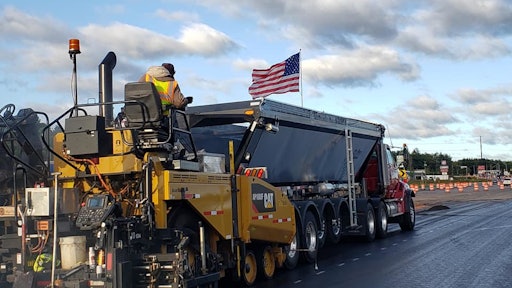 Dion Schmeltz‎/Facebook
COVID-19 is having an unprecedented impact on businesses, employees and families around the world. While the safety and health of the country is a priority, there is also a need to keep the economy moving during these challenging times and once they pass. 
The U.S. Chamber of Commerce has called on The Trump Administration to issue guidance that designates public works construction, the construction of housing and roads and highways as "essential infrastructure", with hopes of protecting the our industry from any furloughs. Meanwhile, contractors are coping with employee leave and worrying about where transportation funding stands once this crisis is over. Luckily, our industry is working together to help road building contractors weather this storm. 
Employee Leave an Issue
As employees are placed on mandatory leave, companies are put in difficult situations trying to keep their already dwindling workers employed. President & CEO of the National Asphalt Pavement Association (NAPA) Dr. Audrey Copeland wrote a letter to Senators Mitch McConnell and Chuck Schumer requesting improvements to H.R. 6201, the Families First Coronavirus Response Act.
Copeland explained that NAPA cannot support legislation that requires businesses with 500 and fewer employees to provide 12 weeks of paid leave, assume liquidity, and a tolerance for debt that simply does not exist at this time. The letter indicated that 90 percent of the businesses in the construction industry are small, with 20 or fewer employees, and they depend upon reliable cash flows to meet the capital-intensive demands of maintaining existing payrolls with construction project execution needs.
NAPA indicated they feared these mandates will accelerate layoffs and supply chain issues resulting in mass small and medium business closures among so many employers already exposed to cash-flow difficulties.
Copeland suggested that Congress instead look at implementing a public program administered by the federal government to provide compensation for COVID-19 related leave. One example is the proposed program in H.R. 6198, under which the Social Security Administration (SSA) would provide financial assistance to American workers impacted by COVID19.
Dwindling Gas Tax Revenues Leave Infrastructure Vulnerable
Across the country, traffic has been down 20 to 40 percent. And while seeing these traffic volumes decrease is a good indicator people are heeding the messaging of staying home, it's also reducing gas tax revenues significantly. 
In Georgia, the DOT is tracking what is certain to be a hit on revenue the agency takes in from the state's motor fuels tax, although it's too early to determine what that impact will be. While in Vermont, fiscal analysts project that in the next three months the state could face a revenue shortfall of $200 million due to diminished economic activity and delayed tax payments. The state's transportation fund alone could see a loss of $15 million-$20 million because of lower than expected purchase and use and gas tax revenues. 
Stimulus Packages Can Help Road Building Industry 
While members of Congress and the Trump administration are working quickly to develop the latest round of coronavirus relief legislation, it's our job to let them know the road building industry will need some help as well. 
Senators John Barrasso (R-WY), Richard Shelby (R-AL), Kevin Cramer (R-ND) and Rep. Peter DeFazio (D-OR) have publicly stated their support for including a major infrastructure investment plan.
The American Roads & Transportation Builders Association (ARTBA) co-chaired Transportation Construction Coalition sent a March 19 letter to Capitol Hill highlighting the short-term and long-term positive impacts of infrastructure investment on the U.S. economy.
The letter states that in the near-term, providing additional resources to the road building would create and sustain new construction and related industry jobs and tax revenue. In the long-term, the capital assets constructed would enhance economic productivity for many decades to come by providing access to jobs, services, materials and markets.
A robust reauthorization of the federal surface transportation programs, as advocated by Senate and House leaders, is an opportunity to help address these challenges and as industry leaders, we should all be contacting our senators and representative TODAY to urge them to include a multi-year surface transportation investment package in the final measure. Here's where you can do that: https://www.artba.org/government-affairs/grassroots-action-center/
We're all in this together. If we make a plan and do what's best for the country and our economy, we can all come out of this stronger.