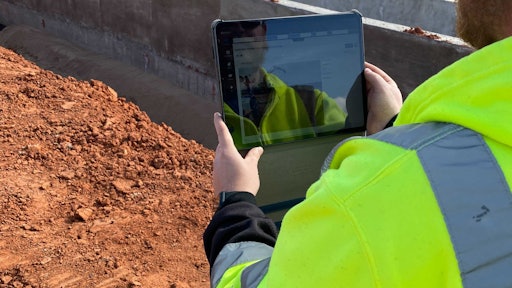 HeadLight
The construction industry has always been slow to adopt technology. While this may have been acceptable in the past, the increasing amount of challenges infrastructure projects are facing these days requires the use of advanced technologies to ensure both project accuracy and jobsite efficiency.
Si Katara, president and co-founder of HeadLight, started his company recognizing the challenges our industry faces to get work done and the old school mindset of how we go about doing it.
"This is an industry that my team is passionate about," Katara said. "We've gone through different pivots, different research with public institutions, like state DOT's, to try and figure out one of the most impactful places that we could actually create product-based tools to help construction companies move the bar."
Katara and his team spent months meeting with construction business owners, DOTs and municipalities to look at what their existing processes were and what they needed to do to deliver projects. The team found that many existing processes were still predominantly paper-based.
"We really wanted to understand what the business challenges were so we spent six months in the field," Katara said. "Before we wrote a line of code or designed a single interface, we really wanted to learn what was the process and the communications up the stack from inspectors, to chiefs to project engineers to management, to complete the project delivery. And we saw just an incredible opportunity to apply technology to help solve that problem." 
From their research, the team developed HeadLight, a photo-based inspection technology that can be used on projects to quickly and efficiently capture project data. This encourages greater collaboration between stakeholders, quickly resolves problem areas, minimizes disputes – and ultimately ensures successful, on-time project completion.
How it Works
The majority of project information collection today is done using a notebook to store information about a project. These notes are then hand-entered into a computer at the end of the day in a time-consuming and inefficient process. 
"Paper-based operations are not only inefficient, but it's almost impossible to integrate and share all that information in a timely manner," Katara said. "HeadLight flips this form-based mentality on it's head allowing field staff to capture events as they occur naturally, not as the paper-based form is laid out."
Katara said what comes from this method of data entry is close to a Facebook feed for your project with photos being a core pillar of the technology. These photos are used to help project stakeholders communicate and communicate quickly.
"All of this atomic information is also wrapped in the context of the project," he said. "You get automatic location information, automatic timestamping and you can tie all that information directly to contract relevant items. This also allows the information that's collected in real-time on a project to be used for many different purposes. That information is now available for state DOT's or public owners so they can share it directly with contractors for real-time issue resolution and things can get fixed much more quickly."
These time-savings can add up fairly quickly and in monetizable ways. 
"With HeadLight, they can literally push a button and be done and go home after they've been collecting information throughout the day, which saves them almost an hour and a half of extra time each day as opposed to hand-entering the information. So there's a big administrative savings there," Katara said. "On the flip side, with the owners using it, they can share the information the state is collecting and allow contractors to see it in real-time as well. As a result, there's no extra work for the contractor, they get access to a whole rich set of information and they know what the state is seeing and what they are noting as items that need to be addressed. And what it does is it basically creates a second set of eyes for the contractor through the state's eyes."
Immediate Impact
This technology was recently put to the test by the Louisiana Department of Transportation and Development (DOTD). The state's research department found that inspectors using the HeadLight photo-based inspection technology experienced a 28% increase in productivity when creating and submitting daily work reports that provide an overview of project progress. The increase in productivity for department-wide adoption is estimated to produce 117,000 hours per year that can be leveraged to accelerate additional projects for the taxpayers of Louisiana.
"It is critical that our employees are equipped with tools that enable them to do their jobs more effectively," said Shawn Wilson, department secretary at the DOTD. "Not only do we need to ensure all infrastructure projects are safe, but we want to execute them efficiently, so we minimize disruptions to residents and spend taxpayer dollars responsibly. Leveraging innovative technology enabled our agency to be more productive. Further, we can continue to leverage and analyze information for future projects to ensure we're applying past learnings to the management of new projects."
In addition to supporting infrastructure projects across the state, the partnership between DOTD and HeadLight also played a critical role in addressing the devastation caused by Hurricane Laura and a historic hurricane season in 2020.
According to Entergy, the DOTD faced thousands of miles of impacted roadways and more than 360,000 people in Louisiana were without power after Hurricane Laura hit. The power outages across the state disrupted legacy systems, making it impossible to access them. However, HeadLight is a cloud-based solution, so the dedicated DOTD employees were able to access the system and view real-time updates from their colleagues across the region. DOTD's strategic use of advanced cloud-based technology and HeadLight's ability to customize its platform enabled the agency to complete 1.1 million cu. yds. of debris cleanup following Hurricane Laura even with Hurricane Delta bearing down on the state.
The study also revealed that inspectors using HeadLight collected and shared 1.9 times more jobsite information while increasing the number of photo and other media observations, which contributes to a more complete record of the project. With more details about projects, employees and contractors can collaborate more effectively and readily address challenges as well as easily prevent issues, disputes, and claims made in relation to a project. Since adopting the technology, DOTD has reduced claims by more than 75%, ensuring the agency's funds are spent on the development of projects and issues are addressed quickly and in partnership with contractors.
Change is Good
Change in the asphalt industry has been slow and difficult, but as technology like HeadLight is proving, processes can and should be completed more efficiently with the technology available. 
"We've been doing things in a certain way for so long, that just changing whatever it is, whether it's a technology-based or process-based change, that change is just a difficult thing to make happen, especially at the organization level," Katara said. "No matter what change you make, you have to communicate those changes in a way that creates a very clear understanding to contractors, or to whoever the stakeholder is, on what is the benefit and the practical impact of the change that you want to make. On the DOT side, if we can say this change is going to save you an hour and a half a day and you get to go home and see your kids softball game, that resonates. And that helps with getting through change."
Katara notes that any technology-based change being made in this industry needs to be accompanied by proper training. HeadLight first works to identify problems a specific organization wants to solve, maps out how to use the product to do it and then takes the technology out in the field where they validate it with the end user. 
"This isn't an industry where you can just throw technology at people and then walk the other way," he said. "We take a very hand in glove approach to be on jobsites in the field with them, to help them make that connection of what's the practical business problem that they are dealing with every day and how does the HeadLight technology rise to the occasion to help them meet that and do it better. And it's that environment on the jobsite that really makes those connections occur. And when you do it that way, it really helps to ease that burden of change, because you're doing it all the way to the ground level."
HeadLight also created a Best Practices Guide that they use to help train and create consistency across the organization for everyone that uses it. 
While change can be hard, it's going to be essential for our industry to find success using technology since the environment we are in changes every day. 
"Fingers crossed, we may actually have alignment for a long term infrastructure package for the first time in a long time," Katara said. "If we are able to secure a long term investment in infrastructure, there's going to be a flood of work and activity that'll come with a long term plan. With that raised level of activity, it's going to be really hard to deliver what we're going to be required to deliver as an industry without innovation, without technology and without really thinking about creative solutions to be much more effective and much more efficient."