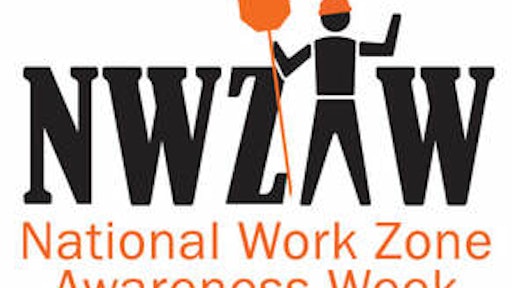 According to the Federal Highway Administration, 842 people were killed in work zones in 2019 – up from 757 the previous year. Worker fatalities in construction zones also increased to 135 in 2019 from 124 in 2018.
Each year the industry comes together to "celebrate" National Work Zone Awareness Week (NWZAW). It's an unfortunate celebration however, since it serves as a reminder for all of us in the industry that our lives are at risk every day we go out and do our jobs. 
It's up to all of us in the industry to hold awareness events surrounding work zone safety awareness and this national week-long event is a great opportunity to do so. 
The theme for the 2021 event is "Drive Safe. Work Safe. Save Lives." It serves as a reminder that work zones "need everyone's undivided attention," safety begins with workers who are dedicated to safety, and all stakeholders can work together to "achieve zero deaths" on the roads and in work zones.
Drive Safe. A reminder that work zones need everyone's undivided attention. When approaching a work zone, motorists should always slow down, follow all posted signs, be alert, and remain calm. Risky driving behavior affects more than just the driver – everyone's lives and families are at stake.
Work Safe. Technology is helping to make work zones safer by collecting data and automating processes, which can remove workers from dangerous situations and provide motorists with important information. It is also a reminder that work zone safety begins with workers who are dedicated to safety.  
Save Lives. If we ALL work together, we can achieve zero deaths on our roads and in our work zones.
April 28 will be "Go Orange Day" to remember those who've lost their lives in work zones. To show support for their families and friends, organizers encourage everyone to wear orange. 
How Can You Participate
Holding events during NWZAW help raise awareness for those outside the industry to realize the importance of work zone safety as well. We can make a plan to be as safe as know how to be inside our work zones, but it just takes one second of distracted driving by the traveling public to change all of that. 
The week starts on April 26 with Work Zone Safety Training Day, which emphasizes the importance of laying the groundwork for safety through training of personnel. Companies are encouraged to pause during the workday for safety demonstrations, discussions about safety policies and other prevention steps.
As part of NWZAW, the industry is also encouraging companies to hold a work zone safety (WZS) Stand-Down this day. Road construction companies and field crews should make a plan on this day to stop, assess and act to safeguard lives by holding a WZS Stand-Down for a few minutes. 
Companies wishing to hold a WZS Stand-Down should consider producing a short video or written brief, using talking points, to highlight your participation in NWZAW. You can use these WZS Stand-Down Leadership "Taking Points" from the National Asphalt Pavement Association as a starting place:
NWZAW is an annual spring campaign to encourage safe driving through roadway work zones. Its theme is "drive safe, work safe, save lives."
This unique week provides our company with a good opportunity to take a hard look at what we're doing inside the work zone to make sure our field crews remain safe.
Our participation reinforces our commitment to a safe workplace, understanding that work zones can be extremely dangerous.

Add any company-specific safety culture message/vision

Here's what we're doing to encourage work zone safety and support this once-a-year safety campaign:

First and foremost, we're asking our field leadership to stop work and stand-down for work zone safety some time on April 26.
We're also asking field leadership to use this toolkit to facilitate relevant discussions, hopefully at the job site, on maintaining high awareness of work zone hazards.

We encourage field leaders and crews to review these resources, choose a few pertinent topics to review, and motivate interactive crew discussion around those given topics.

Finally, we encourage our field leaders to continue discussion of this information in preshift meetings throughout NWZAW
On Thursday, April 29, 2021, Noon - 1:30 p.m. ET, the Federal Highway Administration (FHWA) will conduct a webinar to learn about the advent, progress and future of the Work Zone Data Exchange (WZDx) project. The project is an open-source data specification that facilitates the collection of live, accurate and actionable work zones to improve roadway safety nationwide.
The webinar will provide a comprehensive look into the current status of the WZDx project, the need for safer work zones and open-source data, how state and local agencies are implementing the WZDx Specification, current efforts to spur adoption nationwide and how to get involved.
Register now - WZDXUpdatewebinar.eventbrite.com
Further Information Available
ForConstructionPros.com has written endlessly about work zone safety. Here are just a few articles you can read and share with your crew about how to improve work zone safety. If even one takeaway from these articles helps to keep your crew safe, then it's worth it:
Work zone safety is crucial for a construction site of any size, and should be top of mind for the entire construction team – from project managers and supervisors, to the workers and equipment operators. As the number of road construction projects is expected to increase with the possibility of an infrastructure bill, prioritizing work zone safety should be a practice every day. Not just one week a year.