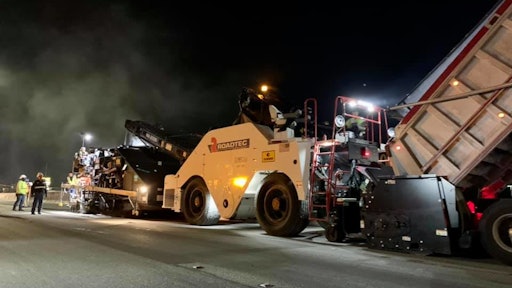 As the country awaits news from Washington where a small group of bipartisan Senators work around the clock to turn a $1.2 trillion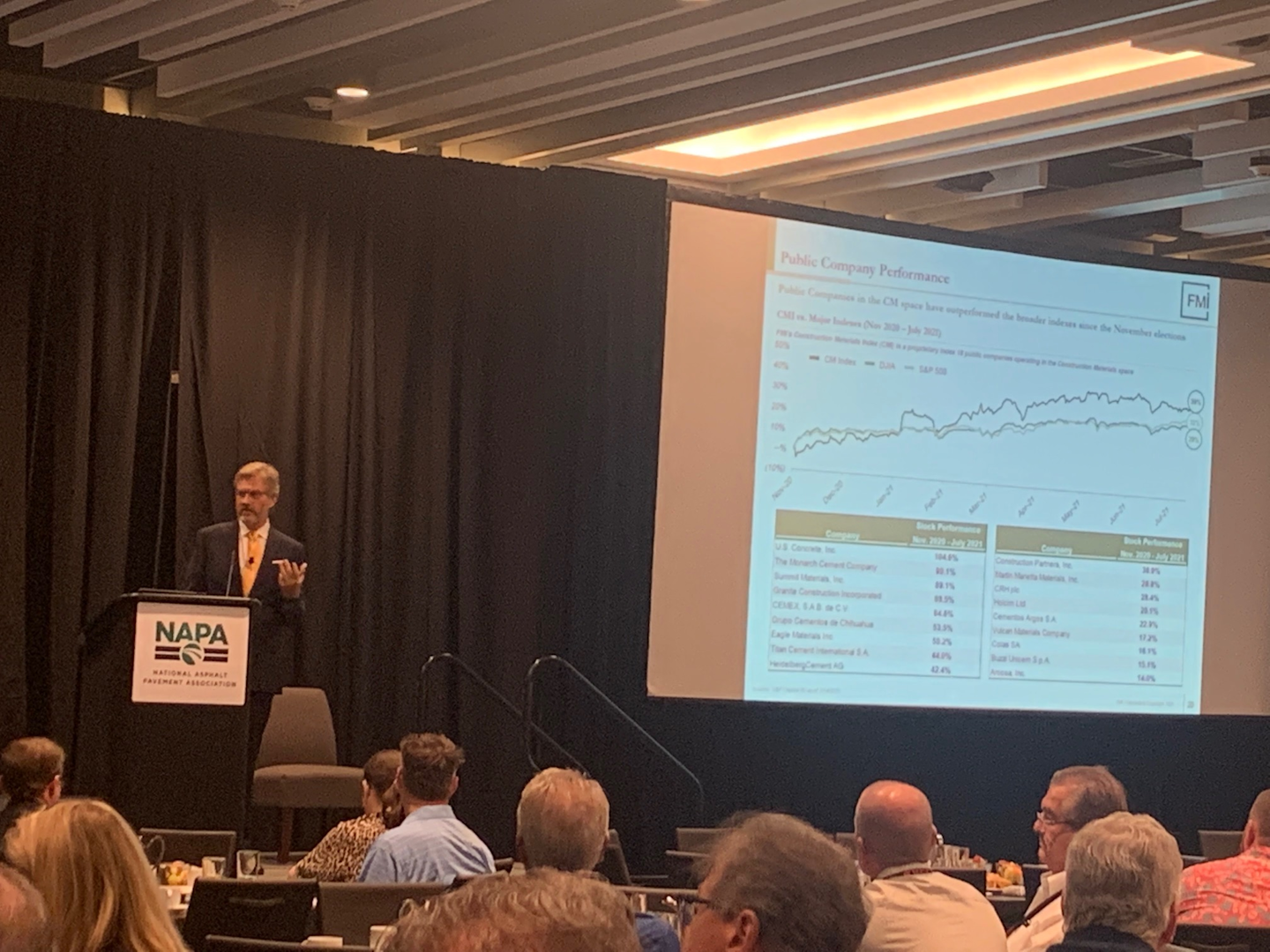 George Reddin, managing director at FMI Capital Advisors Inc., speaks to attendees of the National Asphalt Pavement Association mid-year meeting in Nashville. compromise on 'hard' infrastructure into legislative language, the road building industry gathered for the National Asphalt Pavement Association (NAPA) mid-year meeting. Optimism from attendees is high and market drivers are supporting that sentiment. 
George Reddin, managing director at FMI Capital Advisors Inc., shared that the National Roadbuilding Confidence Index (NRCI) is the highest it's been in years. 
"People are highly anticipating that their will be expansion in their business in Q3 of 2021," Reddin said. "The future looks good. We may see some bumps in the road ahead of us but overall things look positive."
Reddin shared that 2021 will probably be flat overall for the non-building construction industry, but that the medium term outlook is very promising, especially with the anticipation of a highway bill.
While optimism is high, Reddin did share that the industry has a few hurdles to overcome. 
Three Key Drivers for Economic Growth
The promise of an infrastructure bill, the labor shortage and supply chain issues are the biggest issues impacting not only the road building market, but the construction industry as a whole. 
Funding
Reddin shared that at the state level, those that have their own sustainable funding programs for infrastructure are in a better place than those who don't. States budgets have faired far better than initially expected post-pandemic, even with driving and gas tax revenues taking huge hits.
Moving forward, Reddin says all eyes will continue to be on Washington for renewal of the FAST Act or other stimulus packages for infrastructure funding. The INVEST Act has passed the House and is set to allocated $343B for roads and bridges but many issues still remain for the passage of the separate bipartisan bill for infrastructure. 
Senate Majority Leader Chuck Schumer (D-NY) has announced that he plans to hold a vote later this week to start the process of considering bipartisan infrastructure legislation that provides $1.2 trillion in investments over eight years, including nearly $579 billion in new funding.
The legislative text, which is still being finalized, provides funding for "physical" infrastructure—roads, bridges, water, ports, waterways, broadband, airports and the electrical grid. Notably, the package, initially negotiated by 11 Republican and 11 Democratic senators with President Biden, doesn't raise taxes on the nation's job creators.
The next few weeks will be critical to determining whether the Bipartisan Infrastructure Framework will become legislation that reaches the president's desk and is signed into law. The Senate holds the cards right now, and the chamber will decide if significant infrastructure investments become a reality.
Labor Shortage 
The labor shortage continues to negatively impact the economic recovery of our nation. Over ninety percent of contractors surveyed by the U.S. Chamber of Commerce say the lack of available workers is slowing their economic growth. Reddin said this is mainly due to the extended unemployment benefits as a result of the coronavirus pandemic but there are many other issues driving the lack of talent. 
Childcare and kids being out of school was cited as one issue, but the main driver is the change in preference by workers. According to ZipRecruiter, 55% of survey respondents looking for a job reported they had a strong preference of working at home. Those type of workers would obviously not be suited for jobs in construction.
The Association of General Contractors reported that the construction workforce is down 3.1% from just a year ago. And with 9 million open jobs, we are going to continue to face some real challenges in this area. 
"We can always find ways to make more material, but if we don't have the people to put it down, that's a problem," Reddin said. 
Supply Chain Issues
The global shutdowns that occurred in 2020 are still being felt mid-2021. Rapidly rising materials prices was one of the leading threats to a vigorous nonresidential construction recovery; however, that factor has become a bit less concerning in recent weeks. 
Shipping delays however have created bottlenecks in the manufacturing process. Lead times have increased for parts and equipment and prices for raw materials have gone up significantly. These delays in material delivery and the trickle down of the supply chain challenges are causing increased prices for producers and consumers. 
As a result, the industry will continue to see delays in getting the equipment they need and the cost will be higher for the foreseeable future. This inflation is a result of the increased supply chain challenges. Reddin reported that input costs for construction companies have gone up 25%, their bids however have only increased by 3%. 
"If costs go up but margins don't change, what is that saying for your profitability out there," Reddin said. 
Still, the demand for construction services is expected to be strong enough during the months ahead to allow contractors to pass many of these higher costs onto the purchasers of construction services, preserving margins in the process.
The industry awaits next steps from Washington to continue the recovery of our economy and to move our industry forward.