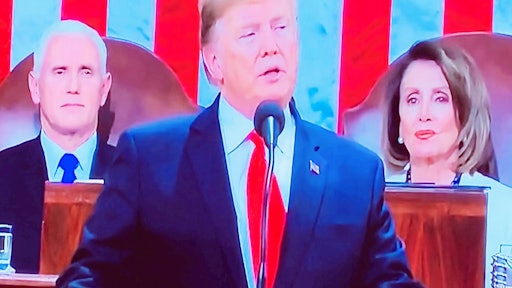 The theme of President Trump's second State of the Union was "Choosing Greatness." And while he only briefly mentioned infrastructure, his words sparked great hope for the asphalt industry and beyond that we may finally receive a funding for this important issue. 
"I know that the Congress is eager to pass an infrastructure bill, and I am eager to work with you on legislation to deliver new and important infrastructure investment, including investments in the cutting-edge industries of the future," Trump said. "This is not an option. This is a necessity."
What happened next was far from promising as the President quickly moved on from infrastructure to discuss healthcare, stopping short of signaling when or even if his team would unveil a proposal to address the repairs for such crumbling infrastructure, or what it would cost.
Rebuilding the nation's infrastructure was a pillar of Trump's 2016 presidential campaign, and one that he highlighted early in his term, saying Democrats and the White House could work together on the issue.
However, lawmakers on both sides of the aisle say there is little political momentum in Congress for the significant infrastructure investment President Trump calls for.
"I think it's obvious that a lot of our infrastructure is crumbling and needs repairs, but how do you fund it when you're spending on other things as well?" Senator Ron Johnson (R-WI) says. "If you're ever going to borrow money for something it should be for a capital good, but when you're borrowing so much money … it makes it pretty challenging."
Industry Still Hopeful
One year ago, on Valentine's Day, President Trump met with congressional transportation leaders at the White House. His office had recently unveiled an ambitious infrastructure proposal anchored on $200 billion in federal funds to achieve $1.3 trillion in investments over a decade for the construction and maintenance of the infrastructure network but we have yet to see anything come from that. 
Still, President Trump and Congressional leaders have both cited our nation's infrastructure as an area where both sides can work together. House Speaker Nancy Pelosi has mentioned that several of her conversations with Trump have involved fixing our nations failing infrastructure. 
"Those initiatives will create good paying jobs and will also generate other economic growth in their regions," Pelosi said in November. "Hopefully, we can work in a bipartisan way."
Adding to the rare bipartisan potential of an infrastructure plan is the fact that 90% of Americans surveyed in a new national poll believe "the Democratic leadership and President Trump should work together during 2019 to pass legislation that would improve other infrastructure" and it's clear that now is the time for those words to be put into action.
Following the President's 2019 State of the Union Address, National Asphalt Pavement Association (NAPA) President & CEO Dr. Audrey Copeland, P.E., released the following statement:
"On behalf of the asphalt pavement industry, we strongly agree with the President that Congress must produce and consider an infrastructure package that provides substantial investment for rebuilding America's highways and roads. Rebuilding our surface transportation infrastructure will improve the quality of life of every American, provide good-paying jobs in communities across the nation, and strengthen our national security and economy, as well as make our roads, highways, and bridges safer. It is time for Congress to roll up its sleeves and get to work on behalf of the American people by passing a surface transportation authorization bill that invests in infrastructure and strengthens America."
Trump said in his speech that "This is a night of unlimited potential, as we welcome a new Congress, with a hope to govern not as two parties but as one nation." 
Let's hope infrastructure is something both parties will work together on, and soon.