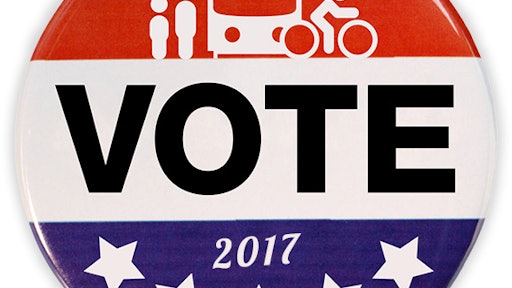 Voters in 20 states approved more than 80 percent of 215 transportation investment ballot measures Nov. 7, mostly at the local level, according to analysis conducted by the American Road & Transportation Builders Association's Transportation Investment Advocacy Centee (ARTBA-TIAC).
Preliminary results show voters approved 176 of the 215 measures, or 82 percent. Results are still pending in six Michigan localities. The approved measures will support $2.9 billion in new transportation investment revenue and $1.3 billion in continued funding through tax extensions or renewals. The timing of the market impact of these actions is difficult to project as revenue approved will last as long as 25 years.
Maine voters approved the only statewide measure—a $105 million transportation infrastructure bond— with 72 percent support. This was the state's fifth successful transportation bond in six years.
Voters in Pinal County, AZ, approved a half-cent sales tax that will total $640 million for highway construction over the next 20 years.
In Pinellas County, FL, a renewal of a 1 cent countywide sales tax will provide a total of $412 million for road, bridge and trail projects.
Voters in Denver also approved a measure to provide a $415.5 million bond to fund road and bridge repairs as part of a larger $937 million bond package that voters signed off on.
Georgia voters approved all 12 sales tax measures on the ballot. As part of the state-wide transportation funding increase passed in 2015, legislators included a provision to allow local governments to raise revenue for infrastructure investment through ballot initiatives.
The largest number of measures were in Michigan and Ohio – representing over two-thirds of the initiatives tracked by ARTBA-TIAC. Many of these were smaller property tax measures to renew local funding for roads, streets and bridges for a five-year period.
Voters also approved several other measures earlier in the year. They include a $1.6 billion bond in West Virginia approved Oct. 7 with 73 percent support.
Louisiana voters Oct. 14 agreed to dedicate all revenue from new taxes on motor fuel (created on or after July 1, 2017) to a construction sub-fund of the state's Transportation Trust Fund. It will be used by state and local governments solely for the construction and maintenance of transportation infrastructure. 
Including the most recent results, voters have approved 74 percent of over 1,200 transportation investment ballot measures tracked by ARTBA-TIAC since 2007. The complete report and an interactive map showing the state-by-state results can be found at www.transportationinvestment.org.
Read the full report from ARTBA.