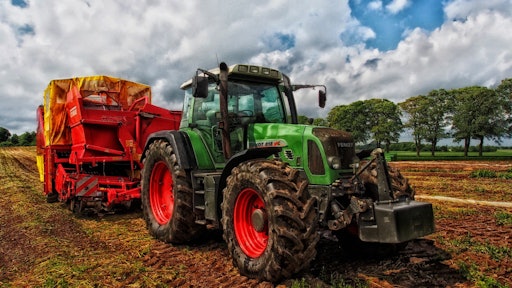 On May 2, the Asphalt Pavement Association of Indiana (APAI) is partnering with Future Farmers of America (FFA), Indiana chapter, to host #Ag to Asphalt Day, at the non-profit organization's Leadership Center in Trafalgar, IN. The aim of the program is to help make a sizable dent in our industry's ongoing workforce shortage, which has been exasperated by passage of a $1.2 billion state funding increase for the Indiana DOT.
"The FFA has nearly 700,000 members nationally, 12,500 in the state of Indiana alone," says William I. Knopf, executive director of the Asphalt Pavement Association of Indiana, Inc. "These young people grow up surrounded by heavy equipment. They know the value of long hours, working outside in harsh weather conditions, in a rural environment, very much like our members' current employees. They seem to fit our industry's needs exceptionally well.
"After all, only one child in the typical farm family can inherit the acreage; the other siblings are often in search of careers, and we strongly believe our industry is a rewarding one for them, either with or without a college degree."
And the needs of the APAI are large. 
"Our needs assessment survey indicates that our producer members need to replace over 10% of our workforce in the next six years due to KNOWN baby boomer retirements," Knopf says. "That's how critical our hiring shortage will become over the next 3-5 years due to 875 baby boomer retirements across 14 blue collar and white collar positions. We feel FFA is the BEST untapped source of new hires, for both white and blue collar employees." 
Paving Demos Aim to Inspire
The event will host between 250 and 300 high school teenagers for a career show and paving demonstration involving APAI member firm employees.
"There will be three rotations of up to 100 students each rotating between a paving demo, a career fair with 18 booths and two simulators, as well as an HR Managers' Panel," Knopf says. 
The paving project was bid to the FFA several years ago at around $75K and an APAI member is completing the paving demo at cost.
"We're fundraising now to cover the bill and any shortfall will come out of the association's financial reserves," Knopf says. "The charity paving project is the first of its kind for APAI. APAI is also a co-sponsor of and exhibitor at the FFA state convention in June which annually attracts 3,500 teenage members of the state organization."
Attendees of the event will also be able to meet with the five Indiana universities where undergrad students receive $50,000 a year in APAI scholarships to study construction management and civil engineering.     
"If a young FFA member wants to go to college, we have scholarships," Knopf says. "If s/he does not, we can assist them find work now either through apprenticeships for our signatory members or directly with our open shop members. APAI will help them explore asphalt careers, since our members have plants in virtually every one of Indiana's 92 counties, and because our industry is recession resistant, pays well and offers unlimited career opportunities.
"And, as demonstrated by our charity paving project for the center of the FFA community, asphalt gives back, and these young people have told us that is important to many Millennials in making career decisions. If we can convince just 7% of the 12,500 FFA members in Indiana to choose asphalt for their career, we have met our WFD challenge head on, and solved it," Knopf concludes.