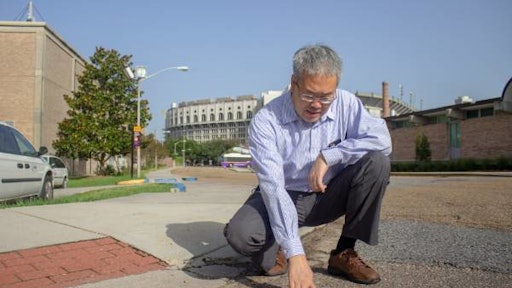 LSU College of Engineering
LSU Mechanical Engineering Professor Guoqiang Li and his team have developed a shape memory polymer that will potentially not only save the roads but also money and time.
"This problem of cracking in pavement has existed for more than 100 years," Guoqiang said. "No one can control it, so you must have a good sealant. We propose a sealant that behaves thermally opposite to common physics."
In 2009, Guoqiang received a grant from the Transportation Research Board for a project titled, "A Shape Memory Polymer-Based Self-Healing Sealant for Expansion Joint." The project used a one-way shape memory polymer slab as sealant, which was compressed in a horizontal direction and stretched in a vertical direction before installation. This catered to the seasonal widening and narrowing of expansion joints in concrete pavement. Guoqiang's team installed the sealant in two joints along CEBA Lane on LSU's campus in 2011.
In 2012, Guoqiang further improved the idea by developing asphalt-based liquid sealant. He proposed incorporating one-way shape memory polymers with various pre-deformations, or simply by involving a two-way shape memory polymer, which expands upon cooling and contracts upon heating, in an asphalt matrix. A provisional patent was filed in 2013, and a non-provisional patent was filed in 2014 titled, "Liquid Sealant with Thermally Adaptive Properties."
Based on this invention, as concrete freezes and shrinks, the sealant expands to fill the cracks. When the concrete heats up and expands, the sealant shrinks to prevent it from crushing and squeezing out of the channel.
According to Guoqiang, the sealants currently used by public workers are made primarily of asphalt, rubber or rubber-modified asphalt.
"The two-way shape memory polymer has a weak bond with concrete," Guoqiang said. "We add asphalt to the sealant to not only reduce the cost, but it will also help the sealant bond with the concrete. Asphalt in the sealant can also protect the sealant from environmental attack. Ultraviolet irradiation from the sun will gradually degrade the polymer sealant, but the aging will be slowed down if asphalt is mixed with it."
Thanks to two Small Business Innovation Research grants from the National Science Foundation totaling nearly $1 million, Guoqiang and his team—postdoctoral student Lu Lu and former PhD student Pengfei Zhang—were able to establish the Louisiana Multi-Functional Materials Group LLC (LAMG), a tenant of the Louisiana Business & Technology Center at LSU Innovation Park. Through this company, founded in 2016, Guoqiang hired four employees to work on the polymer-based sealant. Lu serves as the principal investigator and chief chemist on the project.
Lab-scale testing for Phase One of the project has been completed. Phase Two involves working with three departments of transportation and development (DOTD) in Louisiana, Texas and Minnesota.