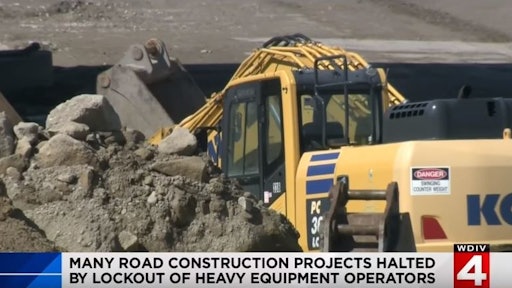 Metro Detroiters are willing to deal with the nuisance of a construction project if it means getting a pockmarked road fixed. But now, many orange barrels are remaining on roads without any work going on behind them.
A work stoppage has been brewing all summer, and it boiled over Tuesday. Owners locked out employees and stopped all the construction that residents hoped would soon be complete.
Drivers who pass through the M-59 construction zone at Romeo Plank Road can't wait for the project to end. But the equipment is now sitting in the same spot as Friday, when workers turned it off for the holiday weekend.
It's unclear when the machinery will be up and running again.
The scene was the same all over Metro Detroit. The construction zone on I-696 was a ghost town without operating engineers, who are locked out by the Michigan Infrastructure Transportation Association, a 40-member ownership group that has negotiated contracts with the engineers for generations.
But the union feels it can do better by negotiating individual contracts and told Local 4 this lockout is a classic reason why.
The Michigan Department of Transportation can't do anything about the situation. In a statement, MDOT said contractors looking to make bonus money for beating state-set completion deadlines stand to lose, saying, "The contracts call for MDOT to grant extensions because of labor disputes, similar to provisions for acts of God. If that happens, the contractors could incur costs. Those would not be compensated."
"Officials at MDOT take delays very seriously," the statement said. "We're working very hard to alleviate congestion and the inconvenience to drivers, so, of course, we hope the two sides reach an agreement soon."