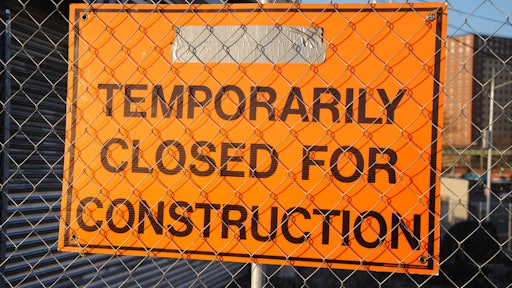 The uncertainty about the budget may slow the pace of work on infrastructure projects because states can't say for sure how much they will get once the budget impasse ends.
"States are not going to be letting new projects because of the uncertainty associated with the federal program," Jim Tymon, executive director of the American Association of State Highway and Transportation Officials says. One state has already done that: Oklahoma officials said they're delaying new contracts for about 45 upcoming projects totaling more than $137 million because of the shutdown.
In his first media briefing as the new executive director of the American Association of State Highway and Transportation Officials, Jim Tymon explained that since the 115th Congress did not pass Fiscal Year 2019 appropriations for seven of the 12 annual spending bills, including the Transportation-Housing and Urban Development or THUD package, states to date are limited to only about a quarter of the federal funding they are scheduled to receive this year.
However, he stressed in the Jan. 8 conference call that the U.S. Department of Transportation employees paid out of the Highway Trust Fund – including all Federal Highway Administration employees – are reporting to duty with pay as usual and that FHWA is able to continue reimbursing states for projects approved prior to the shutdown.
"I think what you'll see in the short term is states finding ways to move money around from different pots in order to keep their systems operating as efficiently as possible. It's not something they can do forever," Tymon said on the call. "The longer this drags on, you're going to see states start to draw back on their letting for new projects because they won't have their full allocation of federal money for 2019 yet."
For example, while a Jan. 8 FHWA funding notice makes $30 billion worth of FY 2019 transportation funding available to be committed by states as authorized under the five-year Fixing America's Surface Transportation or FAST Act, the agency also said that it would be "inadvisable" for states to commit a large amount of new federal dollars provided under today's notice.
If there is a new continuing resolution from Congress lasting just 30 days, any dollars obligated beyond that prorated amount (i.e., 30/365th of full year funding) would then have to be deobligated or returned to FHWA.
Tymon added that the effect of this past Tuesday's FHWA notice is that even if full FY 2019 highway dollars are now technically available, for all practical purposes, states can't really commit all of those dollars because there's a real risk of having to return some of them if the shutdown ends with another continuing resolution.