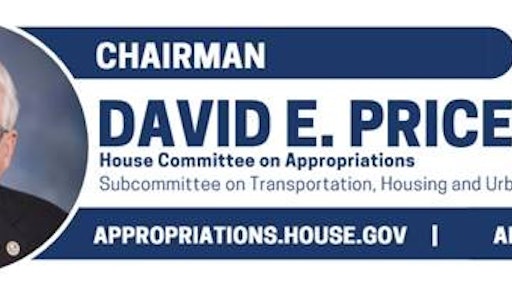 Congressman David Price (D-NC), Chairman of the Transportation, Housing and Urban Development (THUD) Appropriations Subcommittee, delivered opening remarks at the Committee's markup of the FY 2020 THUD and Related Agencies appropriations bill. In his remarks, Price says that the committee was able to accommodate more than 90 percent of the member requests from both sides of the aisle.
"I hope we can continue to move forward in a spirit of bipartisan cooperation as we seek to secure a bipartisan deal on overall budget caps," Price says.  
Price said in his remarks that this year's bill represents "a positive, inclusive vision for our country that will benefit all Americans."  It includes $75.8 billion in discretionary funding, an increase of $4.7 billion over the 2019 enacted level and $17.3 billion above the President's budget request.
"While this allocation is certainly generous, we still faced tough trade-offs due to more than $1 billion in ever-increasing annual renewal costs for housing programs and a $2 billion reduction in offsetting receipts," he says.         
The bill includes $1 billion for BUILD grants, formerly called the TIGER program, while maintaining parity between urban and rural awards. 
"We continue the model established by this subcommittee in the last two fiscal years by providing $3 billion in additional discretionary resources above the FAST Act authorized levels for highways, transit, and aviation projects," Price says. "This funding will benefit every state and territory in the nation by making new projects possible or accelerating existing ones."  
Safety a Priority
Price went on to say that any investment made must be paired with a renewed commitment to safety from DOT and HUD, state and local partners, and the industry.
"Rising accident rates on our nation's highways, the high-profile MAX 8 crashes, the deployment of autonomous systems across all modes and lead and carbon monoxide hazards in our federally-assisted housing require us to redouble our efforts," he says. "The subcommittee provides resources to meet these problems head-on."
The bill increases the FAA's aviation safety office budget by 20 percent to ensure there are enough inspectors, engineers and technicians to oversee the certification process and other vital safety functions.
"We provide additional rulemaking and enforcement resources to improve highway safety, and we dedicate $10 million to create a new "Highly Autonomous Systems Safety Center of Excellence" within USDOT," he says. "This center will bolster the department's in-house capacity to examine, audit, inspect and certify these complex systems across all modes."  
The legislation also lays the groundwork to fully integrate resiliency principles—beyond disaster recovery—into the full range of federal programs that fund transportation and community development projects. The bill tasks the Transportation Research Board with developing specific resiliency metrics and performance standards for infrastructure projects. It also encourages all transportation and housing projects to use the most current building codes or engineering specifications during construction. 
"These provisions will help ensure that the federal government remains an active partner alongside states and local communities as they grapple with climate change and extreme storms," Price says. 
"This year's T-HUD bill makes forward-looking investments in our housing and transportation infrastructure, while ensuring concerted attention to safety, the needs of the most vulnerable and resilience," he concludes. "It will benefit all American communities – urban and rural – and lays the foundation for economic growth and opportunity. I look forward to working with all of you, and our House colleagues, to enact it into law."
A summary of the Transportation-Housing and Urban Development bill is here. The text of the bill is here. The bill report is here.