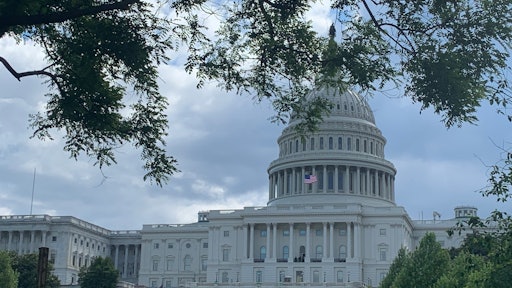 jessica lombardo
With just hours before funding for the entire government was set to lapse, lawmakers effectively postponed the spending fight for another day, approving another stopgap spending bill two months after the first spending bill passed the chamber. The measure extends funding through Dec. 20, 2020 for all federal government departments and agencies, as well as a number of health care and community programs.
Lawmakers also included additional funds to accommodate the Census Bureau's preparations for the 2020 survey and provide funds for a 3.1% military pay raise. House Democrats included, over the objections of some Republicans, a provision that would block a looming $7.6 billion rescission of highway funding set to hit the states on July 1, 2020, under the 2015 highway authorization law. The CR will stave off an automatic cut to highway funds. 
Industry Applauds Congressional Action
To help make the final price tag of the FAST Act more palatable, lawmakers included a $7.6 billion rescission in the bill's text, targeting individual states' unobligated balances. That rescission was set to take effect mid 2020 until the passing of H.R. 3055 CR. This is good news for the asphalt industry. 
The American Association of State Highway and Transportation Officials (AASHTO) and other pro-infrastructure groups have been pushing for months for Congress to abolish the highway funding cut. AASHTO had tried without success to attach anti-rescission language to various other bills, such as the budget agreement enacted earlier this year.
In a Nov. 14 letter to congressional leaders, AASHTO and 41 other construction, transportation, state and local government groups said that it is "especially critical" to undo the rescission during calendar 2019 because in "the worst-case scenario" states might have to de-obligate funds for current projects to hit the $7.6-billion target.
House Transportation and infrastructure Committee leaders praised including the rescission repeal in the stopgap CR and Committee Chairman Peter DeFazio (D-Ore.) said in a Nov. 18 statement that the provision would "give states the certainty they need to carry out long-term projects that make a difference."
National Asphalt Pavement Association (NAPA) president Audrey Copeland agreed adding that the association was NAPA is pleased Congress is moving forward to cancel the rescission of $7.6 billion in funding for state highway projects across the nation.
"While the plan for these cuts was a necessary budgeting tool to get the Fixing America's Surface Transportation Act passed in 2015, in practice they hamper the ability of states to build and maintain the infrastructure drivers need. By cancelling the rescission as part of this week's Continuing Resolution, Congress will both keep the government open and keep state highway programs on track. NAPA urges all members of Congress to pass the CR to ensure no disruption in highway investment.
"This is a positive step, but it only addresses short-term needs. NAPA urges Congress to move forward with full reauthorization of the nation's surface transportation programs. The Senate has before it America's Transportation Infrastructure Act, but it lacks a robust funding source. To ensure American infrastructure meets the needs of today and the future, Congress has to make passage of a robustly funded, long-term surface transportation program a priority."
Government funding expires at midnight on Thursday, and the bill will now go to President Donald Trump for his expected signature.