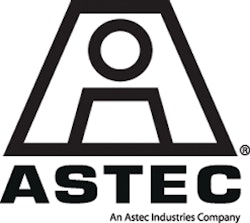 Astec Inc., a wholly owned subsidiary of Astec Industries, will assume total responsibility for all asphalt plant production within the Astec Industries family of companies. CEI Enterprises Inc.'s (also a wholly owned subsidiary of Astec Industries) line-up of the Nomad and Rap King series of hot mix asphalt plants will transfer production to the Dillman, (a division of Astec, Inc.) facility in Prairie Du Chien, Wisconsin.
"With the decision to consolidate all manufacturing of the corporation's hot mix asphalt plants to the Astec Inc. subsidiary, Astec Inc. is now in a position to offer a broad range of plants producing between 80 tph to 500 tph," comments Ben Brock, Astec Industries Group Vice President for Asphalt. "To differentiate the complete line of technology designs we now offer our customers, we will utilize both the Astec and Dillman brand names."
CEI, based in Albuquerque, New Mexico, manufactured the Nomad and Rap King series of portable plants. With production capacities of 80, 130 or 175 tons per hour, the highly portable Nomad series is designed to be set-up and operational with minimal effort and time. The plant's high-quality PLC-based controls provide reliable and fully automated mixing and can be operated fully manually if needed.
The Rap King offers production capacities of 150 or 180 tph (135 to 162 metric tons) both in portable configurations. A highly efficient counter flow plant, its ability to produce mix with up to 50% RAP is one of its key selling points.
In addition, with the consolidation, Astec Inc. will be designing and engineering additional product line offerings in the 30 to 180 tph asphalt plant market. In addition, Astec's industry leading global service and parts network will now assume the total responsibility of supporting the after-sales service needs of all customers.
Companies in this article