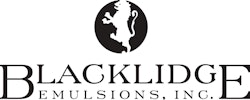 Blacklidge Emulsions Inc. announces the arrival of John Barrington as our new Chief Marketing Officer.
Barrington has served in a multitude of industry positions over his career with the most recent as the U.S. Business Manager for Shell Bitumen.
"John's experience in the road building, emulsion and bitumen industries is highly valued and we think he is an excellent fit with our growing team," says Brittany Blacklidge, president of Blacklidge Emulsions.
Barrington will assume his new duties at the end of May.